______________________________________

CDC admits 98 million Americans were given cancer virus via the polio
The CDC has admitted that between 1955–1963 over 98 million Americans received one or more doses of a polio shot which was contaminated with a cancer-causing virus called Simian vacuolating virus 40 (SV40).  The CDC quickly took down the page, along with Google, but the site was luckily cached and saved to symbolize this grand admission.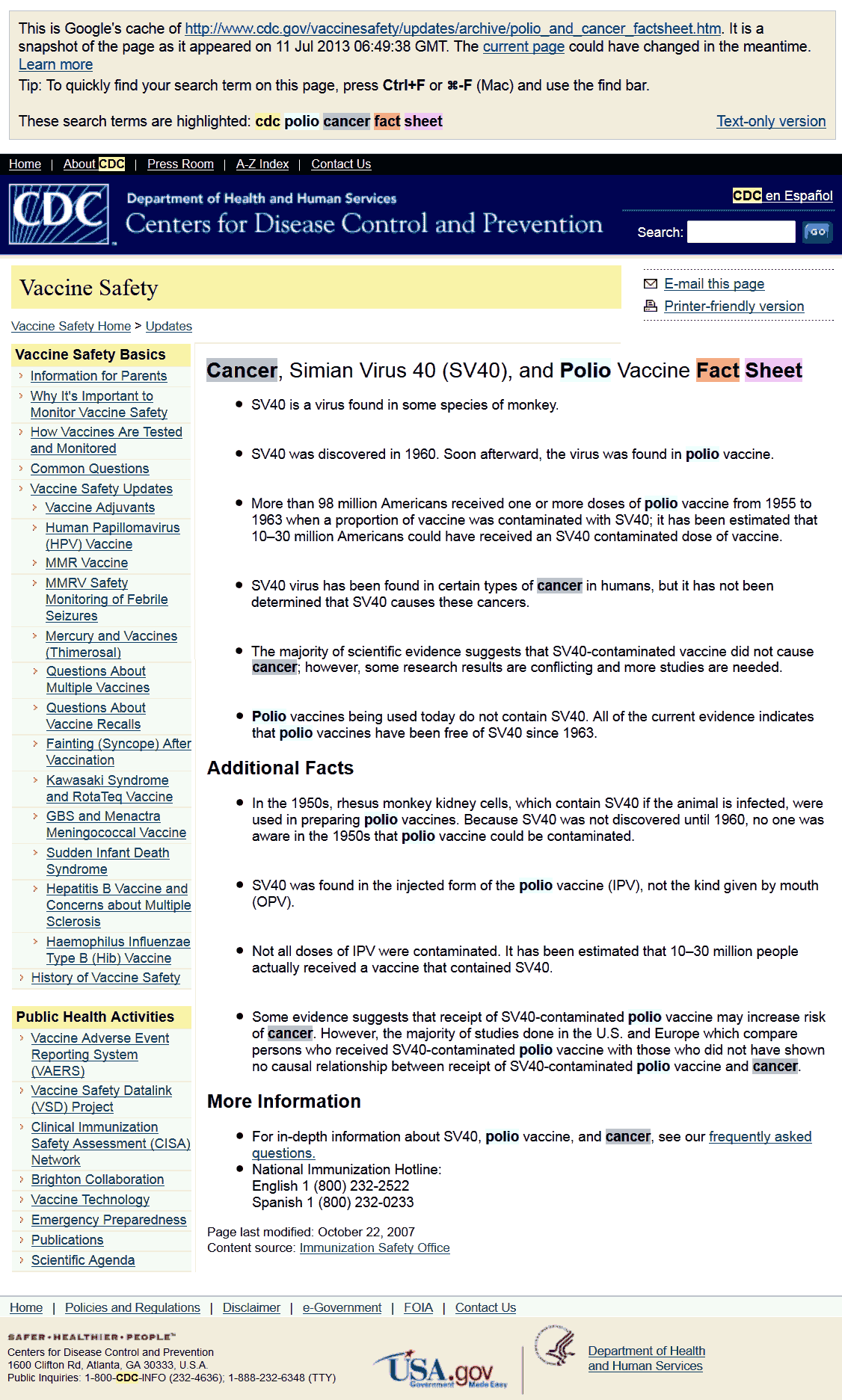 To further confirm this unbelievable admission, Assistant Professor of Pathology at Loyola University in Chicago Dr. Michele Carbone has been able to independently verify the presence of the SV40 virus in tissue and bone samples from patients who died during that era. He found that 33% of the samples with osteosarcoma bone cancers, 40% of other bone cancers, and 60% of the mesothelioma's lung cancers all contained this obscure virus. This leaves the postulation that upwards of 10–30 million actually contracted and were adversely affected by this virus, to be deadly accurate.
__________________________________________
In a truly bizarre attempt at making the abortion process more comforting for women, a late-term abortionist in Maryland is offering them the option to hold their butchered babies "after delivery," as well as take pictures of the fetuses home with them in "remembrance" of their termination.
In a brochure entitled, "Caring for women with Kindness, Courtesy, Justice, Love & Respect for over 45 years," Dr. LeRoy Carhart explains that women who receive late-term abortions can help quell their consciences of the horrors involved with this grotesque procedure by sentimentalizing their dead babies.
"Many patients request a remembrance of their baby to take home with them," the flyer reads. "Once the process of healing has begun, you may want to consider a token of the precious time with (sic) you and your baby had together."
Women who receive late-term abortions from Carhart are offered the "opportunity" to view and hold their murdered babies after delivery, take home photographs of their corpses, and even receive tiny footprint impressions to hang on their walls or refrigerators. Carhart also offers assistance to women in making cremation and funeral arrangements for their dead babies.
There's even the option for women to obtain a "remembrance certificate" in memory of their late-term abortions. "Spiritual and ceremonial accommodations" are also part of the package that Carhart offers to his patients.
For more related news about the horrors of abortion, and especially late-term abortion, be sure to check out Abortions.news.
__________________________________________
The absolute worst medical decision a parent of a newborn child can make is to allow doctors and nurses to severely compromise the immune system of their infant by injecting him or her with known neurotoxins, foreign proteins, and carcinogens like mercury, formaldehyde, monkey kidney cells, pig viruses, and genetically modified cells from human abortions. That's why billionaire Bill Gates, the infamous and insidious population control freak and Microsoft mogul, refused to vaccinate his own children when they were growing up, even while he promotes toxic jabs all over the world, especially in third world countries.
It's true. Gates' former private doctor from Seattle back in the 1990s said, "I don't know if he had them vaccinated as adults, but I can tell you he point blank refused to vaccinate them as children." We know this because the quote was taken from Gates' doctor during a side note conversation at a medical symposium, which caused a small uproar among the attending physicians, who blasphemed Gates' doctor for breaking rank with doctor-patient confidentiality (even though it's a "gray area" because he was speaking to other doctors privately). Still, it was too late – the cat got out of the bag, and now the world knows the ultimate hypocrisy of the elite who radically and religiously push vaccines as the "holy grail" of medicine, all while they keep the same poisons out of their own children's blood and muscle tissue, knowing good and well the high risk of side effects and adverse events far outweighs any possible benefits.
Bill Gates' three children, Jennifer, Phoebe, and Rory, NEVER got vaccines and are now healthy young adults
Born between 1996 and 2002, the Gates children never got mercury and formaldehyde shot into their muscle tissue as a form of "immunity," even though their father is the most dogmatic campaigner and shill for the vaccine industry. Wait, you thought he just made his fortune off computer software? Think again. There's huge profit in chemical medicine and population control schemes, and insidious Bill rides that cash cow every day.
According to TruthWiki, "Gates is widely criticized for being anti-competitive and for being a pro-vaccine zealot. He engages in many 'philanthropic endeavors,' such as donating large amounts of money to various scientific research programs through the Bill & Melinda Gates Foundation. Gates has even gone so far as to fund technologies that are designed for mass sterilization in order to address what he refers to as the world's population problem."
Herd theory has always been a big hoax, and the world's elite know it. Most vaccinated children are the actual risk to each other, because they often shed the viruses they were just injected with during the first few weeks after their toxic jabs. According to one study, the richest families in California (that are often white) do NOT vaccinate their children.
In fact, more than 16,000 kindergarten-aged children in California do not get any vaccines because their white, elitist parents opt them out using religious, personal belief, and doctor-authored exemptions. Get it? The elite know there's something inherently wrong with immunizations, but they just don't talk about it, and the MSM news certainly never covers it.
The richest Americans don't want to risk their children getting autism from experimental vaccines, including Polio, Malaria, MMR, and the CDC's "highly recommended" annual flu shot
According to Bill Gates' former doctor, who was quoted behind closed doors at a medical seminar, Gates said his children didn't need vaccines, but isn't the whole world educated otherwise? Doesn't the CDC inform us all that babies are born with weak, compromised immune systems and must have 50 vaccines before age 7, or they'll most likely die from infectious diseases? Isn't that the narrative?
Here's more on Bill Gates' opinion on vaccines, as shared by his own physician from the seminar: "They were beautiful kids, truly wise and lively, and he stated they would be fine as they were; they didn't need any shots."
Now, Bill Gates and his corrupt Foundation push experimental, untested malaria vaccines on innocent Africans in Kenya, Ghana, and Malawi. Critics are screaming that it's all part of a depopulation scheme, and some vaccines, including the tetanus jab, have been found to contain chemicals that sterilize young girls – chemicals that have nothing at all to do with vaccine functionality.
Bill Gates' "mission" to protect third world populations from disease via mass vaccination is contrary to his own personal actions with his own children, and auspiciously crosses lines with his deep financial collaboration with health agencies and vaccine manufacturers.
Tune in to Vaccines.news for more updates on how there is a plague of corruption surrounding vaccine safety, and exactly why the world's elite know better than to have their children jabbed with experimental, untested, deadly neurotoxins and genetically modified bacteria strains.
___________________________________
You are 550% More Likely to Get a Respiratory Infection if You Get the Flu Vaccine
10, 23, 2018 – Tracey Watson
Let's assume for a moment that the flu vaccine provided a 100 percent guarantee against contracting influenza (which it doesn't, but just pretend it does). Would it make sense to vaccinate your family against the flu if doing so meant you increased their risk of contracting other upper respiratory illnesses by more than five times? Of course not! Reducing the risk of contracting one illness only to heighten the risk of multiple others is simply illogical. And yet that is exactly what the flu vaccine – which is only between 33 and 70 percent effective, anyway – does.
A study published in the journal Clinical Infectious Diseases actually found that not only did the inactivated influenza vaccine not provide additional protection against the flu virus, but it also left recipients lacking in "temporary non-specific immunity that protected against other respiratory viruses." (Related: Flu vaccine BOMBSHELL: 630% more "aerosolized flu virus particles" emitted by people who received flu shots… flu vaccines actually SPREAD the flu.)
Playing Russian roulette with the flu shot
Natural Health 365 reported that while U.S. authorities have tended to look the other way regarding flu vaccine side effects, researchers in China have been far more proactive about determining exactly what the effects of these vaccines might be. The study mentioned above, which was conducted in Hong Kong, set out to compare the health of vaccinated patients versus those who have not been immunized in relation to either the flu and other illnesses.
The trial included patients between the ages of 6 and 15, some of whom received Sanofi Pasteur's Vaxigrip vaccine, while others received a saline placebo shot. The participants were then tracked for an average of 272 days to see whether they went on to develop the flu and/or other illnesses.
The researchers concluded:
There was no statistically significant difference in the risk of confirmed seasonal influenza infection between recipients of TIV [trivalent inactivated influenza vaccine] or placebo, although the point estimate was consistent with protection in TIV recipients … However, participants who received TIV had higher risk of ARI [acute respiratory illness] associated with confirmed noninfluenza respiratory virus infection (RR, 4.40; 95% CI, 1.31–14.8). Including 2 additional confirmed infections when participants did not report ARI, TIV recipients had higher risk of confirmed noninfluenza respiratory virus infection (RR, 3.46; 95% CI, 1.19–10.1). The majority of the noninfluenza respiratory virus detections were rhinoviruses and coxsackie/echoviruses, and the increased risk among TIV recipients was also statistically significant for these viruses (Table 3). Most respiratory virus detections occurred in March 2009, shortly after a period of peak seasonal influenza activity in February 2009. [Emphasis added]
Flu Vaccine Is Worse Than The Flue
So, not only is the flu shot ineffective, but it increases risk of other viral infections. It is also known to carry serious side effects, including seizures and convulsions, swelling on the brain and Guillain-Barre syndrome, to name a few. (Related: Flu vaccine paradox spreading globally as more vaccinated people catch the flu.)
It is also advisable to support the liver and immune system by supplementing with high-quality vitamin C, turmeric, probiotics, and zinc to boost immunity.
_______________________________________

10, 8, 2018 – Derek Henry
Bullies and charlatans are everywhere these days. You can find them on the playgrounds, the internet, and even in your own home. They push you around, tell you fictional stories that never really happened, and believe in their lies like they are the God-given truth. Nowhere is this more prevalent than in a conventional doctor's office during flu season.
But you have wised up, right? You're not playing their "do as you're told" game, because you have educated yourself enough to ask intelligent questions and are brave enough to confront your doctor on the subject, even if it makes your knees shake. After all, it's YOU that has to deal with the potential repercussions, whereas the doctor just walks away with more dirty money lining his pocket, while claiming ignorance to any potential injury you may sustain.
However, in case you're still not sure if you should reject the flu shot, consider these three reasons why you should, along with some bonafide ways to improve immunity and get over the flu, naturally.
__________________________________________________________________
People have been catching and surviving flu for centuries. The only real threat from flu  is if a bacterial infection ensues (like pneumonia) – and that can be treated easily with antibiotics.

___________________________________________________________________
"There have been no controlled trials adequately demonstrating a decrease in influenza disease after vaccination with Flulaval."
Flu shots haven't been proven to adequately work
The first debate is whether the flu shots actually even work. There's plenty of anecdotal evidence that it "works" for some and not for others, and those results can vary from year to year. However, the first piece of damning evidence comes from several statements made on the Flulaval vaccine insert itself. These warnings include:
"Safety and effectiveness of Flulaval have not been established in pregnant women, nursing mothers or children."
"Safety and effectiveness of Flulaval in pediatric patients have not been established."
"Flulaval has not been evaluated for carcinogenic or mutagenic potential, or for impairment of fertility."
Is your fear of the flu, or your doctor, still enough to make you ignore these warnings on the product itself?
If you're still thinking about it, consider that the U.S. Centers for Disease Control and Prevention, which gauges the vaccine's protective ability, has found that the flu vaccine reduces risk of flu by 40-60 percent when it is used during seasons where the circulating virus is well matched to flu vaccine. In other words, IF they GUESS the strain correctly, you still only have a median 50-50 chance of being protected from the flu.
Results from last flu season show that between November 2, 2017 and February 3, 2018, the flu shot was estimated to be 36 percent effective overall, with the dominant virulent strain circulating that season (H3N2) about 25 percent effective. This was actually better than experts feared, with trends in Canada and Australia reported to be only 10 percent effective. The shot was reported to work 67 percent of the time against the less severe H1N1.
Good to know that it is least effective against the more dangerous strains, and more effective against the ones we should be less worried about.
Flu shots are a dangerous cocktail of toxic ingredients
Again, you don't have to really guess what is in the flu vaccine if you are able to read the actual insert. Along with some other questionable ingredients, the flu shot has been documented to contain aluminum, antibiotics, egg protein, formaldehyde, monosodium glutamate (MSG), and thimerosal, a mercury containing chemical compound.
Being injected (bypassing the body's detoxification pathways) with any of these ingredients is horrid. But it gets worse…
Flu shots have documented side effects
More transparency on the Flulaval vaccine insert shows a list of side effects reported by actual users. Are these worth risking, for a 50-50 chance you might avoid the flu?
Eye pain and chest pain
Arthritis
Dizziness, tremors and losing consciousness (syncope)
Convulsions and seizures
Gullain-Barre Syndrome
Cranial nerve paralysis or limb paralysis
Swelling of the brain
Partial facial paralysis
And that is the short list! How could anyone classify "medicine" as something that would cause these types of symptoms?
For more information on the side effects of vaccines, visit Immunization.news.
____________________________________
______________________________________

Soy was never supposed to be a food
It was cultivated centuries ago in Asia, because dietary sources of protein
were scarce and people were starving. In ancient China it was called,
"the poor man's cow."
Unknowingly, indigenous people reduced many of the anti-nutrients and
phytoestrogens (plant-based compounds that mimic the hormone estrogen) via
the fermentation process. However, most Americans today eat unfermented soy
products, such as soy milk, soy yogurt, chips, cheese, edamame, tofu,
veggie burgers, soy flour in breads and some protein shakes. It is also an
ingredient in many "energy" bars and frozen dinners (as hydrolyzed, isolated or
concentrated soy protein).
In this form, soy protein liberates free amino acids such as glutamate, an
excitotoxin that can cause food cravings.
Even if you think you are not eating soy – there is a very good chance
you are, unless you know what to look for. Processed foods hide it on the
label by calling it other things, like texturized vegetable protein. You
should avoid processed foods anyway, but in the rare circumstances where
you do eat processed foods, avoid soy products at all costs.
Most soy found in the food supply is genetically modified. But that's not
the only reason to avoid this Franken Food. In fact, not even organic
varieties of soy are fit for human consumption.
Soy contains "anti-nutrients", including phytates and oxalates,
chemicals that interfere with the absorption of important minerals such as
zinc and calcium. Other "anti-nutrients" include enzyme inhibitors
which interfere with protein digestion and can eventually damage the
pancreas.
Soy products also contain compounds which feminize the body and break down
muscle. And it is a powerful goitrogen, which means it can significantly
slow down the functioning of the thyroid gland.
Soy, and other plants, are poor sources of protein as they are low in
certain essential amino acids. Now, consider that soy is the protein source
in most baby formulas. In other words, formula-fed babies start out life
drinking a cocktail of poor quality protein, powerful estrogen-mimicing
compounds and dangerous enzyme inhibitors.
Most people have no idea how to eat…as best shown by their eagerness to
jump on every fad diet that hits social media.
If you're over 18, it's time to grow up and eat right.
___________________________________

Health Basics QUIZ: Which has killed more people, measles or the measles vaccine?
Thursday, July 05, 2018 by: S.D. Wells
Surely you are paranoid about infectious diseases. You've seen horrific pictures of children with poliomyelitis, mumps, and even smallpox. You've heard that the science is "settled" as far as vaccines go, and that they are one hundred percent safe and effective. You've also never seen any media coverage of vaccine side effects or adverse events that left children maimed or dead, so why ever question immunizations of any kind, including the flu shot?
You would never dare ask a pediatrician if vaccines are safe or effective, because you would look stupid, right? Would you ask the doctor or nurse how many people have died from the measles vaccine right before they're about to administer it? What if you were extremely allergic to its ingredients? For some children, vaccines can cause anxiety disorders, and that's just the tip of the iceberg.
Did you know that the vaccine industry has paid out over $3.5 billion in reparations for injuries caused by the neurotoxins those "safe and effective" vaccines contain, like mercury, aluminum and embalming fluid? There is ONE question you must ask the next doctor or nurse you encounter as they are rubbing the alcohol-soaked cotton ball on your upper arm, or that of your child's – "Which has killed more people, the measles or the measles vaccine?
A normal functioning human immune system can easily defeat nearly every infectious disease known today
If there were a vaccine for a mild headache, would you rush to the doctor to get it? If there were a vaccine for a stomach ache, would you get that noxious jab today? One of the main reasons Americans are so terrified of the "blight" of infectious diseases is because nobody has been educated about the human immune system and the power of organic food. Human babies are not normally born weak with compromised immune systems. That happens after they get injected with known neurotoxins and fed baby formula that contains genetically modified organisms and pesticides.
The human immune system is mighty capable of fighting off chicken pox, measles, influenza, mumps, smallpox, polio, and yes, even human papillomavirus (HPV). Plus, once you've caught and defeated these diseases, your body has created antibodies to help you defend against them forever, unlike vaccines that wear off after a few years. Oh yes, they do.
Exactly WHAT ingredients are put in the Measles Vaccine?
The measles vaccine is mixed into a concoction with other "attenuated" (weakened diseases) infectious organisms as advised by the Advisory Committee on Immunization Practices (ACIP), that's trying to rush everyone to get the triple jab (it includes mumps and rubella) in order to decrease the "chance of delays in protection" against all three diseases. While delaying "chances" taken, it sounds like everyone is increasing risk of adverse events from a massive and experimental cocktail of known neurotoxins.
Get ready to learn exactly why the measles vaccine is responsible for over 100 deaths in a very recent decade. Here are just some of the ingredients in the tri-fecta "axis of evil" MMR, MMR-II and MMRV (V for Vericella) injections:
WI-38 human diploid lung fibroblasts (cell samples from human abortions)
Recombinant human albumin (genetically modified human blood from abortions)
Neomycin (an antibiotic)
Sorbitol (sugar alcohol that's largely indigestible, causes diarrhea)
Hydrolyzed gelatin (can come from infected CAFO animals' cartilage, skin, hooves, muscles)
Monosodium glutamate (yes, MSG that can cause severe migraines and brain damage in babies)
Bovine calf serum (byproduct of the dairy industry produced from blood collected at CAFO slaughterhouses)
MRC-5 cells (samples derived from lung tissue of a 14-week-young Caucasian male abortion.
The risk of getting the MMR combo-vaccine greatly outweighs the risk of just getting the diseases
Two Merck scientists confessed to fraud and filed a False Claims Act in 2010 explaining how Merck faked their mumps vaccine test data by spiking blood samples with animal antibodies to make it look like the vaccine was effective at a high rate. This all took place while the mainstream media exploited the fake Disneyland "outbreak" of measles. The result was the courts ignored the falsified clinical trials and Merck monopolized the vaccine market, making millions. The vaccine was never really tested against the wild virus. The U.S. government got their hands dirty with the "toxic cocktail" that ensued.
The irony of it all? Just like chickenpox, measles is a common childhood infection that's typically mild and was a "rite of passage" for generations. Today, the media takes a few isolated cases of extreme measles and pretends like all children are in extreme danger without immunization. It's all sensationalism, propaganda, fear mongering and medical corruption at the highest levels. In fact, Measles deaths were virtually nonexistent prior to the introduction of the result-falsified vaccine, which is now triggering outbreaks through what is termed "vaccine virus shedding."
For the Years 2004 through 2015:
Deaths from Measles = 0
Deaths from Measles Vaccines = 108
Worried about diseases most human bodies beat and never catch again? Maybe you should be worried much more about death by vaccine. While no person has been reported to or by the CDC to have died from the Measles from 2004 through 2015, more than one hundred people have DIED from the Measles vaccine, according to VAERS (Vaccine Adverse Event Reporting System). That's serious business and one of the reasons that vaccine injury settlements are kept out of the mass media news – always.
Learn more about aborted human fetal blood samples used for vaccines in the video below.
Sources for this article include:
___________________________________________
LINK BETWEEN SUGAR AND ALZHEIMERS

by Dr. Mercola
Alzheimer's disease — for which conventional medicine believes there is no effective treatment or cure — currently affects an estimated 5.4 million Americans1 and prevalence is projected to triple by 2050.2,3 Within the next two decades, this severe and lethal form of dementia may affect as much as one-quarter of the U.S. population. Already, more than half a million Americans die from the disease each year, making it the third leading cause of death in the U.S., right behind heart disease and cancer.4,5
The good news is that lifestyle choices such as diet, exercise and sleep can have a significant impact on your risk. As previously noted by Dr. Richard Lipton6 of the Albert Einstein College of Medicine where they study healthy aging, lifestyle changes "look more promising than the drug studies so far." As with health in general, your diet plays a crucial role. Processed foods tend to be nearly devoid of healthy fat while being excessive in refined sugars, and this combination appears to be at the heart of the problem.
High-Sugar Diet Significantly Raises Your Risk of Dementia
One of the most striking studies7 on carbohydrates and brain health revealed that high-carb diets increase your risk of dementia by a whopping 89 percent, while high-fat diets lower it by 44 percent. According to the authors, "A dietary pattern with relatively high caloric intake from carbohydrates and low caloric intake from fat and proteins may increase the risk of mild cognitive impairment or dementia in elderly persons."
Studies also strongly suggest Alzheimer's disease is intricately connected to insulin resistance;8 even mild elevation of blood sugar is associated with an elevated risk for dementia.9 Diabetes and heart disease10 are also known to elevate your risk, and both are rooted in insulin resistance.
This connection between high-sugar diets and Alzheimer's was again highlighted in a longitudinal study published in the journal Diabetologia in January 2018.11 Nearly 5,190 individuals were followed over a decade, and the results showed that the higher an individual's blood sugar, the faster their rate of cognitive decline.
Both Type 1 and Type 2 Diabetics Have Higher Risk for Alzheimer's
The connection between sugar and Alzheimer's was first broached in 2005, when the disease was tentatively dubbed "Type 3 diabetes." At that time researchers discovered that your brain produces insulin necessary for the survival of your brain cells.12 A toxic protein called ADDL removes insulin receptors from nerve cells, thereby rendering those neurons insulin resistant, and as ADDLs accumulate, your memory begins to deteriorate.
Curiously, while low insulin levels in your body are associated with improved health, the opposite appears to be true when it comes to the insulin produced in your brain. Reduced brain insulin actually contributes to the degeneration of brain cells, and studies have found that people with lower levels of insulin and insulin receptors in their brain often have Alzheimer's disease.
According to researchers,13 "These abnormalities do not correspond to Type 1 or Type 2 diabetes, but reflect a different and more complex disease process that originates in the central nervous system."
In 2016, researchers at John's Hopkins department of biology discovered that nerve growth factor, a protein found in your nervous system that is involved in the growth of neurons, also triggers insulin release in your pancreas.14 So there appears to be a rather complex relationship between body insulin, brain insulin and brain function, and we've probably only begun to tease out all of these connections.
Case in point, even Type 1 diabetics are at increased risk for Alzheimer's, even though their bodies don't produce insulin at all. Melissa Schilling, a professor at New York University, investigated this paradox in 2016. As reported by The Atlantic:15
"Schilling posits this happens because of the insulin-degrading enzyme, a product of insulin that breaks down both insulin and amyloid proteins in the brain — the same proteins that clump up and lead to Alzheimer's disease. People who don't have enough insulin, like those whose bodies' ability to produce insulin has been tapped out by diabetes, aren't going to make enough of this enzyme to break up those brain clumps.
Meanwhile, in people who use insulin to treat their diabetes and end up with a surplus of insulin, most of this enzyme gets used up breaking that insulin down, leaving not enough enzyme to address those amyloid brain clumps. According to Schilling, this can happen even in people who don't have diabetes yet — who are in a state known as 'prediabetes.'"
Sugar Damages Brain Structure and Function
Research16 published in 2013 showed that sugar and other carbohydrates can disrupt your brain function even if you're not diabetic or have any signs of dementia. Here, short- and long-term glucose markers were evaluated in healthy, nondiabetic, nondemented seniors. Memory tests and brain imaging were also used to assess brain function and the actual structure of their hippocampus.
The findings revealed that the higher the two blood glucose measures, the smaller the hippocampus, the more compromised its structure, and the worse the individual's memory was. According to the authors, the structural changes in the hippocampus alone can partially account for the statistical link we see between glucose and memory, as your hippocampus is involved with the formation, organization and storage of memories.
The results suggest glucose directly contributes to atrophy of the hippocampus, which means that even if you're not insulin resistant or diabetic, excess sugar can still hamper your memory. The authors suggest that "strategies aimed at lowering glucose levels even in the normal range may beneficially influence cognition in the older population."
A similar study17 published in 2014 found that Type 2 diabetics lose more gray matter with age than expected, and this brain atrophy also helps explain why diabetics have a higher risk for dementia, and have earlier onset of dementia than nondiabetics.
As noted by Dr. Sam Gandy, director of the Center for Cognitive Health at Mount Sinai Hospital in New York City, these findings "suggest that chronic high levels of insulin and sugar may be directly toxic to brain cells" adding that "This would definitely be a potential cause of dementia."18
Even Mild Insulin Resistance Speeds Cognitive Decline
A study19 published just last year also confirmed the link between insulin resistance and dementia, particularly among those with existing heart disease. Nearly 490 seniors were followed for two decades, and as in other studies, those with the highest levels of insulin resistance scored the worst on cognitive tests, especially tests for memory and executive function.
A take-home message here is that you don't have to be a diabetic to be at increased risk. As noted by senior study author Dr. David Tanne, a faculty member of Tel Aviv University in Israel, "Even people with mild or moderate insulin resistance … are at increased risk over time … Exercising, maintaining a balanced and healthy diet and watching your weight will help you prevent insulin resistance and, as a result, protect your brain as you get older."
Progress Made in the Development of a Blood Test for Alzheimer's
In related news, researchers have announced great strides being made in the development of a blood test to detect Alzheimer's.20 The test is designed to detect amyloid beta, the toxic protein known to accumulate in the brains of Alzheimer's patients. In a recent trial,21 the test was 90 percent accurate in detecting the disease in a pool of 370 participants.
At present, the only way to measure amyloid beta is by brain scan or a spinal tap, both of which are invasive and expensive, and can only detect the disease once it has sufficiently progressed. While promising, further trials must be done to confirm the diagnostic accuracy of the blood test before it can be released and used in medical practice.
One of the most comprehensive assessments of Alzheimer's risk is Dr. Dale Bredesen's ReCODE protocol, which evaluates 150 factors known to contribute to the disease. This protocol also identifies your disease subtype or combination of subtypes so that an effective treatment protocol can be devised.
You can learn more about this in "ReCODE: The Reversal of Cognitive Decline," which is my interview with him. In his book, you will also find a list of suggested screening tests and the recommended ranges for each test, along with some of Bredesen's treatment suggestions. The full protocol is described in Bredesen's book, "The End of Alzheimer's: The First Program to Prevent and Reverse Cognitive Decline."22
Turmeric May Lower Alzheimer's Risk, Study Shows
Other recent developments include a study showing curcumin supplementation may lower the risk of Alzheimer's by improving memory and focus.23 The double-blind, placebo-controlled study, published in the American Journal of Geriatric Psychiatry,24 included 40 adults between the ages of 50 and 90 who reported mild memory lapses. None had a diagnosis of dementia at the time of their enrollment. Participants randomly received either 90 milligrams of curcumin (Theracurmin supplement) twice a day for 18 months, or a placebo.
A standardized cognitive assessment was administered at the start of the study and at six-month intervals thereafter, and the level of curcumin in their blood was measured at the beginning and end of the study. Thirty of the participants also underwent positron emission tomography (PET) scans to assess their level of amyloid and tau deposits before and after treatment, both of which are strongly associated with Alzheimer's risk.
Those who received curcumin saw significant improvements in memory and concentration, while the control group experienced no improvement. PET scans confirmed the treatment group had significantly less amyloid and tau buildup in areas of the brain that control memory, compared to controls. Overall, the curcumin group improved their memory by 28 percent over the year-and-a-half-long treatment period.
Curcumin has also been shown to increase levels of brain-derived neurotrophic factor (BDNF),25 and reduced levels of BDNF have been linked to Alzheimer's disease. Yet another way curcumin may benefit your brain and lower your risk of dementia is by affecting pathways that help reverse insulin resistance, hyperlipidemia and other symptoms associated with metabolic syndrome and obesity.26
Preventive Strategies
According to Dr. David Perlmutter, a neurologist and author of "Grain Brain" and "Brain Maker," anything that promotes insulin resistance will ultimately also raise your risk of Alzheimer's. To this I would add that any strategy that enhances your mitochondrial function will lower your risk. Considering the lack of effective treatments, prevention really cannot be stressed strongly enough.
In 2014, Bredesen published a paper that demonstrates the power of lifestyle choices for the prevention and treatment of Alzheimer's. By leveraging 36 healthy lifestyle parameters, he was able to reverse Alzheimer's in 9 out of 10 patients.
This included the use of exercise, ketogenic diet, optimizing vitamin D and other hormones, increasing sleep, meditation, detoxification and eliminating gluten and processed food. You can download Bredesen's full-text case paper online, which details the full program.27 Following are some of the lifestyle strategies I believe to be the most helpful and important:
Eat real food, ideally organic
Avoid processed foods of all kinds, as they contain a number of ingredients harmful to your brain, including refined sugar, processed fructose, grains (particularly gluten), vegetable oils, genetically engineered ingredients and pesticides. Ideally, keep your added sugar to a minimum and your total fructose below 25 grams per day, or as low as 15 grams per day if you already have insulin/leptin resistance or any related disorders.
Opting for organic produce will help you avoid synthetic pesticides and herbicides. Most will also benefit from a gluten-free diet, as gluten makes your gut more permeable, which allows proteins to get into your bloodstream where they sensitize your immune system and promote inflammation and autoimmunity, both of which play a role in the development of Alzheimer's.
Replace refined carbs with healthy fats
Diet is paramount, and the beauty of following my optimized nutrition plan is that it helps prevent and treat virtually all chronic degenerative diseases, including Alzheimer's. It's important to realize that your brain actually does not need carbs and sugars; healthy fats such as saturated animal fats and animal-based omega-3 are far more critical for optimal brain function.
A cyclical ketogenic diet has the double advantage of both improving your insulin sensitivity and lowering your Alzheimer's risk. As noted by Perlmutter, lifestyle strategies such as a ketogenic diet can even offset the risk associated with genetic predisposition. (Estimates suggest genetics account for less than 5 percent of Alzheimer's cases.
An estimated 75 million Americans have the single allele for ApoE4. Those who are ApoE4 positive have a 30 percent lifetime risk of developing the disease. Approximately 7 million have two copies of the gene, which puts them at a 50 percent lifetime risk. It's unknown how many Americans have the TOMM40 gene or others that may affect your risk.)
When your body burns fat as its primary fuel, ketones are created, which not only burn very efficiently and are a superior fuel for your brain, but also generate fewer reactive oxygen species and less free radical damage. A ketone called beta hydroxybutyrate is also a major epigenetic player, stimulating beneficial changes in DNA expression, thereby reducing inflammation and increasing detoxification and antioxidant production.
I explain the ins and outs of implementing this kind of diet, and its many health benefits, in my new book "Fat for Fuel." In it, I also explain why cycling through stages of feast and famine, opposed to continuously remaining in nutritional ketosis, is so important.
Pay close attention to the kinds of fats you eat — avoid all trans fats or hydrogenated fats that have been modified in such a way to extend their longevity on the grocery store shelf. This includes margarine, vegetable oils and various butter-like spreads.
Healthy fats to add to your diet include avocados, butter, organic pastured egg yolks, coconuts and coconut oil, grass fed meats and raw nuts such as pecans and macadamia. MCT oil is also a great source of ketone bodies.
Keep your fasting insulin levels below 3
Lowering your insulin will also help lower leptin levels which is another factor for Alzheimer's. If your insulin is high, you're likely consuming too much sugar and need to cut back.
Optimize your omega-3 level
Also make sure you're getting enough animal-based omega-3 fats. High intake of the omega-3 fats EPA and DHA help by preventing cell damage caused by Alzheimer's disease, thereby slowing down its progression and lowering your risk of developing the disorder. Ideally, get an omega-3 index test done once a year to make sure you're in a healthy range. Your omega-3 index should be above 8 percent and your omega 6-to-3 ratio between 0.5 and 3.0.
Optimize your gut flora
To do this, avoid processed foods, antibiotics and antibacterial products, fluoridated and chlorinated water, and be sure to eat traditionally fermented and cultured foods, along with a high-quality probiotic if needed. Dr. Steven Gundry does an excellent job of expanding on this in his new book "The Plant Paradox."
Intermittently fast
Intermittent fasting is a powerful tool to jump-start your body into remembering how to burn fat and repair the insulin/leptin resistance that is a primary contributing factor for Alzheimer's. Once you have worked your way up to where you've been doing 20-hour daily intermittent fasting for a month, are metabolically flexible and can burn fat as your primary fuel, you can progress to the far more powerful five-day water fasts.
Move regularly and consistently throughout the day
It's been suggested that exercise can trigger a change in the way the amyloid precursor protein is metabolized,28 thus, slowing down the onset and progression of Alzheimer's. Exercise also increases levels of the protein PGC-1 alpha. Research has shown that people with Alzheimer's have less PGC-1 alpha in their brains and cells that contain more of the protein produce less of the toxic amyloid protein associated with Alzheimer's.
Optimize your magnesium levels
Preliminary research strongly suggests a decrease in Alzheimer symptoms with increased levels of magnesium in the brain. Keep in mind that the only magnesium supplement that appears to be able to cross the blood-brain barrier is magnesium threonate.
Optimize your vitamin D, ideally through sensible sun exposure
Sufficient vitamin D is imperative for proper functioning of your immune system to combat inflammation associated with Alzheimer's and, indeed, research shows people living in northern latitudes have higher rates of death from dementia and Alzheimer's than those living in sunnier areas, suggesting vitamin D and/or sun exposure are important factors.29
If you are unable to get sufficient amounts of sun exposure, take daily supplemental vitamin D3 to reach and maintain a blood level of 60 to 80 ng/ml. That said, it's important to recognize that sun exposure is important for reasons unrelated to vitamin D.
Your brain responds to the near-infrared light in sunlight in a process called photobiomodulation. Research shows near-infrared stimulation of the brain boosts cognition and reduces symptoms of Alzheimer's, including more advanced stages of the disease.
Delivering near-infrared light to the compromised mitochondria synthesizes gene transcription factors that trigger cellular repair, and your brain is one of the most mitochondrial-dense organs in your body.
Avoid and eliminate aluminum from your body
Common sources of aluminum include antiperspirants, nonstick cookware and vaccine adjuvants. For tips on how to detox aluminum, please see my article, "First Case Study to Show Direct Link between Alzheimer's and Aluminum Toxicity." 
Avoid flu vaccinations
Flu vaccines contain mercury and aluminum, plus foreign DNA from animals and aborted fetuses. Injected into your blood system these can be deadly.
Avoid statins and anticholinergic drugs
Drugs that block acetylcholine, a nervous system neurotransmitter, have been shown to increase your risk of dementia. These drugs include certain nighttime pain relievers, antihistamines, sleep aids, certain antidepressants, medications to control incontinence and certain narcotic pain relievers.
Statin drugs are particularly problematic because they suppress the synthesis of cholesterol, deplete your brain of coenzyme Q10, vitamin K2 and neurotransmitter precursors, and prevent adequate delivery of essential fatty acids and fat-soluble antioxidants to your brain by inhibiting the production of the indispensable carrier biomolecule known as low-density lipoprotein.
Optimize your sleep
Sleep is necessary for maintaining metabolic homeostasis in your brain. Without sufficient sleep, neuron degeneration sets in, and catching up on sleep during weekends will not prevent this damage.33,34,35 Sleep deprivation causes disruption of certain synaptic connections that can impair your brain's ability for learning, memory formation and other cognitive functions. Poor sleep also accelerates the onset of Alzheimer's disease.36
Most adults need seven to nine hours of uninterrupted sleep each night. Deep sleep is the most important, as this is when your brain's glymphatic system performs its cleanout functions, eliminating toxic waste from your brain, including amyloid beta. For a comprehensive sleep guide, see "33 Secret's to a Good Night's Sleep."
Challenge your mind daily
Mental stimulation, especially learning something new, such as learning to play an instrument or a new language, is associated with a decreased risk of dementia and Alzheimer's. Researchers suspect that mental challenge helps to build up your brain, making it less susceptible to the lesions associated with Alzheimer's disease.
___________________________________________________________________________
Diseases With Unknown Etiology Trace Back To Mass Vaccination Against Influenza In 1976
By James Lyons-Weiler, Ph.D.
Crohn's. Lupus. Autism. ADHD. Food allergies. Celiac disease. Sjögren's syndrome. Polymyalgia rheumatica. Multiple sclerosis. Anklyosing spondylitis. Type 1 diabetes. Vasculitis. Peripheral neuropathy. The list goes on, and on, and on. We are being increasingly diagnosed with these conditions and diseases of unknown origin, and science has very little to say – why would autoimmune diseases and mysterious diseases of inflammation be so prevalent? When did this increase start?
As an observer and participant in modern biomedical research, and a lover of deep history, I tend to focus not on the immediate or last few years, but look for trends of accumulating risk over longer periods of time. Seeking an answer to the question of "when", I used Pubmed to estimate, per yer, the number of studies and papers discussing diseases and conditions of unknown origin. I search for the term "unknown causes", and also for the term "journal" to get some idea of the percentage of studies, papers and editorials discussing disease of unknown causes. I had no idea what to expect.
Looking at a trend of topics per year, one has to correct for some estimate of the total number of articles published, because a mere count would, in part, reflect the overall trend in the explosion of total articles published. I chose as my control term the word "journal", because many titles of publications include that term (e.g., "Journal of Nephrology).
Here is the control result, which is not surprising, and completely expected:
Again, this merely reflects the trend in the increase in publications in Pubmed, and so using it would provide a relative control for that trend.
Next I searched for "Unknown Causes", and calculated the number of articles citing unknown causes per 10,000 articles (again, relative denominator term).
What I found is shocking. Here is a graph of the number of articles per 10,000 discussing "unknown causes" (Y = #articles mentioning "unknown causes" / #articles mentioning "journal", as in the title of journals).
Because the studies in Pubmed include all sorts of journals studying all sorts of things, the actual number is not as important as the trend. The signature is undeniable. Something changed dramatically in 1976. To the skeptic: the increase is greater if one does not correct for total publications.
What changed was national mass vaccination against influenza.
The following section is excerpted from "Reflections on the 1976 Swine Flu Vaccination Program" by David Sencer and J. Donald Millar. [Link]
Swine Flu at Fort Dix

On February 3, 1976, the New Jersey State Health Department sent the Center for Disease Control (CDC) in Atlanta isolates of virus from recruits at Fort Dix, New Jersey, who had influenza-like illnesses. Most of the isolates were identified as A/Victoria/75 (H3N2), the contemporary epidemic strain. Two of the isolates, however, were not typeable in that laboratory. On February 10, additional isolates were sent and identified in CDC laboratories as A/New Jersey/76 (Hsw1N1), similar to the virus of the 1918 pandemic and better known as "swine flu."

A meeting of representatives of the military, the National Institute of Health, the Food and Drug Administration (FDA), and the State of New Jersey Department of Health was quickly convened on Saturday, February 14, 1976. Plans of action included heightened surveillance in and around Fort Dix, investigation of the ill recruits to determine if contact with pigs had occurred, and serologic testing of recruits to determine if spread had occurred at Fort Dix.

Surveillance activities at Fort Dix gave no indication that recruits had contact with pigs. Surveillance in the surrounding communities found influenza caused by the current strain of influenza, A/Victoria, but no additional cases of swine flu. Serologic testing at Fort Dix indicated that person-to-person transmission had occurred in >200 recruits (4).

In 1974 and 1975, 2 instances of humans infected with swine influenza viruses had been documented in the United States. Both persons involved had close contact with pigs, and no evidence for spread of the virus beyond family members with pig contact could be found (5).

The National Influenza Immunization Program

On March 10, 1976, the Advisory Committee on Immunization Practices of the United States Public Health Service (ACIP) reviewed the findings. The committee concluded that with a new strain (the H1N1 New Jersey strain) that could be transmitted from person to person, a pandemic was a possibility. Specifically, the following facts were of concern: 1) persons <50 years of age had no antibodies to this new strain; 2) a current interpandemic strain (A/Victoria) of influenza was widely circulating; 3) this early detection of an outbreak caused by A/New Jersey/76/Hsw1N1 (H1N1) provided an opportunity to produce a vaccine since there was sufficient time between the initial isolates and the advent of an expected influenza season to produce vaccine. In the past when a new pandemic strain had been identified, there had not been enough time to manufacture vaccine on any large scale; 4) influenza vaccines had been used for years with demonstrated safety and efficacy when the currently circulating vaccine strain was incorporated; 5) the military vaccine formulation for years had included H1N1, an indication that production was possible, and no documented adverse effects had been described.

ACIP recommended that an immunization program be launched to prevent the effects of a possible pandemic. One ACIP member summarized the consensus by stating "If we believe in prevention, we have no alternative but to offer and urge the immunization of the population." One ACIP member expressed the view that the vaccine should be stockpiled, not given.

Making this decision carried an unusual urgency. The pharmaceutical industry had just finished manufacture of the vaccine to be used in the 1976–1977 influenza season. At that time, influenza vaccine was produced in fertilized hen's eggs from special flocks of hens. Roosters used for fertilizing the hens were still available; if they were slaughtered, as was customary, the industry could not resume production for several months.

On March 13, an action memo was presented to the Secretary of the Department of Health Education and Welfare (DHEW). It outlined the problem and presented 4 alternative courses of action. First was "business as usual," with the marketplace prevailing and the assumption that a pandemic might not occur. The second was a recommendation that the federal government embark on a major program to immunize a highly susceptible population. As a reason to adopt this plan of action, the memo stated that "the Administration can tolerate unnecessary health expenditures better than unnecessary death and illness if a pandemic should occur." The third proposed course of action was a minimal response, in which the federal government would contract for sufficient vaccine to provide for traditional federal beneficiaries—military personnel, Native Americans, and Medicare-eligible persons. The fourth alternative was a program that would represent an exclusively federal response without involvement of the states.

The proposal recommended by the director of CDC was the second course, namely, for the federal government to contract with private pharmaceutical companies to produce sufficient vaccine to permit the entire population to be immunized against H1N1. The federal government would make grants to state health departments to organize and conduct immunization programs. The federal government would provide vaccine to state health departments and private medical practices. Since influenza caused by A/Victoria was active worldwide, industry was asked to incorporate the swine flu into an A/Victoria product to be used for populations at high risk.

Before the discussions with the secretary of DHEW had been completed, a member of his staff sent a memo to a health policy advisor in the White House, raising the specter of the 1918 pandemic, which had been specifically underemphasized in the CDC presentation. CDC's presentation highlighted the pandemic potential, comparing it with the 1968–69 Hong Kong and 1957–58 Asian pandemics. President Gerald Ford's staff recommended that the president convene a large group of well-known and respected scientists (Albert Sabin and Jonas Salk had to be included) and public representatives to hear the government's proposal and make recommendations to the president about it. After the meeting, the president had a press conference, highlighted by the unique simultaneous appearance of Salk and Sabin. President Ford announced that he accepted the recommendations that CDC had originally made to the secretary of DHEW. The National Influenza Immunization Program (NIIP) was initiated.

The proposal was presented to 4 committees of the Congress, House and Senate authorization committees and House and Senate appropriation committees. All 4 committees reported out favorable legislation, and an appropriation bill was passed and signed.

The estimated budgeted cost of the program was $137 million. When Congress passed the appropriation, newspapers mischaracterized the cost as "$1.9 billion" because the $137 million was included as part of a $1.9 billion supplemental appropriation for the Department of Labor. In the minds of the public, this misconception prevailed.

Immediately after the congressional hearing, a meeting of all directors of state health departments and medical societies was held at CDC. The program was presented by CDC, and attendees were asked for comments. A representative from the New Jersey state health department opposed the plan; the Wisconsin state medical society opposed any federal involvement. Otherwise, state and local health departments approved the plan.

Within CDC, a unit charged with implementing the program, which reported to the director, was established. This unit, NIIP, had complete authority to draw upon any resources at CDC needed. NIIP was responsible for relations with state and local health departments (including administration of the grant program for state operations, technical advice to the procurement staff for vaccine, and warehousing and distribution of the vaccine to state health departments) and established a proactive system of surveillance for possible adverse effects of the influenza vaccines, the NIIP Surveillance Assessment Center (NIIP-SAC). (This innovative surveillance system would prove to be NIIP's Trojan horse.) In spite of the obstacles discussed below, NIIP administered a program that immunized 45 million in 10 weeks, which resulted in doubling the level of immunization for persons deemed to be at high risk, rapidly identifying adverse effects, and developing and administering an informed consent form for use in a community-based program.

Obstacles to the Vaccination Plan

The principal obstacle was the lack of vaccines. As test batches were prepared, the largest ever field trials of influenza vaccines ensued. The vaccines appeared efficacious and safe (although in the initial trials, children did not respond immunologically to a single dose of vaccine, and a second trial with a revised schedule was needed) (6). Hopes were heightened for a late summer/early fall kickoff of mass immunization operations.

In January 1976, before the New Jersey outbreak, CDC had proposed legislation that would have compensated persons damaged as a result of immunization when it was licensed by FDA and administered in the manner recommended by ACIP. The rationale given was that immunization protects the community as well as the individual (a societal benefit) and that when a person participating in that societal benefit is damaged, society had a responsibility to that person. The proposal was sent back from a staff member in the Surgeon General's office with a handwritten note, "This is not a problem."

Soon, however, NIIP received the first of 2 crippling blows to hopes to immunize "every man, woman, and child." The first was later in 1976, when instead of boxes of bottled vaccine, the vaccine manufacturers delivered an ultimatum—that the federal government indemnify them against claims of adverse reactions as a requirement for release of the vaccines. The government quickly capitulated to industry's demand for indemnification. While the manufacturers' ultimatum reflected the trend of increased litigiousness in American society, its unintended, unmistakable subliminal message blared "There's something wrong with this vaccine." This public misperception, warranted or not, ensured that every coincidental health event that occurred in the wake of the swine flu shot would be scrutinized and attributed to the vaccine.

On August 2, 1976, deaths apparently due to an influenzalike illness were reported from Pennsylvania in older men who had attended the convention of the American Legion in Philadelphia. A combined team of CDC and state and local health workers immediately investigated. By the next day, epidemiologic evidence indicated that the disease was not influenza (no secondary cases occurred in the households of the patients). By August 4, laboratory evidence conclusively ruled out influenza. However, this series of events was interpreted by the media and others as an attempt by the government to "stimulate" NIIP.

Shortly after the national campaign began, 3 elderly persons died after receiving the vaccine in the same clinic. Although investigations found no evidence that the vaccine and deaths were causally related, press frenzy was so intense it drew a televised rebuke from Walter Cronkite for sensationalizing coincidental happenings.

Guillain-Barré Syndrome

What NIIP did not and could not survive, however, was the second blow, finding cases of Guillain-Barré syndrome (GBS) among persons receiving swine flu immunizations. As of 1976, >50 "antecedent events" had been identified in temporal relationship to GBS, events that were considered as possible factors in its cause. The list included viral infections, injections, and "being struck by lightning." Whether or not any of the antecedents had a causal relationship to GBS was, and remains, unclear. When cases of GBS were identified among recipients of the swine flu vaccines, they were, of course, well covered by the press. Because GBS cases are always present in the population, the necessary public health questions concerning the cases among vaccine recipients were "Is the number of cases of GBS among vaccine recipients higher than would be expected? And if so, are the increased cases the result of increased surveillance or a true increase?" Leading epidemiologists debated these points, but the consensus, based on the intensified surveillance for GBS (and other conditions) in recipients of the vaccines, was that the number of cases of GBS appeared to be an excess.

Had H1N1 influenza been transmitted at that time, the small apparent risk of GBS from immunization would have been eclipsed by the obvious immediate benefit of vaccine-induced protection against swine flu. However, in December 1976, with >40 million persons immunized and no evidence of H1N1 transmission, federal health officials decided that the possibility of an association of GBS with the vaccine, however small, necessitated stopping immunization, at least until the issue could be explored. A moratorium on the use of the influenza vaccines was announced on December 16; it effectively ended NIIP of 1976. Four days later the New York Times published an op-ed article that began by asserting, "Misunderstandings and misconceptions… have marked Government … during the last eight years," attributing NIIP and its consequences to "political expediency" and "the self interest of government health bureaucracy" (7). These simple and sinister innuendos had traction, as did 2 epithets used in the article to describe the program, "debacle" in the text and "Swine Flu Fiasco" in the title.

On February 7, the new secretary of DHEW, Joseph A. Califano, announced the resumption of immunization of high-risk populations with monovalent A/Victoria vaccine that had been prepared as part of the federal contracts, and he dismissed the director of CDC.

Lessons Learned

NIIP may offer lessons for today's policymakers, who are faced with a potential pandemic of avian influenza and struggling with decisions about preventing it (Table). Two of these lessons bear further scrutiny here.

Media and Presidential Attention

While all decisions related to NIIP had been reached in public sessions (publishing of the initial virus findings in CDC's weekly newsletter, the Morbidity and Mortality Weekly Report (MMWR); New York Times reporter Harold Schmeck's coverage of the ACIP sessions, the president's press conference, and 4 congressional hearings), effective communication from scientifically qualified persons was lacking, and the perception prevailed that the program was motivated by politics rather than science. In retrospect (and to some observers at the time), the president's highly visible convened meeting and subsequent press conference, which included pictures of his being immunized, were mistakes. These instances seemed to underline the suspicion that the program was politically motivated, rather than a public health response to a possible catastrophe.Annex 11 of the draft DHEW pandemic preparedness plan states, "For policy decisions and in communication, making clear what is not known is as important as stating what is known. When assumptions are made, the basis for the assumptions and the uncertainties surrounding them should be communicated" (11). This goal is much better accomplished if the explanations are communicated by those closest to the problem, who can give authoritative scientific information. Scientific information coming from a nonscientific political figure is likely to encourage skepticism, not enthusiasm.

Neither CDC nor the health agencies of the federal government had been in the habit of holding regular press conferences. CDC considered that its appropriate main line of communication was to states and local health departments, believing that they were best placed to communicate with the public. MMWR served both a professional and public audience and accounted for much of CDC's press coverage. In 1976, no all-news stations existed, only the nightly news. The decision to stop the NIIP on December 16, 1976, was announced by a press release from the office of the assistant secretary for health. The decision to reinstitute the immunization of those at high risk was announced by a press release from the office of the secretary, DHEW. In retrospect, periodic press briefings would have served better than responding to press queries. The public must understand that decisions are based on public health, not politics. To this end, health communication should be by health personnel through a regular schedule of media briefings.

Decision To Begin Immunization

This decision is worthy of serious question and debate. As Walter Dowdle (12) points out in this issue of Emerging Infectious Diseases, the prevailing wisdom was that a pandemic could be expected at any time. Public health officials were concerned that if immunization was delayed until H1N1 was documented to have spread to other groups, the disease would spread faster than any ability to mobilize preventive vaccination efforts. Three cases of swine influenza had recently occurred in persons who had contact with pigs. In 1918, after the initial outbreak of influenza at Fort Riley in April, widespread outbreaks of influenza did not occur until late summer (13).

The Delphi exercise of Schoenbaum in early fall of 1976 (13) was the most serious scientific undertaking to poll scientists to decide whether or not to continue the program. Its main finding was that the cost benefit would be best if immunization were limited to those >25 years of age (and now young children are believed to be a potent source of spread of influenza virus!). Unfortunately, no biblical Joseph was there to rise from prison and interpret the future.

As Dowdle further states (12), risk assessment and risk management are separate functions. But they must come together with policymakers, who must understand both. These discussions should not take place in large groups in the president's cabinet room but in an environment that can establish an educated understanding of the situation. Once the policy decisions are made, implementation should be left to a single designated agency. Advisory groups should be small but representative. CDC had the lead responsibility for operation of the program. Implementation by committee does not work. Within CDC, a unit was established for program execution, including surveillance, outbreak investigation, vaccine procurement and distribution, assignment of personnel to states, and awarding and monitoring grants to the states. Communications up the chain of command to the policymakers and laterally to other directly involved federal agencies were the responsibility of the CDC director, not the director of NIIP, who was responsible for communications to the states and local health departments, those ultimately implementing operations of the program. This organizational mode functioned well, a tribute to the lack of interagency jealousies.

This history is fascinating. But the conclusions of those involved in the decision-making about risk is telling: even though they observed Guillain-Barré syndrome in a significant number of individuals, they forged ahead with ACIP telling them it was more important to conduct mass vaccinations.

In 1986, the The National Childhood Vaccine Injury Act (NCVIA) established the National Vaccine Injury Compensation Program. Guillain-Barré Syndrome was added to the table of vaccine injuries for which compensation is awarded in 2017. It took thirty-one years to add GBS to the table, and they knew about the assocation for ten years before the 1986 act.

When assessing risk, there are the knowns, the unknowns, and the unknowns one does even know to look for. The "Reflections" article, on the CDC website, shows that knowledge of risk of autoimmune disorders like Guillain-Barré Syndrome and deaths from vaccination was present from the beginning.

Serious side effects in a minority of patients is rationalized by the benefits of the flu vaccine, and vaccine risk denialism perpetuates the regulation of perception necessary for continuation of the view that the benefits outweigh the risks.

But, at a population level, evidence is mounting that, due to numerous reasons, mass influenza vaccination is self-defeating.

The facts in the scientific literature that must be considered include:

(1) A/H3N2 disease vaccinated individuals were significantly more likely to report myalgias (OR 3.31; 95% CI [1.22, 8.97]) than vaccinated individuals. [Vaccine-associated reduction in symptom severity among patients with influenza]

(2) Vaccination with Thimerosal induces immunological damage. Specifically, Thimerosal inhibits the protein ERAP1, which shortens proteins headed for the cell surface of MHC Class 1 ["Stamogiannos et al., 2016 Screening Identifies Thimerosal as a Selective Inhibitor of Endoplasmic Reticulum Aminopeptidase 1″]

(3) Vaccination against Influenza with thimerosal-containing vaccines is associated with an increase in non-influenza respiratory infections ["Increased Risk of Noninfluenza Respiratory Virus Infections Associated With Receipt of Inactivated Influenza Vaccine"]

(4) Repeated vaccination at a young age substantially increases the risk of influenza in older age, by a factor ranging between 1. 2 (vaccination after 50 years) to 2. 4 (vaccination from birth) ["Repeated influenza vaccination of healthy children and adults: borrow now, pay later?"]

(5) B-cells activated by flu vaccine crowds out B-cells for other viruses ["Why Flu Vaccines So Often Fail, Science Magazine"]

(13) The evidence that heterologous immunity and very limited efficacy makes universal vaccination against the flu will create more disease than it prevents is impressive. [Why do people get the flu after getting the flu shot?]

(8) The rate of aerosol shedding among cases with vaccination in the current and previous season is higher than that in people with no vaccination in those two seasons. ["Infectious virus in exhaled breath of symptomatic seasonal influenza cases from a college community"]

The 1976 risk policy assumptions are summarized by Sencer and Millar:

"Decision-making" Risks

When lives are at stake, it is better to err on the side of overreaction than underreaction. Because of the unpredictability of influenza, responsible public health leaders must be willing to take risks on behalf of the public. This requires personal courage and a reasonable level of understanding by the politicians to whom these public health leaders are accountable. All policy decisions entail risks and benefits: risks or benefits to the decision maker; risks or benefits to those affected by the decision. In 1976, the federal government wisely opted to put protection of the public first." (emphasis added)

At this point, in 2018, one must ask: when will protection from vaccine-induced immunological and neurological damage become a factor in the risk equations, or better yet, a priority? When will it be seen as more important than the management of the perception of risk?

Additional Considerations
__________________________________________

 Why some people don't eat sushi: NINE foot tapeworm removed from man's rectum in Singapore
February 10, 2018 by: Michelle Simmons
A nine-foot tapeworm was removed from a man's rectum in Singapore, according to a report by the Daily Mail Online. The unnamed man did not know that a tapeworm was growing inside his intestine because there were no symptoms of having a tapeworm, such as severe abdominal pain. Experts at the Department of Microbiology of Singapore General Hospital believe that the man became infected most likely because of ingesting raw fish.
"The patient was somewhat appalled when the worm was passed out via the rectum," said Hsu Li Yang, an infectious diseases expert at the hospital.
Hsu shared the details of the 2016 case to elaborate the issue of people being infected with parasites after consuming raw or undercooked seafood. He also explained that the worm was an actual tapeworm because no other human parasite could grow that long.
"The question is what tapeworm, which will also help answer how the patient had acquired the worm," he said.
Infections from tapeworm occur after eating the larvae of Diphyllobothrium found in freshwater fish like salmon. Typically, humans get infected from eating sushi or raw fish that has been infected with the worm in its larvae stage. The hatching larvae stick themselves to the wall of the intestines of the fish; then the worms infect the flesh of the fish. As soon as a person gets infected, a tapeworm will grow inside the intestine as long as 15 meters within a few weeks. It can continue to live for years and can remain undetected for weeks or months, as well as release its eggs that infect other body parts of the person. Furthermore, if the larvae start to move to other parts of the body, they can begin to eat away at the liver, eyes, heart, or brain and cause life-threatening conditions. Symptoms of tapeworm infections include fatigue, constipation, and abdominal discomfort, which can be very mild that the victim may not observe anything wrong.
Consumption of raw fish in Singapore and all around the world continue to gain attention in the middle of the increasing popularity of sashimi. Cases of tapeworm infections not only increased in more impoverished areas but also in more developed countries.
In California, a man who ate sushi went to the emergency room of Community Regional Medical Center after finding a five and a half feet tapeworm that was "wiggling out" as he sat on the toilet, according to another Daily Mail Online report. Dr. Kenny Bahn told this story on the podcast This Won't Hurt A Bit. The patient thought at first that his intestines were coming out, but when he started to remove the worm, it started moving. The man reported that he ate raw salmon every day, which most likely caused the infection. (Related: Beware: US salmon may be crawling with Japanese tapeworm, say scientists.)
Preventing tapeworm infections
To reduce the risk of getting infected by tapeworms, refrain from eating raw or undercooked pork, beef, or freshwater fish. Prepare meat and fish well and cross-contamination between raw meat or fish and cooked dishes. Wash vegetables and fruits before eating them. Remember to wash hands with soap and water before preparing food, before eating, after using the toilet, and after close contact with animals. Lastly, make sure that the water you drink is clean whenever you travel abroad.
___________________________________________________________________________________
 [We should all avoid GMO foods. Glyphosate is a killer, and since glyphosate has leached into nearly all water sources, we should all be drinking distilled water. Distilled water is inexpensive and can be purchased at food markets … or you can purchase a distiller and make your own safe water. GMO corn and wheat products are two of the biggest poisoners in our common foods -ed]
We're the 'Weeds' for Monsanto Roundup Weed Killer
____________________________________________________________________
The Gender Question: How Difficult Can It be?
Ben Williams – 11-28-2017
[In this article I borrowed lines from another published article, edited them, and used them to build my commentary. -ed]
The sex of a baby is determined by genes, not by preference. It is accomplished very early in a pregnancy, and every cell in the body of the baby is either male or female. This identity remains with them all their life. They are conceived and born one or the other, either male or female. It is pretty simple.
Teaching innocent primary school children about cross-dressing, homosexuality, and transgender, and that it is normal, is the work of devils posing as teachers. Encouraging little boys to come to school wearing dresses, or telling pre-pubescent girls about abortion … where will this end?
Probably I will offend the LGBT groups. My answer to this is that I will have failed if I don't offend them. Those who refuse to listen to common sense are not worth wasting time with.
In the UK, in March 2017 plans were introduced to teach children from the age of four upwards about "safe sexual relationships" in classes called SRE (Sex and Relationships Education). In the Netherlands kids are forced to hear "Comprehensive Sex Education," talking about gender stereotypes, sexual orientation, and methods of contraception. This is introduced in primary school. In fact, it is enshrined in the law in the Netherlands.
And so the list goes on. In some countries sex education is introduced later, in others there is an option to withdraw a child from a sex education program.
All generations have discussions about key issues, and I have a lot of objections about it over the last decades. I have seen these practices produce the world we live in: growing violence, growing poverty, mishandling of the land, air, and even space, the imposition of perverts who find places within government, and projects that come through the back door as is easily seen in today's governments around the globe where discussions of public morals and definitions of normalcy have been handed over to queers and devils.  Jesus had something to say about these devils:
42. And whosoever shall offend one of these little ones (children) that believe in me, it is better for him that a millstone were hanged about his neck, and he were cast into the sea.
Mark 9:42
This applies to those who get satisfaction by shocking children and the public by walking around cross-dressed or same-sex kissing and cavorting on park benches, or even inappropriate heterosexual displays in public. This is, surely, common sense and nobody would practice this unless they had been perverted by idiot parents, devilish school teachers, and stupid church groups.
What is not common sense, and what appears to be a clear violation of normalcy and invasion of the mind of a person, is what is happening today, telling children at an age when they don't even understand what it means, about all sorts of practices, putting notions into their heads they might never have had. Common sense would allow little innocent children be little children, playing, learning about the world in which they live, concentrating on basic arithmetic without calculators, learning their times tables properly, language, natural science, manners and social skills, and perhaps an introduction to economics, geography and history, without the typical sociopaths invading their lives. And this, delivered while sitting up straight in the classroom and not slouching in a chair with half a dozen gadgets to play with, in silence and paying attention and not chatting while the teacher is speaking.
Common sense dictates that you build on these foundations as the child grows older and as his world expands. Today the majority of high school pupils have had at least one sexual encounter (in my day the percentage was very low, and those known to be sexually active were viewed as degenerate). Sex education should come from natural experiences, watching animals, and talking to family members who love you and protect you from harmful exposure. In truth, a child in a normal setting would have to be blind and deaf to not develop natural ideas and to mature into sensible adults regarding sexual knowledge. Sexuality is not mysterious or difficult unless children are exposed to perverts and psychopaths.
Common sense says that if a four-year-old boy is dressing up in his sister's clothing, he needs some private discussion with his loving parents. He should not be prancing around the school playground in a frilly dress and panties, almost certainly getting bullied and certainly not being allowed to sit in class wearing a frock while his teacher explains that sex with same-sex partners is normal and safe.
Common sense tells us that children find these things out for themselves as they are growing up and that if they have any questions, they ask their parents or their peers and sort things out by themselves. It isn't rocket science! Laying everything out in the open at too young an age surely creates confusion where it should not exist, introduces questions which would never have been asked, and gives rise to stress and self-doubt and traumas that would never have appeared. And that is when the problems start to arise.
So are Americans creating more problems than they are solving with their unnatural attention to sex? Where has common sense gone, and why?
___________________________________
SILENT EPIDEMIC – THE UNTOLD STORY OF VACCINES
_____________________________________
VAXXED: What Media Hid in De Niro Autism Film Affair
________________________________
Putin Closes The Door To Monsanto
Paul Craig Roberts – 5-23-2016
In a new address to the Russian Parliament Thursday, Putin proudly outlined his plan to make Russia the world's 'leading exporter' of non-GMO foods that are based on 'ecologically clean' production. Putin harshly criticized food production in the United States, declaring that Western food producers are no longer offering high quality, healthy, and ecologically clean food. Putin is correct. American agribusiness is slowly poisoning the American population.
The United States is finished. The One Percent have the country by the throat and will not let go. For the One Percent nothing is important except mega-riches. Young Americans should emigrate to Russia, a country coming out of a dark period as America descends into darkness.
Moreover, Russia has leadership that represents the people, something the United States will never again experience.
_____________________________________________
GRAIN BRAIN –  David Perlmutter. Modern GMO wheat is causing several epidemic diseases of which you need to be aware. It not only is making our gut diseased, it is affecting our brains. 
_________________________________
Stephanie Seneff, PhD on Glyphosate (RoundUp) Poisoning.
______________________________________
Only 1 TBSP of Coconut Oil Produces Powerful Health Changes, Study Confirms
By Sayer Ji, GreenMed Info
A simple tablespoon daily of coconut oil could promote weight loss and improve cardiovascular health, reveals a new clinical study.
A new study titled, "A coconut extra virgin oil-rich diet decreases waist circumference and body mass in coronary artery disease patients," holds great promise in those suffering from overweight, obesity, and heightened cardiovascular disease risk, and against which pharmaceutical approaches often fail.
Coconut oil was once considered a "bad fat," as it contains saturated fatty acids which conventional nutritionists did not distinguish from synthetically produced ones such as margarine. We know far better now, and increasingly, natural sources of saturated fats are gaining appreciation as not only "not-bad," but actually beneficial, particularly for the brain. You can check out the first hand literature on coconut's helath benefits on the GreenMedInfo.com database, or read our article, 13 Evidence-Based Health Benefits of Coconut Oil.
In the first phase, a three month period, 136 enrollees were put on a standardized diet. From the third month onward, the 116 who completed the first phase were place in two intervention groups: 22 remained on the diet, and 92 were put on the diet + 13 ml (.43 ounces) daily of extra virgin coconut oil, which is equivalent to about 14 grams, or about 1 Tablespoon (15 grams).
The results of the the three-month coconut oil intervention showed that relative to the standard diet, the coconut group saw a decrease in all six of the bodily parameters measured, including:
Weight: -.6 kilograms (1.322 pounds)
Body Mass Index: – .2 kg/m2
Waist Circumference: -2.1 cm
Neck Perimeter: -4 cm
Systolic Blood Pressure: -3.3 points
Diastolic Blood Pressure: -3.5 points
Additionally, midsection fat, also known as abdominal obesity, is a serious risk factor for cardiovascular events and cardiac mortality. In fact, a 2007 study published in the journal Circulation found that of three risk factors evaluated for heart attack, namely, abdominal obesity, abnormal lipids, and smoking, abdominal obesity was the most powerful: 48.5%, versus 40.8% for abnormal lipids, and 38.4% for smoking.
When one considers these two factors, any safe, diet-based lifestyle modification that can safely raise HDL-C cholesterol, and reduce midsection fat and related anthropometric parameters such as BMI and midsection circumference, is a home run.
This is, of course, not the first time we have reported on the powerful health benefits of coconut oil. In fact, it doesn't take months, or even days, to observe positive changes in certain populations. We reported previously on what can only be described as an amazing study where just one dose of coconut oil derived medium chain triglycerides produced positive cognitive changes in Alzheimer's patients in only 90 minutes. You can read about it in greater detail here: MCT Fats Found In Coconut Oil Boost Brain Function In Only One Dose.
For reducing abdominal obesity, you can take a look at our database on the topic: Reduce Belly Fat (Abdominal Obesity).
___________________________________
New Two-Year Study Exposes Monsanto Roundup Weed Killer
___________________________________________________________
Victory! World's Largest Nation Bans GMO Food Crops
___________________________________________________________________
Top Planned Parenthood abortionist describes how she dismembered babies and did partial-birth abortions
(WARNING: This article contains brutal, graphic information and pictures. As a result of these recent exposés the House of Representatives has been felt pressure to pass a bill to defund Planned Parenthood … a step in the right direction. However, it is known that the Senate will probably vote it down. And even if the bill passes the Senate, Obama will certainly veto it. Nonetheless, these horrendous details are now on the Internet, shining more light upon this monstrous crime, and holding a complicit public's feet to the fire by exposing them to the graphic details of aborticide and the callous, psychopathic serial murderers called abortionists. It is also removing any excuse or claim of ignorance by mothers who opt to murder their own little helpless babies.)
Dr. Carolyn Westhoff, Senior Medical Advisor for Planned Parenthood Federation of America, is seen on The Center for Medical Progress's tenth video, discussing how certain Planned Parenthood affiliates are very familiar with the process of providing aborted fetal body parts. In the uncut video, Westhoff is seen asking the actor (posing as a potential buyer) about what kinds of tissue they want for research, saying, "You only do fresh tissue, you don't do frozen?" She continues, saying they've been "working with people who want particular tissues":
… Like, you know, they want cardiac, or they want eyes, or they want neural. People want spinal cords, so I mean, that sort of thing. Certainly, everything we provide–oh, gonads! Oh my God, gonads. Everything we provide is fresh.
Westhoff should know all about "fresh" human body parts. After all, on April 2, 2004, Westhoff testified in the case of National Abortion Federation, et. al. v. Ashcroft, in which she was among several physicians (including infamous late-term abortionist LeRoy Carhart) and organizations seeking to "permanently enjoin enforcement of the Partial-Birth Abortion Ban Act of 2003."
Yes, this partial-birth abortion.
Westhoff was questioned in depth about her participation in partial-birth abortion, and whether or not she and other abortionists were honest with patients about what occurs in such procedures (they weren't). She also admitted that she dances around the question of fetal pain if a patient asks – even though she has seen fetal pain reactions:
THE COURT: What do you tell them, does the fetus feel pain or not when they ask?

THE WITNESS: What I tell them is that the subject of the fetal pain and whether a fetus can appreciate pain is a subject of some research and controversy and that I don't know to what extent the fetus can feel pain but that its —

THE COURT: Do you tell them it feels some pain?

THE WITNESS: I do know that when we do, for instance an amniocentesis and put a needle through the abdomen into the amniotic cavity that the fetus withdraws so I certainly know based on my experience that the fetus with [sic] withdraw in response it a painful stimulus.
Later, she answers, "No, I don't," when asked whether or not she feels patients need to know that, in a partial-birth abortion, the "head is collapsed or crushed…." She said that information "would be distressing to my patients and would not — information about that is not directly relevant to their safety."
But aside from the lack of desire to inform women about the gruesomeness that really happens during an abortion, let's go back to Westhoff's comments about the "freshness" of fetal body parts. Here is another interaction, under oath ("Q" is the Court, "A" is Westhoff):
Q. When you perform an intact D&E, Dr. Westhoff, is the fetus living when you commence vaginal delivery?

 

A. Although I don't always check for it, I believe there is usually a heartbeat and that the fetus is living.
~
Q. And at the time you either cut the umbilical cord or collapse the skull, is the fetus living?

A. Yes.

~
Q. Dr. Westhoff, do you make it a practice either to effect fetal demise by using potassium chloride, as we have heard about, or injecting a toxin into the amniotic sac prior to the time that you effect a surgical evacuation of the uterus?

A. No, Mr. Hut, I usually do not do so

Q. Why not?

A. The main reason that it is an additional procedure that does not offer any benefit to the woman that I am taking care of. The procedure itself is not trivial, it can be difficult to accomplish, can fail, and has some risks. Those are the main reasons I do not use this procedure."
Are we now – in light of multiple videos which prove that fetal body parts are of high value to researchers and others – supposed to believe that Westhoff's "main reason" for not using a feticide (a chemical injected into the preborn child to cause cardiac arrest) such as digoxin is really because it "does not offer any benefit to the woman"? Or is it really because it would make the fetal body parts completely unfit for use by procurement agencies and researchers? A point to ponder.
PPFA Medical Director, Dr. Deborah Nucatola, expressed willingness to alter an abortion procedure (which is against federal law) in CMP's first video. She knew that changing the presentation of the preborn child in utero ("convert[ing] to breech") would provide better organs for procurement.
The award-winning Dr. Carolyn "Fresh" Westhoff and her cohorts who objected to the Partial-Birth Abortion Ban Act of 2003 knew this, too.
——————————————————————————————-
U.S. House votes to make it a first-degree murder to kill babies after botched abortions
(This is probably a lame move, since the abortionists only need to make sure they kill the baby before it is completely removed from the womb. They do this by pulling the baby part way out feet-first, leaving the head inside, then crushing the spine at the base of the head while the head remains in the womb. Thus, the baby is then dead before the head comes out. This is called a "partial birth abortion" and is done to avoid recriminations of killing live aborted babies. See above illustration. -ed)
WASHINGTON, D.C., September 18, 2015 (LifeSiteNews) — The House has passed a pro-life bill that makes it a first-degree murder for abortionists to kill children born alive through botched abortions.
In a nearly party-line vote of 248-177, with one Member voting "Present," the House passed H.R. 3504, the "Born-Alive Abortion Survivors Protection Act." The bill was introduced and debated in light of the Center for Medical Progress' videos that indicate Planned Parenthood clinics may be killing babies post-birth.
The bill makes killing a baby born from a botched abortion first-degree murder, and requires reporting of violations of the law. House Judiciary Committee Chairman Bob Goodlatte, R-VA, and Constitution Subcommittee Chairman Trent Franks, R-AZ, said in a statement that "this legislation sends a strong message to those who are in the horrific business of abortions that there are real consequences for those who would kill or abandon children after they are outside a mother's womb."
STORY: Aborted baby's heart was beating as we harvested his brains: worker in new Planned Parenthood video
The statement called the bill "a somber reminder of the horrors of abortion" and of the actions of convicted murderer Kermit Gosnell.
The bill was one of two pro-life bills passed by the House today. The other was H.R. 3134, the "Defund Planned Parenthood Act," which eliminates federal funding for abortion for one year and transfers $235 million to Federally Qualified Health Centers — which do not conduct abortions.
_____________________________________________________________________________________________
Nationwide mandatory vaccination bill is now here! New law will punish states that uphold medical choice
(Here is an article that is alarming at first glance. But, in fact it is good news. If this law goes into effect it will be a blessing in disguise. How? How can a law that forces vaccination upon all children who go to public school be a blessing? Very simple. It will wake up more parents who have been too lazy or recalcitrant to take their children out of the public schools system. Parents who don't love their children enough to protect them would go ahead and send them to the Beast System indoctrination centers (schools). It would be a test and a judgment upon parents. This would be a good thing. The parents will have to look into the mirror and ask what kind of mother or father they are.) ——————————————-
Medical tyranny is apparently quite trendy in America these days, as a Florida congresswoman recently introduced a new legislative bill that, if passed, would restrict federal funding to states that don't require every single public school student to be fully vaccinated according to Centers for Disease Control and Prevention (CDC) recommended guidelines.
Representative Frederica S. Wilson, a Democrat from Florida's 24th District (which includes parts of Miami), has unveiled the aptly-titled "Vaccinate All Children Act of 2015," which sets as a requirement that "each student enrolled in one of the State's public elementary schools or public secondary schools … be vaccinated in accordance with the recommendations of the Advisory Committee on Immunization Practices."
If a state doesn't abide by this draconian requirement, including every state that has vaccine exemption laws currently on the books, then it will no longer be eligible to receive federal grants, according to the provisions of the bill. In other words, live by Big Brother's rules or be cut off from the gravy train (wait, isn't this the type of despotism our forefathers fought to escape by settling in the new world?).
"This bill is essentially an attempt to blackmail states into abandoning any vaccination exemptions they currently have in place," writes Lily Dane for The Daily Sheeple about the proposed measure.
Forced vaccinations bill would require all Americans born into it get at least 184 jabs!
If you haven't taken a gander at the CDC's Recommended Childhood Vaccine Schedule in a while, you might be surprised to learn that quite a few new vaccines have been added to the list over the past several decades – and many more are on the way!
Compared to the schedule from 1983, which contained only 24 vaccine doses within the first year-and-a-half of a child's life, today's schedule contains an astounding 71 vaccine doses during this same time period. And this number balloons even further as a child grows older, swelling to a shocking 184 vaccine doses over a person's entire lifetime!
"Put simply, all philosophical and religious objections would have to be abolished by the States, in submission to the power of the Federal Purse," reads an announcement published in Dr. Rima Truth Reports. "All medical excuses would be subject to the state's very strict regulations that violate the patient/doctor relationship and unreasonably restrict the practice of medicine."
Parents, adults would also be subjected for forced jabs under Rep. Wilson's proposed bill
Children wouldn't be the only victims within this new mandatory jab paradigm. The CDC, it turns out, has already initiated a plan through Obama's Affordable Care Act to work with employers to push the CDC's vaccine schedule on adults. The so-called "National Adult Immunization Plan" currently being drafted would add an additional 114 vaccine doses to what an individual would receive throughout his lifetime.
"There are currently 271 vaccines in the development pipeline," explains The Daily Sheeple.
So what happens when people refuse Rep. Wilson's hypothetical plan to forcibly jab every American child and adult with live viruses, aluminum, mercury, and other deadly neurotoxins? In blatant violation of the Nuremberg Code, Wilson has suggested using "element[s] of force, fraud, deceit, duress, over-reaching, or other ulterior forms of constraint or coercion." Put simply, you'll take the government's vaccines or you'll die, essentially.
"Our warning to all Federal and State legislators: Do not become accessories to the violation of International Humanitarian Law," warns Dr. Rima Laibow about this dangerous, treasonous bill that wages war on medical freedom in the U.S.
Sources:
http://www.thedailysheeple.com
http://www.truthwiki.org/Vaccine_Fanaticism/
http://www.truthwiki.org/Medical_Fascism/
________________________________________
Why Oncologists Don't Like Baking Soda Cancer Treatment
Dave Mihalovic, 
Even the most aggressive cancers which have metastasized have been reversed with baking soda cancer treatments. Although chemotherapy is toxic to all cells, it represents the only measure that oncologists employ in their practice to almost all cancer patients. In fact, 9 out of 10 cancer patients agree to chemotherapy first without investigating other less invasive options.
Doctors and pharmaceutical companies make money from it. That's the only reason chemotherapy is still used. Not because it's effective, decreases morbidity, mortality or diminishes any specific cancer rates. In fact, it does the opposite. Chemotherapy boosts cancer growth and long-term mortality rates and oncologists know it.
A few years ago, University of Arizona Cancer Center member Dr. Mark Pagel received a $2 million grant from the National Institutes of Health to study the effectiveness of personalized baking soda cancer treatment for breast cancer. Obviously there are people in the know who have understood that sodium bicarbonate, that same stuff that can save a person's life in the emergency room in a heartbeat, is a primary cancer treatment option of the safest and most effective kind.
Studies have shown that dietary measures to boost bicarbonate levels can increase the pH of acidic tumors without upsetting the pH of the blood and healthy tissues. Animal models of human breast cancer show that oral sodium bicarbonate does indeed make tumors more alkaline and inhibit metastasis. Based on these studies, plus the fact that baking soda is safe and well tolerated, world renowned doctors such as Dr. Julian Whitaker have adopted successful cancer treatment protocols as part of an overall nutritional and immune support program for patients who are dealing with the disease. The Whitaker protocol uses 12 g (2 rounded teaspoons) of baking soda mixed in 2 cups water, along with a healthy sweetener of your choice. (It's quite salty tasting.) Sip this mixture over the course of an hour or two and repeat for a total of three times a day. One man claims he has found a cure for cancer using baking soda and molasses and actually successfully treated his own disease by using baking soda.
When taken orally with water, especially water with high magnesium content, and when used transdermally in medicinal baths, sodium bicarbonate becomes a first-line medicinal for the treatment of cancer, and also kidney disease, diabetes, influenza and even the common cold.
Dr. Robert J. Gillies and his colleagues have already demonstrated that pre-treatment of mice with baking soda results in the alkalinization of the area around tumors. The same researchers reported that bicarbonate increases tumor pH and also inhibits spontaneous metastases in mice with breast cancer.
What is Baking Soda?
Baking soda is a white crystalline solid that appears as fine powder. It is also called cooking soda, bread soda and bicarbonate of soda. Its chemical name is sodium bicarbonate or sodium hydrogen carbonate.
Baking soda is different from washing soda (sodium carbonate) although they share the same slightly salty and alkaline taste.
This widely used soda is commonly dissolved in mineral water and used as a leavening agent in baking. It works as a leavening agent by neutralizing the acidic components of batter. The neutralization releases carbon dioxide and leads to the "raising" or expansion of baked foods.
Baking soda has also been used to soften vegetable and to tenderize meat.
As a household chemical, baking soda is used as a cleaning agent. It is included in toothpastes for similar reasons where it serves as an antiseptic, acid-neutralizer, whitening agent and plaque-removing agent as well as a cleaning agent.
Other common personal hygiene products in which baking soda can be found include deodorants and shampoos.
Baking Soda and pH Medicine
The pH of our tissues and body fluids is crucial and central because it affects and mirrors the state of our health or our inner cleanliness. The closer the pH is to 7.35-7.45, the higher our level of health and wellbeing. Staying within this range dramatically increases our ability to resist acute illnesses like colds and flues as well as the onset of cancer and other diseases. Keeping our pH within a healthy range also involves necessary lifestyle and dietary changes that will protect us over the long term while the use of sodium bicarbonate gives us a jump-start toward increased alkalinity.
The pH scale is like a thermometer showing increases and decreases in the acid and alkaline content of fluids. Deviations above or below a 7.35-7.45 pH range in the tightly controlled blood can signal potentially serious and dangerous symptoms or states of disease. When the body can no longer effectively neutralize and eliminate the acids, it relocates them within the body's extra-cellular fluids and connective tissue cells directly compromising cellular integrity. Conversely when the body becomes too alkaline from too much bicarbonate in the blood, metabolic alkalosis occurs, which can lead to severe consequences if not corrected quickly.
Hydrogen ions tie up oxygen. That means that the more acid a liquid is, the less available the oxygen in it. Every cell in our body requires oxygen for life and to maintain optimum health. Combine that with what we know about hydrogen ions and we see that the more acid the blood (the lower its pH), the less oxygen is available for use by the cells. Without going into a discussion of the chemistry involved, just understand that it's the same mechanism involved when acid rain "kills" a lake. The fish literally suffocate to death because the acid in the lake "binds up" all of the available oxygen. It's not that the oxygen has gone anywhere; it's just no longer available. Conversely, if you raise the pH of the lake (make it more alkaline), oxygen is now available and the lake comes back to life. Incidentally, it's worth noting that cancer is related to an acid environment (lack of oxygen)–the higher the pH (the more oxygen present in the cells of the body), the harder it is for cancer to thrive.
Understanding this is important for two reasons: (1) it reveals one of the primary benefits of alkaline water–more "available" oxygen in the system and (2) it explains why alkaline water helps fight cancer.
How Baking Soda Can Help "Cure" Cancer
Basically, malignant tumors represent masses of rapidly growing cells. The rapid rate of growth experienced by these cells means that cellular metabolism also proceeds at very high rates.
Therefore, cancer cells are using a lot more carbohydrates and sugars to generate energy in the form of ATP (adenosine triphosphate).
However, some of the compounds formed from the energy production include lactic acid and pyruvic acid. Under normal circumstances, these compounds are cleared and utilized as soon as they are produced. But cancer cells are experiencing metabolism at a much faster rate. Therefore, these organic acid accumulate in the immediate environment of the tumor.
The high level of extracellular acidity around the tumor is one of the chief driving force behind the metastasis of cancer tumors.
Basically, cancer cells need an acidic environment to grow and spread rapidly.
Some cancer experts, therefore, believe that by buffering the tumor microenvironment with an alkalizing compound, the pH of tumors can be raised enough to starve them and stop their growth and spread.
Curiously, this rather simple solution to cancer has been proven right.
What is even more remarkable is that there is no need to cook up some fancy synthetic drug to lower the acidity in the immediate environment of the tumor. A simple, commonly obtained compound like sodium bicarbonate will do.
Obviously, it is desirable to deliver the sodium bicarbonate as close to the tumor as possible since its pH-raising effect is needed in the microenvironment of the tumor. Therefore, directly injecting sodium bicarbonate in the tumor site is considered a better solution than oral administration. However, oral sodium bicarbonate is just safer and can be readily used at home.
A 2009 study published in the journal, Cancer Research, is among the first to confirm that the alkalinizing effect of sodium bicarbonate can indeed stop cancer.
By injecting sodium bicarbonate into a group of mice, the authors of the study were able to determine how the growth and spread of cancer tumors were effected by raising the pH of the organ affected by the cancer.
The study results showed that baking soda indeed raised the pH and reduced spontaneous metastases in mice induced with breast cancer.
The researchers also determined that sodium bicarbonate works by raising the pH outside cells and not within cells. This is an important finding because it suggests that sodium bicarbonate does not interfere with cellular metabolism even as it makes the microenvironment unconducive for tumor growth.
Other findings from this study show that baking soda:
Reduced the involvement of the lymph node on the transport of cancer cells
Does not lower the levels of circulating tumor cells
Reduced the involvement of the liver and, therefore, the spread of tumor cells to other organs
Inhibit the colonization of other organs by circulating tumor cells
The Baking Soda Formula for Cancer
To make the baking soda natural cancer remedy at home, you need maple syrup, molasses or honey to go along with the baking soda.
In Dr. Sircus' book, he documented how one patient used baking soda and blackstrap molasses to fight the prostate cancer that had metastasized to his bones. On the first day, the patient mixed 1 teaspoon of baking soda with 1 teaspoon of molasses in a cup of water.
He took this for another 3 days after which his saliva pH read 7.0 and his urine pH read 7.5.
Encouraged by these results, the patient took the solution 2 times on day 5 instead of once daily. And from day 6 – 10, he took 2 teaspoons each of baking soda and molasses twice daily.
By the 10th day, the patient's pH had risen to 8.5 and the only side effects experienced were headaches and night sweat (similar to cesium therapy).
The next day, the patient had a bone scan and too other medical tests. His results showed that his PSA (prostate-specific antigen, the protein used to determine the severity of prostate enlargement and prostate cancer) level was down from 22.3 at the point of diagnosis to 0.1.
Another baking soda formula recommends mixing 90 teaspoons of maple syrup with 30 teaspoons of baking soda.
To do this, the maple syrup must be heated to become less viscous. Then the baking syrup is added and stirred for 5 minutes until it is fully dissolved.
This preparation should provide about 10-day worth of the baking soda remedy. 5 – 7 teaspoons per day is the recommended dose for cancer patients.
Care should be taken when using the baking soda remedy to treat cancer. This is because sustaining a high pH level can itself cause metabolic alkalosis and electrolyte imbalance. These can result in edema and also affect the heart and blood pressure.
One does not have to be a doctor to practice pH medicine. Every practitioner of the healing arts and every mother and father needs to understand how to use sodium bicarbonate. Bicarbonate deficiency is a real problem that deepens with age so it really does pay to understand and appreciate what baking soda is all about.
______________________________________________________________________________
Shocking Report from Medical Insiders
F. William Engdahl (NEO) : A shocking admission by the editor of the world's most respected medical journal, The Lancet, has been virtually ignored by the mainstream media. Dr. Richard Horton, Editor-in-chief of the Lancet recently published a statement declaring that a shocking amount of published research is unreliable at best, if not completely false, as in, fraudulent.
Horton declared, "Much of the scientific literature, perhaps half, may simply be untrue. Afflicted by studies with small sample sizes, tiny effects, invalid exploratory analyses, and flagrant conflicts of interest, together with an obsession for pursuing fashionable trends of dubious importance, science has taken a turn towards darkness."
To state the point in other words, Horton states bluntly that major pharmaceutical companies falsify or manipulate tests on the health, safety and effectiveness of their various drugs by taking samples too small to be statistically meaningful or hiring test labs or scientists where the lab or scientist has blatant conflicts of interest such as pleasing the drug company to get further grants. At least half of all such tests are worthless or worse he claims. As the drugs have a major effect on the health of millions of consumers, the manipulation amounts to criminal dereliction and malfeasance.
The drug industry-sponsored studies Horton refers to develop commercial drugs or vaccines to supposedly help people, used to train medical staff, to educate medical students and more.
Horton wrote his shocking comments after attending a symposium on the reproducibility and reliability of biomedical research at the Wellcome Trust in London. He noted the confidentiality or "Chatham House" rules where attendees are forbidden to name names: "'A lot of what is published is incorrect.' I'm not allowed to say who made this remark because we were asked to observe Chatham House rules. We were also asked not to take photographs of slides."
Other voices
Dr. Marcia Angell is a physician and was longtime Editor-in-Chief of the New England Medical Journal (NEMJ), considered to be another one of the most prestigious peer-reviewed medical journals in the world. Angell stated,
"It is simply no longer possible to believe much of the clinical research that is published, or to rely on the judgment of trusted physicians or authoritative medical guidelines. I take no pleasure in this conclusion, which I reached slowly and reluctantly over my two decades as an editor of the New England Journal of Medicine."
Harvey Marcovitch, who has studied and written about the corruption of medical tests and publication in medical journals, writes, "studies showing positive outcomes for a drug or device under consideration are more likely to be published than 'negative' studies; editors are partly to blame for this but so are commercial sponsors, whose methodologically well-conducted studies with unfavorable results tended not to see the light of day…"
At the University of British Columbia's Neural Dynamics Research Group in the Department of Ophthalmology and Visual Sciences, Dr Lucija Tomljenovic obtained documents that showed that, "vaccine manufacturers, pharmaceutical companies, and health authorities have known about multiple dangers associated with vaccines but chose to withhold them from the public. This is scientific fraud, and their complicity suggests that this practice continues to this day."
Lancet's Dr. Horton concludes, "Those who have the power to act seem to think somebody else should act first. And every positive action has a counter-argument. The good news is that science is beginning to take some of its worst failings very seriously. The bad news is that nobody is ready to take the first step to clean up the system.
Corruption of the medical industry worldwide is a huge issue, perhaps more dangerous than the threat of all wars combined. Do we have such hypnosis and blind faith in our doctors simply because of their white coats that we believe they are infallible? And, in turn, do they have such blind faith in the medical journals recommending a given new wonder medicine or vaccine that they rush to give the drugs or vaccines without considering these deeper issues?
F. William Engdahl is strategic risk consultant and lecturer, he holds a degree in politics from Princeton University and is a best-selling author on oil and geopolitics, exclusively for the online magazine "New Eastern Outlook".
________________________________________
Why Didn't My Doctor Tell Me Chemo Kills?
__________________________________________
Russia's small-scale organic agriculture model may hold the key to feeding the world
Imagine living in a country where having the freedom to cultivate your own land, tax-free and without government interference, is not only common but also encouraged for the purpose of promoting individual sovereignty and strong, healthy communities. Now imagine that in this same country, nearly all of your neighbors also cultivate their own land as part of a vast network of decentralized, self-sustaining, independent "eco-villages" that produce more than enough food to feed the entire country.
You might be thinking this sounds like some kind of utopian interpretation of historical America, but the country actually being described here is modern-day Russia. It turns out that Russia's current agricultural model is one that thrives as a result of the millions of small-scale, family-owned and -operated, organically-cultivated farms that together produce the vast majority of the food consumed throughout the country.
Do Russians have more freedom, independence than Americans?
A far cry from the unsustainable, chemical-dependent, industrialized agriculture system that dominates the American landscape today, Russia's agricultural system, which is not technically a system at all, is run by the people and for the people. Thanks to government policies there that actually encourage autonomous family farming, rather than cater to the greed of chemical and biotechnology companies like they do here in the states, the vast majority of Russians are able and willing to grow their own food on privately-owned family plots known as "dachas."
According to The Bovine, Russia's Private Garden Plot Act, which was signed into law back in 2003, entitles every Russian citizen to a private plot of land, free of charge, ranging in size from 2.2 acres to 6.8 acres. Each plot can be used for growing food, or for simply vacationing or relaxing, and the government has agreed not to tax this land. And the result of this effort has been phenomenal, as Russian families collectively grow practically all the food they need.
"Essentially, what Russian gardeners do is demonstrate that gardeners can feed the world — and you do not need any GMOs, industrial farms, or any other technological gimmicks to guarantee everybody's got enough food to eat," writes Leonid Sharashkin, editor of the English version of the The Ringing Cedars series, a book collection that explains the history behind this effort to reconnect people with the earth and nature.
Most food in Russia comes from backyard gardens
Back in 1999, it was estimated that 35 million small family plots throughout Russia, operated by 105 million people, or 71 percent of the Russian population, were producing about 50 percent of the nation's milk supply, 60 percent of its meat supply, 87 percent of its berry and fruit supply, 77 percent of its vegetable supply, and an astounding 92 percent of its potato supply. The average Russian citizen, in other words, is fully empowered under this model to grow his own food, and meet the needs of his family and local community.
"Bear in mind that Russia only has 110 days of growing season per year — so in the U.S., for example, gardeners' output could be substantially greater. Today; however, the area taken up by lawns in the U.S. is two times greater than that of Russia's gardens — and it produces nothing but a multi-billion-dollar lawn care industry."
The backyard gardening model is so effective throughout Russia that total output represents more than 50 percent of the nation's entire agricultural output. Based on 2004 figures, the collective value of all the backyard produce grown in Russia is $14 billion, or 2.3 percent of Russia's gross domestic product (GDP) — and this number only continues to increase as more and more Russians join the eco-village movement.
from TheBovime Website  

 In 1999, 35 million small family plots produced 90% of Russia's potatoes,  
77% of vegetables, 87% of fruits, 59% of meat, 49% of milk 

And since 1999, it seems things have only gotten better when it comes to small-scale agriculture in Russia.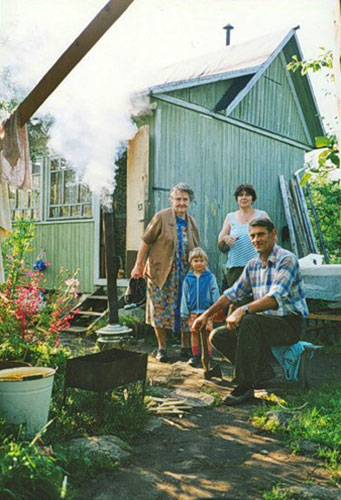 In 2003 the Russian President signed into law a further "Private Garden Plot Act" enabling Russian citizens to receive free of charge from the state, plots of land in private inheritable ownership.
Sizes of the plots differ by region but are between one and three hectares each [1 hectare = 2.2 acres].
Produce grown on these plots is not subject to taxation. A further subsequent law to facilitate the acquisition of land for gardening was passed in June 2006 (according to a footnote in "Who We Are" by Vladimir Megre, pg. 42)
What other country raises so much of their food in such sustainable, organic, and non-GMO modes of production?
While the European Union is setting the stage for agribusiness takeovers of major market share from traditional peasant farmers in places like Poland, Russia seems to be one of the few countries on the global stage moving so clearly in a sustainable and healthy direction.
And while organic farming gets a lot of media attention in North America, the fraction of agricultural land actually under organic cultivation is miniscule at 0.6%. The EU is a bit better at 4%.
In spite of the minimal land area under organic cultivation, the movement for healthy agriculture in North America is under increasing siege by government "regulators".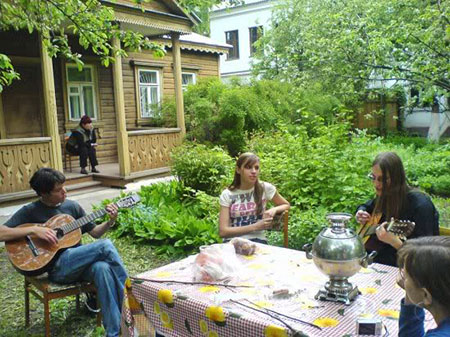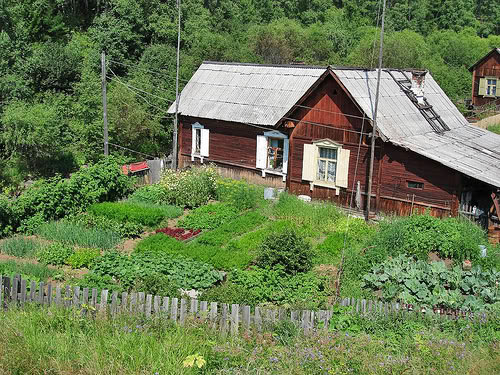 Dachniks is a term for the cottage-gardeners of Russia.
"Currently, with 35 million families (70% of Russia's population) working 8 million [hectares] of land and producing more than 40% of Russia's agricultural output, this is in all likelihood the most extensive microscale food production practice in any industrially developed nation.

"According to official statistics, in 1999 more than 35 million families (105 million people, or 71% of country's population) owned a dacha or a subsidiary plot and were cultivating it…

The 35 million plots of these families occupy more than 8 million hectares and provide,

92% of Russia's harvest of potatoes

77% of its vegetables

87% of berries and fruits

59.4% of meat

49.2% of milk"

"When you look at the contribution of gardening to the national economy as a whole, it's even more stunning," Sharashkin said.

"In 2004, gardeners' output amounted to 51% (by value) of the total agricultural output of the Russian Federation. This represents 384 billion rubles (approx. US$14 billion!!!), or 2.3% of Russia's Gross Domestic Product (GDP).

This is greater, for example, than the contribution of the whole of electric power generation industry (317 bn rubles), significantly greater than all of forestry, wood-processing and pulp and paper industry (180 bn), significantly greater than the coal (54 bn), natural gas (63 bn) and oil refining (88 bn) industries taken together.

The share of food gardening in national agriculture has increased from 32% in 1992 to over 50% by 2000."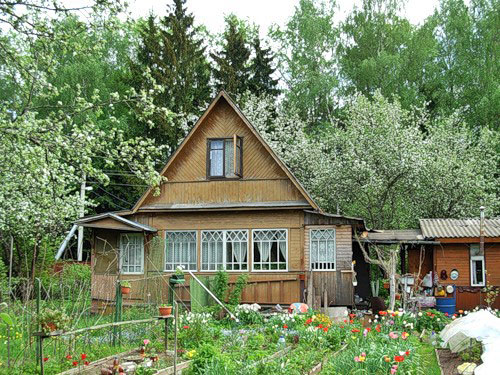 "Essentially, what Russian gardeners do," he concludes, "is demonstrate that gardeners can feed the world – and you do not need any GMOs, industrial farms, or any other technological gimmicks to guarantee everybody's got enough food to eat.

Bear in mind that Russia only has 110 days of growing season per year – so in the US, for example, gardeners' output could be substantially greater.

Today, however, the area taken up by lawns in the US is two times greater than that of Russia's gardens – and it produces nothing but a multi-billion-dollar lawn care industry."
_________________________________________
Monsanto Loses GMO Permit In Mexico – Judge Sides With Bees
A number of countries around the world have now completely banned GM food and the pesticides that go with them, or have severe restrictions against them. This comes after the world has experienced a massive resistance against Monsanto and other biotech giants that manufacture GMOs and pesticides.
It's (the resistance) also a result of numerous studies that have emerged showing the environmental and health dangers that are associated with pesticides, as well as health dangers that could be associated with GMOs.
The latest country to make headlines with regards to banning Monsanto products is Mexico, as a group of beekeepers was successful in stopping Monsanto from the planting of soybeans that are genetically modified to resist their Round-up herbicide.
Monsanto Loses Mexican Permit
Monsanto had received a permit to plant its seeds on over 250,000 hectares of land, which equates to approximately 620,000 acres. That's a lot of land, and they managed to get the permit despite thousands of citizens, beekeepers, Greenpeace, Mayan farmers, The National Institute of Ecology and other major environmental groups protesting against it.
According to The Guardian:
"A district judge in the state of Yucatán last month overturned a permit issued to Monsanto by Mexico's agriculture ministry, Sagarpa, and environmental protection agency, Semarnat, in June 2012 that allowed commercial planting of Round-up ready Soybeans.  In withdrawing the permit, the judge was convinced by the scientific evidence presented about the threats posed by GM soy crops to honey production in the Yucatán peninsula, which includes Campeche, Quintana Roo and Yucatán states. Co-existence between honey production and GM soybeans is not possible, the judge ruled." (source)
Mexico is the fourth largest honey producer and fifth largest honey exporter in the world.
These Pesticides Are Killing Bees and Farmers Are Unable To Export Pollen From GMO Crops
Be colonies are declining very fast, threatening food security all over the world, and as the guardian reports:
"GM crops could devastate the important European export market for Mexican beekeepers, where the sale of honey containing pollen derived from GM crops has been restricted since a landmark decision in 2001 by the European Court of Justice."(source)
Here is more on a study that found GM pollen destined for Europe after this ruling, and according to local farmers, threatens the honey industry.
Below is a summary of the problem (apart from massive bee declines):
"David Roubik, senior staff scientist at the Smithsonian Tropical Research Institute, and his colleagues developed the ability to identify pollen grains in honey in Panama and in Mexico during the 1980s and 1990s when they studied the effects of the arrival of Africanized bees on native bees. "Nobody else can do this kind of work in the 'big field' environment and be confident that what they are seeing are soybean pollen grains," said Roubik. They found that six honey samples from nine hives in the Campeche region contained soy pollen in addition to pollen from many wild plant species. The pollen came from crops near the bee colonies in several small apiaries. Due to strict European regulations, rural farmers in the Mexican Yucatan face significant price cuts or outright rejection of their honey when their product contains pollen from GMO crops that are not for human consumption. The regional agricultural authorities, furthermore, seemed unaware that bees visited flowering soybeans to collect nectar and pollen" (source)
Related CE Articles with links to more information and proof:
New Harvard Study Proves Why All The Bees Are Dying
American Scientists Confirm: Pesticides Are Killing Bees
It's Not Just Bees, Disappearance of Monarch Butterflies Also Linked To Roundup Herbicide
EPA Approved GMO Insecticide Responsible For off Millions of Bees & Puts Entire Food Chain At Risk
There Are Multiple Concerns Here, And One of Them Has To Do With The Crops That Have Been Genetically Manipulated To Resist Monsanto Pesticides. Why? Because These Pesticides Are Very Harmful To Human And  Animal Health.
A study is published in the US National Library of Medicine and in the journal Food and Chemical Toxicology shows howseveral recent studies illustrate glyphosate's potential to be an endocrine disruptor. Endocrine disruptors are chemicals that can interfere with the hormone system in mammals. These disruptors can cause developmental disorders, birth defects and cancer tumors. (source)
A group of scientists put together a comprehensive review of existing data that shows how European regulators have known that Monsanto's glyphosate causes a number of birth malformations since at least 2002. Regulators misled the public about glyphosate's safety, and in Germany the Federal Office for Consumer Protection and Food Safety told the European Commission that there was no evidence to suggest that glyphosate causes birth defects. (source)
A new study out of Germany concludes that Glyphosate residue could reach humans and animals through feed and can be excreted in urine. It outlines how presence of glyphosate in urine and its accumulation in animal tissues is alarming even at low concentrations. (source)
It's also been linked to Alzheimers, Parkinsons Disease and Autism.
A recent study conducted by researchers from RMIT university, published in the journal Environmental Research found that an organic diet for just one week significantly reduced pesticide (commonly used in conventional food production) exposure in adults. (source)
Thirteen participants were randomly selected to consume a diet consisting of at least 80% organic or conventional food for precisely 7 days, afterwards crossing over to the alternative diet from which they started. Urinary levels were used for analysis. The study found that urinary dialkylphosphates (DAPs) measurements were 89% lower when they ate an organic diet for seven days compared to a conventional diet for the same amount of time.
"A lot of these agents were initially developed as nerve gases for chemical warfare, so we do know that they have toxic effects on the nervous system at high doses. Conventional food production commonly uses organophosphate pesticides, which are neurotoxins that act on the nervous system of humans by blocking an important enzyme. Recent studies have raised concerns for health effects of these chemicals even at relatively low levels. This study is an important first step in expanding our understanding about the impact of an organic diet" (source) – Dr. Liza Oates
Here is a link to more information on how the Roundup herbicide was recently found to be 125 times more toxic than regulators claim.
The list goes on and on, but bottom line is that there is a tremendous amount of evidence, and it's great to see countries like Mexico take more steps towards a completely GMO/Pesticide free environment.
For more CE articles on pesticides click HERE. For more CE articles on GMOs click HERE.
Like this article? Then join the Conversation with many others in EWAO !
Sources:
http://phys.org/news/2014-02-gmo-soybean-pollen-threatens-mexican.html
http://www.theguardian.com/global-development/poverty-matters/2014/aug/08/sweet-victory-beekeepers-monsanto-gm-soybeans
______________________________________________________________

1
Section of Pediatric Oncology, University of Colorado School of Medicine, Denver, Colorado 80262

2
Department of Microbiology and Immunology, University of Michigan Medical School, Ann Arbor, Michigan 48109
Since its discovery, simian virus 40 (SV40) has been one of the most intensely studied animal viruses. The molecular biology of SV40 has led to seminal discoveries in the fields of transcription, DNA replication, and oncogenic transformation (19). Over the last decade, provocative evidence has accumulated that suggests that SV40 may be a human pathogen. Does SV40 infect humans? If so, when did this monkey polyomavirus enter the human population and where is the reservoir? What is the behavior of SV40 in human cells? Does it cause or contribute to acute or chronic disease? Other comprehensive reviews have also addressed these issues, with a variety of emphases (8, 10, 52, 57, 107).
In 1960, Sweet and Hilleman first described an agent, which they named SV40, that induced cytopathic effects and vacuole formation in monkey cells (117). SV40 was isolated from normal monkey kidney cells, stocks of the Sabin poliovirus vaccine, and an adenovirus vaccine. The last two reagents were prepared in primary kidney cell cultures derived from rhesus monkeys. Subsequent analyses found that the Salk poliovirus vaccine administered from 1955 to 1963 in the United States was also contaminated with SV40, potentially exposing an estimated 100 million people (106). Although poliovirus in the Salk vaccine was inactivated by formalin treatment, the conditions were insufficient to completely inactivate SV40. Soon thereafter, it was demonstrated that SV40 could infect humans and also induce tumors in experimental animals (26, 28, 29, 42, 43). These observations raised concerns that vaccinated people worldwide may have been inadvertently exposed to an oncogenic virus. Early epidemiological studies allayed these fears, revealing no increased incidence of cancers directly related to immunization status (34, 35, 83, 106). However, these initial analyses were necessarily limited in that it was unknown whether (i) the virus could be transmitted, either horizontally or vertically; (ii) vaccinated, immunocompetent individuals would be at equal risk for development of cancer with others having defective immunity or a cancer predisposition; (iii) the power of the analysis was sufficient to detect increases in rare cancers; and (iv) SV40 normally circulated in humans before development of the poliovirus vaccine. A recent review of all epidemiological data by the Institute of Medicine concluded that evidence to date was "inadequate to accept or reject a causal relationship between SV40-containing poliovirus vaccines and cancer" (115). Criticisms included misclassification bias, lack of confidence intervals for the data, and "ecological" study design, which are unlikely to be remedied by further follow-up of the study populations.
A brief overview of the biology of SV40 is relevant to understand the concerns raised by these initial analyses (101). When SV40 infects its natural host, it initially undergoes a lytic replication cycle. The early viral genes encode the tumor (T) antigens: large T antigen (LT), small t antigen (ST), and 17K T antigen (also tiny T or T′). LT plays a dominant role in infection, repressing early viral gene transcription and stimulating late viral gene transcription (1, 54, 98, 121). LT is also an initiation factor for viral DNA replication (16, 97, 120, 123), recruiting the DNA polymerase α-primase complex to the origin of replication and acting as a helicase (21, 112, 114). Following the strategy of other DNA viruses, the SV40 early proteins dysregulate the cell cycle and impede cell apoptosis in order to maximize virus production. LT binds the members of the retinoblastoma protein family, pRb, p107, and p130, resulting in release and activation of E2F transcription factors, which stimulate expression of genes involved in S-phase progression and DNA synthesis (22, 27, 45). LT also binds p53 and inactivates its function, preventing the infected cell from undergoing apoptotic cell death (65, 71, 75). After viral DNA replication is under way, the infection enters the late phase, when viral structural proteins are synthesized and new virions are produced. Ultimately, the infected cell releases progeny virions, frequently but not always by cell lysis (18). The immune system is critical for controlling the initial lytic phase in vivo, quenching the initial infection to a state of persistent low-level or nonreplicating genomes (i.e., in the proximal renal tubular epithelium for SV40), with detectable lytic viral reactivation coincident only with host immunosuppression (48).
Some data on the infectivity of SV40 in humans were obtained from volunteers and individuals receiving contaminated vaccines. However, antibody data from many surveys must be viewed with the knowledge that the human BK virus (BKV) and JC virus (JCV) (closely related human polyomavirus family members) might give an indistinguishable response in these assays due to the high degree of cross-reactivity between capsid protein antigens. Melnick and Stinebaugh found SV40 (by cytopathic effects in monkey cells) in the stools of children 3 to 4 weeks after ingestion of 100 to 1,000 PFU of SV40 with oral poliovirus vaccine (77). Morris et al. gave SV40 intranasally to volunteers and found subclinical infections (82). They were able to isolate virus 7 to 11 days after administration from 3 of 8 subjects, and they detected antibody responses of various amplitudes. Horváth and Fornosi found SV40 excreted in the stools of 10 of 35 children 1 to 2 weeks after being given contaminated oral poliovirus vaccines (47). Thus, SV40 may replicate in humans after oral administration, but the efficiency and duration of the replication may be low in these immunocompetent subjects who were given small inocula.
The biology of SV40 in human cells was first studied in the 1960s with fibroblast cell lines or primary human fibroblast cell cultures (108). Whereas uninfected primary human fibroblasts can only be passaged a finite number of times before ceasing to divide and undergoing senescence, cell cultures infected with SV40 undergo a "crisis" at this same stage, followed by the outgrowth of a small number of cells that are phenotypically transformed (58). During the initial phase of the infection, generally the first 4 weeks, approximately 0.1% of the cells produce 500 to 1,000 virions per cell. Virus output from the culture then remains at a constant, very low level but with 100% of the cells producing virus at a rate of approximately 1 to 2 virions/cell (41, 42, 108). Once the cell culture progresses through crisis, virus production generally decreases, accompanied by a concomitant decrease in production of viral capsid proteins and an increase in the production of LT. One interpretation of these data is that the cells producing large amounts of virus are killed, but the cells that produce low levels of virus (as assayed by infectious center assays) survive. Finally, as the culture reaches its passage limit, most cells die, but those expressing a threshold level of LT overgrow the culture. Interestingly, the onset of transformation varies quite significantly in cells isolated from different individuals, ranging from 20 to almost 50 weeks in culture (91). Based on these early studies, human cells were termed semipermissive for SV40 growth (109). This nomenclature is confusing since the virus can clearly replicate in some human cell types more efficiently than in others, although the development of cytopathic effect is more rapid in African green monkey kidney cells.
More recent data have shown that while LT alone can immortalize human cells, ST is also necessary for eliciting a fully transformed phenotype (53, 93). For example, infection of cultured human mesothelial cells with SV40 establishes an apparently persistent infection in which little or no progeny virus is produced and the cells become transformed, a process requiring both LT and ST (4, 130). As described above, however, infected primary human fibroblasts can support robust lytic replication. The steady-state level of p53 in normal mesothelial cells is fourfold higher than that in fibroblasts, suggesting that the elevated p53 level interferes with the effect of LT upon DNA replication (4). Indeed, inhibition of p53 expression in mesothelial cells with an antisense oligonucleotide allows increased SV40 replication. Mesothelial cells therefore resemble infected late-passage primary fibroblasts with respect to virus production and growth characteristics.
SV40 is highly oncogenic in experimental animals and readily transforms rodent cells in culture (58). Hamsters inoculated with SV40 develop lymphomas, brain tumors, osteosarcomas, and mesotheliomas (25, 26, 28, 40, 56, 95). SV40 is likely oncogenic in rodents because LT is unable to interact functionally with the rodent DNA polymerase α-primase complex (84). In this setting, the oncogenic functions of the T antigens are engaged but the productive cycle is not completed, resulting in uncontrolled cell division rather than cell lysis. LT is both necessary and sufficient for initiation and maintenance of transformation of rodent cells in tissue culture in most instances (7). Under certain conditions, however, usually involving primary cells in the absence of growth factors, ST is also required. ST functions by inhibiting the activity of the cellular phosphatase PP2A, resulting in activation of cell growth signal transduction pathways (90, 100). Mice that are transgenic for LT transcriptionally regulated by tissue-specific promoters develop tumors in those tissues (for an example, see reference 105). Transgenic mice in which LT expression is regulated by the native viral promoter elements specifically develop tumors of the choroid plexus (6), the specialized epithelial structure of the brain ependymal lining that produces cerebrospinal fluid. This finding is interesting in view of the discovery of SV40 DNA in certain brain tumors, as discussed below.
After the discovery of SV40's tumorigenic and cell transformation properties, a wave of studies in the 1960s and 1970s pursued the identification of viral oncogenic agents in humans (9). SV40 DNA was detected on rare occasions, usually in brain tumors, using relatively low-sensitivity Southern hybridization techniques, immunostaining for LT, and electron microscopy (2, 61, 62, 76, 104, 118). Also during this period, the distinctly human polyomaviruses BKV and JCV were identified, and the destructive brain white matter disease progressive multifocal leukoencephalopathy was attributed to JCV infection (39, 86, 88). These human viruses were also shown to induce tumors in animals and to transform rodent and human cells in culture (20, 33, 94, 113, 127, 132). However, virtually all investigations failed to reveal any significant associations between human malignancy and these suspected oncogenic viruses. With the discovery of oncogenes, the emphasis in cancer research shifted from viruses to genomic mutations.
In 1992, Bergsagel et al. reported finding SV40-like DNA sequences in two types of rare childhood brain tumors, choroid plexus neoplasms and ependymomas, by use of PCR detection (3). This study was prompted by previous transgenic mouse studies and sought to determine whether the human polyomaviruses BKV and JCV might be present in these tumors. The PCR primers were designed to amplify the pRb binding domain of LT, which is highly conserved among all polyomavirus LT proteins. Unexpectedly, DNA sequences consistent with SV40 rather than BKV or JCV LT were amplified. Immunohistochemical nuclear staining for LT was also positive in a fraction of tumors. Subsequently, DNAs isolated from these same tumor types were evaluated by Lednicky et al., who verified the previous amplification results (67). In addition, they (i) found an unduplicated enhancer element, i.e., a single 72-bp repeat, characteristic of direct primate SV40 isolates but not laboratory virus strains (50), (ii) detected sequence variability in the carboxy terminus of different LT genes, and (iii) rescued infectious SV40 from one choroid plexus tumor whose DNA was directly isolated from fresh tumor tissue instead of from paraffin-embedded sections. Observations of SV40-like sequences in brain tumors continue to be reported (49, 59, 74).
With the same primers used by Bergsagel, Carbone et al. then detected SV40 sequences in human mesotheliomas (12). A mesothelioma is an aggressive tumor of the lung pleura, pericardium, or peritoneum and has been linked to asbestos exposure. Carbone et al. had previously found that SV40 could induce mesotheliomas when injected into the pleural cavities of experimental animals (17). In extracts prepared from human mesotheliomas, p53, pRb, p107, and p130 can be coimmunoprecipitated with LT (13, 23). Microdissection studies have shown that SV40 DNA is present in tumor tissue but not in the normal surrounding lung (111). Adenovirus vectors expressing antisense SV40 LT arrest the growth of SV40-positive mesothelioma tumor cells and cause them to undergo apoptosis (126). As is the case for brain tumors, however, LT expression is not detectable by immunohistochemistry in all mesothelioma tumor cells, and the calculated amount of SV40 DNA may be less than one copy per cell. The number of reports identifying SV40 DNA in mesotheliomas far outnumber that for any other tumor type.
Other human tumors frequently associated with SV40-like DNA sequences are osteosarcomas and related bone tumors (14, 37, 68, 78, 129). When PCR strategies similar to those described above are used, approximately 30 to 40% of analyzed bone tumors are positive for viral DNA. SV40 sequences have been detected by Southern blot analysis in osteosarcoma tumor DNA, but this finding is rare. Most recently, in studies using the same primers, adult large-cell non-Hodgkin's lymphomas (NHL) were reported to contain SV40-like sequences (110, 125). Interestingly, the incidence of NHL has risen dramatically in the past three decades, similar to the increased incidence of mesotheliomas. In addition, throughout the past 10 years a potpourri of other tumors and tissues have been reported positive for SV40 DNA, although occasionally the results have not been independently confirmed by other groups (73, 74, 85). The search has extended to an association of SV40 with human renal disease, JCV with medulloblastomas and colon cancer, and BKV with neuroblastomas and urinary tract tumors (24, 32, 63, 64, 70, 81). The literature citations have proliferated, suggesting that SV40 has become epidemic or at least has developed into a cottage industry for PCR detection.
So why is there skepticism and controversy about the role of SV40 in human cancer? The following confounding technical issues remain problematic: (i) detection of SV40 DNA requires a large number of PCR cycles, i.e., 40 to 60, raising the question of how many cells contain viral DNA and how many genomes there are per cell; (ii) the method of DNA isolation has been questioned (e.g., some commercial extraction kits may lose small quantities of episomal viral DNA) (66); (iii) amplification of smaller genomic segments seems more prone to yield nonspecific products than amplification of larger fragments and these are often judged positive (e.g., the 572-bp fragment spanning the LT intron versus the 105-bp pRb binding region); (iv) DNA sequence verification of amplified products has not always been complete; (v) reproducibility among laboratories studying similar tumor types has not been universal (31, 55, 60, 99, 116, 128); (vi) lab contamination may confound some results (e.g., cloning vectors containing SV40 sequences have been suggested as sources of contamination, although those sequences should not be amplified by commonly used primers); (vii) the same PCR primer pairs have been used in most studies without attempts to improve upon their design or optimize their use; and (viii) the antibodies used for LT detection are not specific for SV40 but also cross-react with LT from JCV and BKV. Although detection of SV40 DNA by PCR for particular cancers (e.g., mesotheliomas and NHL) may reach 30 to 40% of cases, the lack of detectable SV40 DNA or LT in every cell of these tumors distinguishes the association from the recognized etiologic connection of high-risk human papillomaviruses with cervical cancer or Epstein-Barr virus with lymphoproliferative lesions in immunocompromised individuals (89, 131). This lack of uniform presence of the viral DNA, coupled with concerns about PCR techniques, a past history of negative associations, the litigious cloud of contaminated poliovirus vaccines, a paucity of information on the SV40 life cycle in relevant human cell types, and a scientific culture now emphasizing oncogenes rather than oncoviruses, have made the existence of SV40 in humans, let alone its causality in disease, a "hard sell."
Gradually, however, the case for SV40 infecting humans and contributing to cancer has become more compelling, supported by both experimental and circumstantial evidence: (i) microdissection identified amplifiable SV40 DNA in mesotheliomas but not in adjacent normal tissues (111), (ii) SV40 DNA has been detected in an osteosarcoma by Southern hybridization (78), (iii) Li-Fraumeni syndrome patients appear to have a unique susceptibility to polyomaviruses (see below) (72), (iv) a single 72-bp repeat identified in the viral enhancer of SV40 DNA isolated from choroid plexus tumors is characteristic of virus isolates from monkeys (50, 67), and (v) infectious SV40 was isolated from choroid plexus tumor tissue (67). In an attempt to address the variance in detection, two multilaboratory studies were undertaken to examine the presence of SV40 in mesothelioma samples (51, 122). Unfortunately, both studies had technical flaws and their conclusions were contradictory, leaving the question of why there are differences in detection unsettled. However, analysis of samples from geographically distinct populations has provided unique naturally occurring controls. Mesothelioma samples from Finland, where contaminated poliovirus vaccines were not administered, are negative for SV40 DNA (46). A recent study of a Turkish community with a very high frequency of mesothelioma linked to environmental asbestos exposure also found no evidence for SV40 DNA in the tumors from this unvaccinated population (30). Thus, SV40 DNA is only found in mesotheliomas in areas of the world where the contaminated vaccines were used, indirectly suggesting a link between SV40 and the cancer.
If present, how might SV40 be selectively oncogenic in some tissues and/or individuals? Factors may include the sensitivity of the particular tissue to pRb and p53 dysfunction, activity of the viral promoter, tropism or targeting of the virus to specific cell types, genetic predisposition, and immune status. As demonstrated with transgenic mice, choroid plexus cells are unusually sensitive to p53 and pRb mutations, leading to rapid malignant transformation (15, 124). The choroid plexus may be functionally related to proximal renal tubular epithelium (i.e., an ion pumping machine), and thus factors in these cells may be similarly permissive for viral gene expression. In pRb-deficient patients, osteosarcomas are the second most common neoplasm after retinoblastoma. Thus, osteoblasts may be very susceptible to pRb deficiencies (69). Li-Fraumeni syndrome patients, who are heterozygous for germ line p53 mutations, seem unusually susceptible to SV40 infection, possibly because inactivation of the remaining wild-type p53 allele can be accomplished with lower T-antigen expression levels. It may also be possible that SV40 can establish an initial infection in these individuals more easily if there is less p53 present to interfere with viral replication. Li-Fraumeni syndrome patients have been described who develop choroid plexus tumors and osteosarcomas that contain SV40 DNA, but other tumor types within the same individual, such as muscle rhabdomyosarcomas, are not associated with SV40 DNA sequences (72). This tissue preference may occur because of cell type variations in viral promoter activity, virus receptors, or the relative importance of p53 and pRb for the initial oncogenic event.
More difficult to explain is the apparent lack of SV40 DNA (calculated) or protein (detected by immunohistochemistry) in all the cells of a tumor. Possible reasons include the following: (i) levels of LT protein expression below the limits of detection; (ii) a paracrine mechanism by which LT-expressing cells secrete a growth factor, e.g., insulin-like growth factor type I (IGF-I), affecting surrounding cells that do not contain SV40 (92); (iii) isolation of the tumor after most virus-containing cells have died (hit-and-run), leaving only tumor cells with additional mutations contributing to proliferation (i.e., LT and/or ST causes chromosomal instability [36, 96] and is then lost in the transformed cells); and (iv) SV40 not contributing to tumorigenesis but being present because the tumor growth state is permissive for virus replication or LT protein expression.
Cause and effect have been indirectly addressed by antisense LT expression in cultured cells, which implies that, at least in mesothelial cells, LT makes a significant contribution to the ability of these cells to grow in culture (126). One approach to explore a causal role of LT in malignancy might be to correlate the p53 and RB1 status of tumors with the presence of SV40 sequences. Inactivation of these pathways by mutation would not be necessary if LT was continuously produced and active. For example, the frequency of p53 and RB1 gene mutations is low in mesothelioma and thus LT may be functionally important (11). Osteosarcomas with wild-type p53 and those with defective p53 would be candidates for such a comparative analysis.
What is needed to enhance our understanding of SV40 infection in humans and the role of SV40 in human malignancies? Current data on SV40 replication and transmission in human populations are nearly uninterpretable and will not improve until a highly specific serological assay for SV40 is used to analyze clinical samples. Such an immunoassay has been difficult to devise because of extensive cross-reactivity of the SV40 capsid proteins with those of BKV and JCV. Virus neutralization assays are extremely labor-intensive and have not been directly compared among the viruses. Recently, however, recombinant VP1 capsid proteins for SV40, JCV, and BKV have been prepared as virus-like particle preparations for use in enzyme-linked immunosorbent assays (K. Shah and D. Galloway, personal communications). The initial serological studies using these reagents have not detected specific or robust SV40 immune responses in any samples tested. A small fraction (5 to 7%) of sera (K. Shah, personal communication) have low-level reactivity with SV40 VP1 that may be due to cross-reactivity with JCV or BKV VP1 or to a transient SV40 infection. These assays will now permit case-controlled studies, however, comparing individuals with SV40-associated malignancies to control populations.
Seroepidemiologic studies would permit an assessment of SV40 prevalence in the population, suggest its mode of transmission, and correlate seropositivity with disease or perhaps even predisposition to disease. From current PCR data it appears that individuals who were never exposed to contaminated vaccines have been infected with SV40, suggesting that the virus has established itself as a human pathogen. The mode of transmission may be extrapolated from that of BKV and JCV. Studies have shown that these two viruses infect virtually 100% of most human populations, BKV during early childhood and JCV peaking in early adolescence (38, 87, 119). While both viruses ultimately establish a persistent infection in the urinary tract and perhaps in the central nervous system, recent reports have found the presence of viral DNA in tonsillar tissue (44, 79, 80). The presence of virus in the upper respiratory tract, along with the young age of seroconversion, suggests that SV40 may spread through a respiratory or fomite, i.e., hand-to-mouth, route. From this initial portal of entry, the virus must have access to the circulatory and/or lymphatic system in order to reach its presumed site of persistence, the kidney, or the tissues and organs that give rise to the tumors associated with the virus. By analogy with other viruses, such systemic virus spread, or virus replication at sites of tumor induction, should elicit a detectable immune response.
More information is needed concerning the SV40 life cycle in human cells. Are there differences in permissiveness among human cell types? Is there a correlation of oncogenicity with levels of p53 in different cell types, e.g., as seen in mesothelial cells? Are there differences among cell types in viral genome persistence? Are secondary cellular mutations induced when LT is highly expressed, and do the mutations lead to stable populations of dominantly replicating clones that now lack viral DNA? Finally, the role of the immune system in all phases of the disease process is undoubtedly profoundly important. Unlike most putative tumor antigens, SV40 T antigens are not self antigens and therefore ought to be recognized by the immune system. Does the tumor provide an immunoprivileged site in which these antigens are not detected? In rodent SV40 tumor models, the immune response against LT is robust and usually results in clearance of the virus, making this possibility unlikely (102, 103). Moreover, humans can apparently mount a cytotoxic lymphocyte immune response to LT (5). However, there must be some coexistence of the immune system and the virus to achieve persistence. Thus, defects in the immune system might permit virus persistence to develop into an oncogenic state. In this regard, it would be useful to study SV40 infections in immunocompromised individuals. Based on the evolving SV40 story, it also seems prudent to look more carefully at a possible role of BKV and JCV in human neoplasms, as there is no doubt that these viruses are endemic in most human populations.
At this time, some members of the jury remain undecided about a role for SV40 in human disease. Seroepidemiology and a basic understanding of virus biology in humans are essential pieces missing from the puzzle. Perhaps we expect SV40 to follow the "rules" for other oncogenic viruses such as human papillomavirus and Epstein-Barr virus. Rather, SV40 may be generating novel rules, leading the way as it has before into new paradigms of virus biology and pathogenesis.
American Society for Microbiology
_____________________________________________
The Vaccine Hoax
Click on this link to THE CHILD HEALTH SAFETY BLOG for good information about vaccinations.
Freedom of Information Act in the UK filed by a doctor there has revealed 30 years of secret official documents showing that government experts have
1. Known the vaccines don't work
2. Known they cause the diseases they are supposed to prevent
3. Known they are a hazard to children
4. Colluded to lie to the public
5. Worked to prevent safety studies
Those are the same vaccines that are mandated to children in the US.
Educated parents can either get their children out of harm's way or continue living inside one of the largest most evil lies in history, that vaccines – full of heavy metals, viral diseases, mycoplasma, fecal material, DNA fragments from other species, formaldehyde, polysorbate 80 (a sterilizing agent) – are a miracle of modern medicine.
An extraordinary new paper published by a courageous doctor and investigative medical researcher has dug the dirt on 30 years of secret official transcripts of meetings of UK government vaccine committees and the supposedly independent medical "experts" sitting on them with their drug industry connections.
If you want to get an idea of who is responsible for your child's condition resulting from a vaccine adverse reaction then this is the paper to read. What you have to ask yourself is if the people on these committees are honest and honorable and acting in the best interests of British children, how is it this has been going on for at least 30 years?
This is what everyone has always known but could never prove before now. Pass this information on to others so they can see what goes on in Government health committees behind locked doors.
_______________________________________
Whooping cough outbreak at Massachusetts high school affected only vaccinated students
Insert admits "no controlled trials"
Shockingly, the package insert for this flu shot readily admits the vaccine has never been subjected to scientific clinical trials:
"There have been no controlled trials adequately demonstrating a decrease in influenza disease after vaccination with Flulaval," the package insert claims in tiny text (that no one reads).
This is printed right on the insert, yet no one in the mainstream media will ever report this astonishing admission. This statement, all by itself, is a confession that flu shot marketing is a fraud.
Across the board, flu shots are heavily propagandized and promoted with the implication that they have zero risks while offering 100% protection. No one in the mainstream media ever questions this claim even though the package insert openly admits the claim is complete hokum and has never been subjected to scientific scrutiny.
No evidence of safety or effectiveness in pregnant women
But that's not all the insert admits. It also says:
"Safety and effectiveness of Flulaval have not been established in pregnant women, nursing mothers or children."
And yet everywhere you go in America, there's a Walgreens, CVS or Wal-Mart pharmacy promoting flu shots for pregnant women. Never mind the fact that flu shot safety has never been established in pregnant women, and never mind the obvious fact that you should never inject a pregnant women with mercury in the first place!
Who needs scientific proof when you've got the full propaganda of the media and the government to back you up? Anyone who dares question the scientific validity of flu shot safety for pregnant women is immediately attacked as being an opponent of all vaccines.
Apparently, the only requirement to be accepted by the vaccine community is to believe in medical fairy tales while abandoning all critical thinking and scientific skepticism. In the vaccine industry, genuine science is simply not allowed. No wonder two former Merck virologists filed a False Claims Act with the federal government, accusing the company of knowingly fabricating its vaccine efficacy data to trick the FDA.
Never proven safe or effective in children, either
Flu shots are heavily promoted for children, right alongside mumps and measles vaccines. But it turns out flu shots are never scientifically tested for safety or efficacy in children.
Check out what the insert for this vaccine directly admits:
"Safety and effectiveness of Flulaval in pediatric patients have not been established."
It's right there in black and white… an open admission. Yet flu shots are aggressively marketed to parents and children as if they were Tic-Tacs. The real beauty of the entire vaccine industry scam is that no scientific evidence is required! You don't have to have any proof, all you have to do is believe in vaccines as a matter of faith.
Never tested for cancer risk
Do flu shots cause cancer? The honest, scientific answer is that these shots are never tested for that. As the insert readily admits:
"Flulaval has not been evaluated for carcinogenic or mutagenic potential, or for impairment of fertility."
Believe it or not, the Flulaval vaccine also warns that no one should be given this shot if they've already received another flu shot at some previous time:
"Do not administer Flulaval to anyone… following previous administration of any influenza vaccine."
And yet, amazingly, people are encouraged to get flu shots year after year, even though the package insert directly warns against anyone taking a series of influenza vaccines.
Admission that flu shots contain formaldehyde and sodium deoxycholate
The same insert that admits this vaccine has never been proven safe in children or pregnant women also openly admits that it contains neurotoxic chemicals.
Per the insert, each dose of Flulaval contains up to 25 mcg of formaldehyde (a neurotoxin) and up to 50 mcg of sodium deoxycholate.
Total admission that flu shots cause seizures, convulsions and Guillian-Barre syndrome
Ever wonder what all these toxic chemicals and heavy metals cause in humans? Flu shots vaccines, it turns out, are already known to cause a huge number of devastating health effects.
Predictably, there is a massive disinfo campaign across the mainstream media, Wikipedia, medical journals and government propaganda agencies (CDC, FDA, etc.) to pretend that flu shots have no risks whatsoever. Yet the insert that comes with the vaccine openly admits the flu shot has been linked with a long, frightening list of serious adverse effects. As this Flulaval insert says (see photo below):
"In addition to reports in clinical trials, the following adverse events have been identified during postapproval use of Flulaval…
Here's a photo of this section of the package insert, complete with the GlaxoSmithKline toll-free phone number:
If you take flu shots, you are being poisoned by quacks
The upshot of all this is that flu shots utterly lack any scientific evidence of safety of efficacy. We don't know if they work at all, in other words, and neither does the vaccine manufacturer. Neither do the doctors or medical staff who administer them. Flu vaccines are injected into people purely as a matter of blind faith in the very same companies that have already been convicted of felony crimes.
GlaxoSmithKline, for example, not only manufacturers this Flulaval vaccine… the company also committed multiple felony crimes and got caught bribing doctors, ultimately agreeing to pay a multi-billion-dollar criminal settlement with the U.S. Department of Justice.
Trusting a flu shot made by a corporation of felons is a lot like trusting the purity of heroin you buy from a street dealer. Both flu shots and street heroin have at least one thing in common, by the way: neither has ever been tested for safety.
(ed. There is much evidence, also, that the mediums used to culture vaccines are infected with multiple strains of viruses – often from diseased animals – that are unidentified and untested. Injecting these viruses into your body is an irreversible insult to your system that can cause trouble for the rest of your life.)
________________________________________________________________
Last Year's Flu Vaccine Killed and Injured Over 93,000 US Citizens – Will This Year be Any Different?
(NOTE: Americans are hearing a great deal about EBOLA and are scared. Fewer than a dozen Americans have contracted this disease, and fewer than a half dozen have died. By comparison, thousands of Americans die every year from flu. Are Americans being brainwashed to overreact to EBOLA?
What's even more interesting, nearly 100,000 Americans are injured from flu shots each year. Of these, approximately 9,000 are hospitalized, and approximately 1,000 die. Flu shots have been proven to be worthless to prevent flu (in many cases they actually cause flu). Furthermore, flu vaccines carry God-only-knows how much additional foreign, unknown, undisclosed, contaminants and viruses that can cause life-changing diseases.
Which health risk should we be more concerned about? Ebola or flu shots? -ed)
By TLB Staff Writer: Christina England
Whilst governments around the world maximize their flu vaccine targets for this year, pushing the vaccine onto younger and younger children, last year two sets of parents were left wishing they had ignored their advice.
Story # 1 – Nine Year Old Marysue Left Visually Impaired and Paralyzed
Marysue was a happy, healthy little girl, who loved nothing more than to run and play and sing in the church choir. Four days after receiving last year's routine flu vaccine however, she was left visually impaired, totally paralyzed and needing 24 hour a day nursing care from her family.
Nine year old Marysue, from Tampa, Florida, received her flu vaccination on November 21st 2013 and within days was left fighting for her life in hospital.
Marysue's mother stated: "On November 20, 2013, received her annual flu shot. Then, on the evening of November 25, 2013, she played freeze tag with her friends, ate her dinner and went to bed. Marysue was fine when her father and I turned in around ten that night. The next morning, she did not get up at six as she normally did. I went in to check on her. When I called her, she did not respond. I attempted to wake her and could not at first. Finally, she opened her eyes but she did not speak to me which was not normal for her.
I immediately called Stephen (her father). We called 911; they sent an ambulance. After they evaluated her, they told me to get in the ambulance. I had to ride in the front. I later found out that on the way to the hospital she had a seizure. Later, we were told that during the night she had a previous seizure with lack of oxygen."
Note: (Disseminated Encephalomyelitis (ADEM) is characterized by a brief but widespread attack of inflammation in the brain and spinal cord that damages myelin – the protective covering of nerve fibers. Although it can be caused by a viral or bacterial infection, vaccinations are also a known cause.)
Their ongoing campaign has managed to raise nearly $12,000 from people touched by her tragic story but in reality their kind donations are just a drop in the ocean compared with the figure Marysue's parents need, to redesign their house and buy their daughter a van large enough to accommodate her wheelchair.
Story # 2 – Healthy Nineteen Year Old Killed By the Flu Shot
A healthy, active nineteen year old male from Utah, was also reported to have had a severe adverse reaction from the vaccine.
Chandler Webb had his whole life ahead of him the day that he was vaccinated with his first ever flu vaccination. Lori Webb, Chandler's mother, told Fox News that the day after he received the vaccine, he became severely ill, suffering from severe headaches, shaking and vomiting. Fearing the worse, she immediately took her son to Salt Lake Hospital where he fell into a coma.
Sadly, Chandler never recovered from the coma and 28 days later a decision was made to turn off his life support.
His mother says that she has been left in no doubt that the flu vaccine was responsible for Chandler's death and made the following statement to Fox News:
"He was so healthy. He was pure. He should have been able to fight the flu. I wish he would have gotten the flu rather than this vaccination."
Once again health officials told the public that it was unlikely the flu vaccine was responsible for Chandler's death and emphasized that the flu vaccine was safe.
However, despite health officials everywhere burying their heads in the sand and ignoring the facts, Chandler was just one of 1,080 flu vaccine deaths reported last year.
At Least 93,000 Adverse Reactions Reported Last Year
According to the National Vaccine Information Center (NIVC), the US Vaccine Adverse Events Reporting System (VAERS) received a massive 93,000 reports of adverse reactions following last year's flu vaccine. These included 1,080 deaths and 8,888 hospitalizations.
NIVC stated:
"As of November 2013, there have been more than 93,000 reports of reactions, hospitalizations, injuries and deaths following influenza vaccinations made to the federal Vaccine Adverse Events Reporting System (VAERS), including 1,080 related deaths, 8,888 hospitalizations, 1,801 related disabilities and over 1,700 cases of GBS (Guilllain-Barré syndrome). In 2013 the Federal Advisory Commission on Childhood Vaccines (ACCV) voted to add GBS to the Vaccine Injury Table within the federal Vaccine Injury Compensation Program (VICP).
It is only when you take into consideration that these figures only represent the adverse reactions reported in the US, can you even begin to appreciate the true extent of the problem.
Conclusion
At this time of year there are advertisements on the flu vaccine just about everywhere you go and yet despite many doctors and health officials insisting that the flu vaccines are safe and effective, reports from around the World tell a different story.
Before parents decide to have their child vaccinated with a flu shot, they should ask themselves whether or not this vaccine is worth the risk.
_____________________________________________________________________
_______________________________________
10 American Foods That Are Banned in Other Countries
Farmed salmon are raised on a wholly unnatural diet of grains along with a concoction of antibiotics and other drugs. This diet leaves the fish with unappetizing grayish flesh, so to compensate, they're fed synthetic astaxanthin made from petrochemicals, which has not been approved for human consumption. Farmed Salmon fed these chemicals are banned in Australia and New Zealand.
Most Hawaiian papaya is now genetically engineered to be resistant to ringspot virus. Mounting research now shows that animals fed genetically engineered foods, such as corn and soy, suffer a wide range of maladies, including intestinal damage, multiple-organ damage, massive tumors, birth defects, premature death, and near complete sterility by the third generation of offspring. GE papaya is banned in the EU.
The beta agonist drug ractopamine, which reduces the overall fat content of meat, is currently used in about 45 percent of US pigs, 30 percent of ration-fed cattle, and an unknown percentage of turkeys. Up to 20 percent of ractopamine remains in the meat you buy from the supermarket.
Citrus-flavored sodas and sports drinks sold in the US typically contain a synthetic chemical called brominated vegetable oil (BVO), which was originally patented by chemical companies as a flame retardant. BVO has been shown to bioaccumulate in human tissue and breast milk, and animal studies have found it causes reproductive and behavioral problems in large doses.
More than 3,000 food additives — preservatives, flavorings, colors and other ingredients — are added to US foods. Meanwhile, many of these are banned in other countries, based on research showing toxicity and hazardous health effects, especially with respect to adverse effects on children's behavior.
Arsenic-based drugs are approved for use in animal feed in the US because they make animals grow quicker and make the meat appear pinker (i.e. "fresher"). The FDA claims these products are safe because they contain organic arsenic, which is less toxic than the other inorganic form, which is a known carcinogen. However, studies suggest the organic arsenic can transform into inorganic arsenic, which has been found in store-bought chickens sold in the US. The EU does not permit arsenic-based drugs in food animals.
The use of potassium bromate as an additive to commercial breads and baked goods has been a huge contributor to bromide overload in Western cultures. Bromated flour is "enriched" with potassium bromate. Studies have linked potassium bromate to kidney and nervous system damage, thyroid problems, gastrointestinal discomfort, and cancer. Use of potassium bromate is banned in Canada, China and the EU.
Olestra, aka Olean, created by Procter & Gamble, is a calorie- and cholesterol-free fat substitute used in fat-free snacks like chips and French fries. Adverse reactions include diarrhea, cramps and leaky bowels. More importantly, olestra also interferes with the absorption of fat soluble vitamins such as A, D, E and K. Olestra is banned in the UK and Canada.
BHA (butylated hydroxyanisole) and BHT (butylated hydroxytoluene) are commonly used preservatives. BHA is known to cause cancer in rats, and may be a cancer-causing agent in humans as well. US experts concluded that BHA "is reasonably anticipated to be a human carcinogen." BHA and BHT are banned in Japan and parts of the European Union, and the UK does not permit BHA in baby foods.
RBGH is a synthetic version of natural bovine somatotropin (BST). It's injected into cows to increase milk production, but it is banned in at least 30 other nations because of its dangers to human health, which include an increased risk for colorectal, prostate, and breast cancer by promoting conversion of normal tissue cells into cancerous ones. The only way to avoid rBGH is to look for products labeled as "rBGH-free" or "No rBGH." RBGH is banned in Australia, New Zealand, Israel, the EU, and Canada.
_________________________________________
At least 15 kids dead in Syria after receiving measles shot
At least 15 children died after receiving vaccinations in rebel-held parts of northwestern Syria.
The children, some just babies, all exhibited signs of "severe allergic shock" about an hour after they were given a second round of measles vaccinations in Idlib province on Tuesday, with many suffocating to death as their bodies swelled, said physician Abdullah Ajaj, who administered the vaccinations in a medical center in the town of Jarjanaz.
It was unclear what killed the children, but Ajaj said in an interview via Skype that they all exhibited the same symptoms to varying degrees. He said it was the first time he had ever seen such a reaction to vaccinations.
"There was shouting and screaming, it was hard for the parents. You get your child vaccinated and then you find your child dying, it's very hard," Ajaj said. There weren't enough respirators in the clinic, making the situation even worse, he added.
Video footage uploaded to social media showed a medic examining a young girl who was squirming. Another child, in an orange tee-shirt and blue pants, appeared lifeless as a medic administered CPR. He then opened the child's mouth to reveal a swollen, blue-tinged tongue. The footage corresponded with Associated Press reporting of the event.
Syria's conflict, now in its fourth year, has caused the collapse of its health system in contested areas, scattering medics, destroying clinics and making medicines and equipment difficult to obtain. Nationwide vaccination efforts have been thrown into disarray, and polio re-emerged in parts of Syria last year.
The Western-backed opposition based in Turkey said it had suspended the second round of measles vaccinations, which began on Monday. The campaign was meant to target 60,000 children. In a statement, it said the vaccines used Tuesday met international standards and did not say what may have caused the deaths.
It is extremely unlikely that the vaccinations killed the children, said Beirut-based public health specialist Fouad Fouad, who said spoiled vaccinations were more or less harmless. "It cannot cause death," he said.
U.N. deputy spokesman Farhan Haq said UNICEF and the World Health Organization are "deeply concerned" and awaiting further clarification.
"Measles is a major threat to children in Syria and the campaigns are vital … and especially important for children who've been away from their homes and communities and are living in camps or in other unsanitary conditions," Haq said.
Opposition representatives (western-backed) could not immediately be reached for comment.
________________________________________________________
(NOTE: The following article makes the case against using human fetal (aborted baby) cells in which to culture viruses for vaccines. I agree. I further assert that people need to realize that most vaccines are cultured on foreign cells from aborted babies, or cells from animals known to contain dangerous, unreported viruses that are virulent conveyers of disease. These diseases originating from the foreign DNA of aborted babies, as well as the deadly animal-born viruses, are responsible for untold plagues in America … especially since the government and the medical industry began vaccinating children by the millions back in the 1950s. If people knew what is being injected into their bodies by vaccines they might think twice before agreeing to them.  -ed.)
—————————————————————————————————————-
New Study in Journal of Public Health and Epidemiology Correlates Autism Disorder Increase and Human Fetal DNA, Retroviral Agents in Vaccines

Katie Doan
SEATTLE, Sept. 8, 2014 /Standard Newswire/ — A new study published in the September 2014 volume of the Journal of Public Health and Epidemiology reveals a significant correlation between autism disorder (AD) and MMR, Varicella (chickenpox) and Hepatitis-A vaccines.
Using statistical analysis and data from the US Government, UK, Denmark and Western Australia, scientists at Sound Choice Pharmaceutical Institute (SCPI) found that increases in autistic disorder correspond with the introduction of vaccines using human fetal cell lines and retroviral contaminants.
Even more alarming, Dr Theresa Deisher, lead scientist and SCPI founder noted that, "Not only are the human-fetal-contaminated vaccines associated with autistic disorder throughout the world, but also with epidemic childhood leukemia and lymphomas."
Their study comes on the heels of recent breaking news that the CDC deliberately withheld evidence of the significant increase in autism among African-American boys who were vaccinated prior to 36 months of age. (See: www.examiner.com/article/whistleblower-reveals-cdc-cover-up-linking-mmr-vaccine-to-autism )
So it should come as no surprise that the FDA has known for decades about the dangers of insertional mutagenesis by using the human fetal cell lines and yet, they chose to ignore it. Instead of conducting safety studies they regulated the amount of human DNA that could be present in a vaccine to no greater than 10ng. (www.fda.gov/ohrms/dockets/ac/05/slides/5-4188S1_4draft.ppt )
Unfortunately, Dr. Deisher's team discovered that the fetal DNA levels ranged anywhere from 142ng – 2000ng per dose, way beyond the so-called "safe" level.
"There are a large number of publications about the presence of HERV (human endogenous retrovirus – the only re-activatable endogenous retrovirus) and its association with childhood lymphoma," noted Dr Deisher. "The MMR II and chickenpox vaccines and indeed all vaccines that were propagated or manufactured using the fetal cell line WI-38 are contaminated with this retrovirus. And both parents and physicians have a right to know this!"
Certainly these discoveries by SCPI should generate an immediate investigation by FDA officials, if not an outright ban on the use of aborted fetal cell lines as substrates for vaccine production.
Dr Deisher's study is available on the Academic Journals website at:
www.soundchoice.org/scpiJournalPubHealthEpidem092014.pdf
Dr. Theresa Deisher is a PhD in Molecular and Cellular Physiology from Stanford University with over 20 years in commercial biotechnology, prior to founding AVM Biotechnology and Sound Choice Pharmaceutical Institute. As an inventor of 23 issued US patents she is world-renowned for her work in  adult stem cell research and the first to discover adult cardiac derived stem cells. Dr. Deisher was a plaintiff in the US federal lawsuit to prohibit the use of taxpayer dollars for embryo destructive research, which resulted in steering science towards adult stem cell research and 14 US FDA approved adult stem cell products.
________________________________________________
'Pink Slime' Meat Is Back
The attention was damning. In 2012, ABC News ran an 11-segment investigation on a low-cost meat product critics called "pink slime," a moniker coined by a former USDA employee who argued the filler wasn't really beef.
In an attempt to steer the public away from it, celebrity chef Jamie Oliver "recreated" it on his TV show by throwing beef scraps into a washing machine and dousing the results with ammonia. Soon, social media feeds were blanketed with photos supposedly of the product that made the meat look like soft-serve strawberry ice cream.
The backlash was intense. Though the USDA considers the product safe for human consumption, fast food giants like McDonald's, Burger King and Taco Bell publicly renounced it and public schools around the country stopped serving it for lunch. By May 2012, Beef Products, Inc,, the South Dakota-based inventor of the product, was on the brink of collapse—closing three of its four plants and laying off 700 employees.
What a difference two years makes.
On Aug. 18, BPI reopened one of its shuttered plants. While production is nowhere near pre-freak-out levels, when the product BPI calls "lean finely textured beef" was estimated to be in 70% of the ground beef sold in the U.S., the company has been gradually regaining business. The reason is the same one that made finely textured beef successful in the first place: it's cheap. And lower costs are particularly attractive to processors facing record high prices for ground beef. According to the U.S. Department of Labor, the average price of ground beef in June was $3.88, up 14% from last year.
For that, you can thank the sustained drought that has gripped much of the American West and Great Plains, including cattle producing regions of Kansas, Oklahoma, Nebraska and Texas.
"The main issue is the drought," says Dan Hale, an animal science professor at Texas A&M University. "A lot of the U.S., especially parts that raise cattle, have experienced a severe drought. And those animals are no longer available for producing calves that we can in turn generate for beef trimmings."
In the summer of 2012, more than 50% of the country was considered in moderate or extreme drought. Those conditions forced ranchers to rush cows to slaughter, which led to fewer calves in the following years and lower head of cattle overall. Meanwhile, demand for beef kept rising, pushing prices higher along with it. With supply down, prices up and memories of the "pink slime" moment fading, the market for finely textured beef is growing again.
BPI makes its product by spinning discarded beef scraps in a centrifuge to separate the lean, edible trimmings and then treating the result with ammonium hydroxide meant to kill food-borne pathogens like E. coli. Processors blend it with other cuts as a cost-saving measure and the product can account for as much as 10% of the meat in a package of ground beef.
"If you can utilize more of the animal, that helps mitigate some of the low supply numbers," says Lee Schulz, an agricultural economics professor at Iowa State University.
BPI remains embroiled in a a $1.2 billion defamation lawsuit against ABC News over the network's coverage of its product. The company is now producing close to 1 million lbs. a week. of lean finely textured beef—down from nearly 5.5 million lbs in 2012. But BPI is optimistic that the worst days are behind it. The newly opened Kansas plant will work with global meat processor Tyson Foods, collecting its raw beef trimmings and shipping them to a BPI facility in Nebraska that will process the scraps into profit.
"BPI continues to experience growth and remains confident this growth will continue," Craig Letch, BPI's director of food quality and food safety, said in a statement. "This is certainly a step in the right direction."
_____________________________
Baking Soda
_______________________________
The Majority Of Inflammatory Diseases Start In Your Gut
By looking at your diet and addressing inflammation in your body you could help heal/prevent a variety of diseases.
A wide array of health problems, including but not limited to obesity, insulin resistance, type 2 diabetes, periodontal disease, stroke, and heart disease all have inflammation as a part of the disease.
Chronic inflammation in your gut can disrupt the normal functioning of many bodily systems. There also appears to be a connection between certain types of bacteria and body fat that produces a heightened inflammatory response and drives the inflammatory process.
For example, recent research suggests that superantigens—toxic molecules produced by pathogenic bacteria such as staph—may play a role in the development of type 2 diabetes through their effect on body fat cells. As reported by the featured article:
"The idea is that when body fat cells (adipocytes) interact with bacterial toxins they then trigger a chronic inflammatory process… Bacterial toxins stimulate body fat cells to release molecules called cytokines, which promote inflammation…
All staph bacteria make toxins called superantigens — molecules that disrupt the immune system. Schlievert's research has previously shown that superantigens cause the deadly effects of various staph infections, such as toxic shock syndrome, sepsis, and endocarditis.
… The chronic inflammation caused by the superantigens may also hinder wound healing in diabetic foot ulcers. The ulcers, which affect 15 to 25 percent of people with diabetes, are notoriously difficult to heal and can often lead to amputation."
'Perfect Storm' of Inflammation Promotes Diabetes
Previous research has shown that obese people have different intestinal bacteria than slim people. Lean people tend to have higher amounts of various healthy or beneficial bacteria compared to those who carry a lot of excess weight, who tend to have greater colonization of pathogenic bacteria.
Researchers have also discovered that certain gut bacteria, including Staphylococcus aureus (staph) and E. coli, trigger body fat cells to produce inflammatory cytokines. Researchers have proposed that this interaction can provoke the development of diabetes, which is a well-known "side effect" of obesity.
The featured study found that when both staph and E. coli are present (both of which produce superantigens), the inflammatory cytokine response in body fat cells are further amplified, thereby boosting your risk of diabetes. According to the co-author of the study, Patrick Schlievert, Ph.D:
"The E. coli that resides in our gut produces LPS [lipopolysaccharide, a toxin] and every day a small amount of this toxin gets into our circulation, but it is generally cleared from the circulation by the liver. However, people colonized by staph bacteria are also chronically exposed to superantigens, which shut down the LPS detoxification pathway.
That creates a synergy between the 'uncleared' LPS and the superantigen. All these two molecules do is cause inflammation and cytokine production. So in essence, their presence together creates a perfect storm for inflammation."
The Link Between Gum Inflammation and Heart Health
A related news item further highlights the role of inflammation in the development of chronic disease. According to Medical News Today:
"Researchers at Columbia University in New York suggest that if you look after your gums, you could also be reducing your risk of heart disease. They claim that improving dental care slows the speed with which plaque builds up in the arteries."
This isn't the first time researchers have found that your oral health can have a significant impact on your cardiovascular and heart health. For example, a 2010 study found that those with the worst oral hygiene increased their risk of developing heart disease by a whopping 70 percent, compared to those who brush their teeth twice a day.
In this prospective study, improved gum health was shown to significantly slow down the progression of atherosclerosis which increases your risk of heart disease, stroke, and death. According to the featured article."
Here, bacteria are again playing a preeminent role, as periodontal disease is the result of the colonization of certain bacteria in your mouth. This bacterial profile, by the way, is again linked to an imbalance of  beneficial and pathogenic bacteria in your gut.
It's important to realize that periodontal disease involves both bone and the tissue that is in contact with that bone. From this contact, bacteria and toxic inflammatory compounds can easily enter your blood stream. Once in your blood stream, these toxic compounds can harm the lining of your blood vessels, which can lead to both strokes and heart attacks. So, reducing inflammation is of primary importance for your overall health, and brushing your teeth regularly is one way to combat chronic inflammation in your body.
Findings such as these offer potent testimony to the fact that heart disease is a condition that can be prevented, most of the time, by leading a healthy lifestyle — which includes the simple act of brushing your teeth regularly to prevent periodontal disease, and optimizing your gut health by eating foods that allow healthy bacteria to flourish and keep pathogenic bacteria in check.
Diet and Environmental Factors Affect Your Gut Flora
I have long stated that it's generally a wise choice to "reseed" your body with good bacteria, ideally by regularly eating non-pasteurized, traditionally fermented foods such as fermented vegetables (like homemade sour kraut).
If for whatever reason you decide not to eat fermented foods, taking a high-quality probiotic supplement is definitely recommended.
As you can see, the running thread linking a wide variety of common health problems—from obesity and diabetes to heart disease and stroke—is chronic inflammation.
For example, whereas trans fats and sugar, particularly fructose, will increase inflammation, eating healthy fats such as butter and animal-based omega-3 fats found in fish oil will help to reduce them.
Consider eliminating grains and sugars (especially high fructose corn syrup).
For Optimal Health, Address and Avoid Chronic Inflammation
Remember, the micro-organisms living in your digestive tract form a very important "inner ecosystem" that influences countless aspects of health. More specifically, the type and quantity of organisms in your gut interact with your body in ways that can either prevent or encourage the development of chronic inflammation, which is at the heart of many diseases, including heart disease and diabetes. The composition of your microflora may even dictate the ease with which you're able to shed unwanted pounds.
Cultured foods like raw milk yogurt and kefir, some cheeses, and fermented vegetables are good sources of natural, healthy bacteria. So my strong recommendation would be to make cultured or fermented foods a regular part of your diet; this can be your primary strategy to optimize your body's good bacteria. If you do not eat fermented foods on a regular basis, taking a high-quality probiotic supplement would be a wise decision for most people.
Besides that, replacing processed foods, sugar/fructose and grains with whole foods is a critical step to address chronic inflammation.
Chronic inflammation can be caused by poor diet, toxic chemicals and stress and unfortunately these can be bought on by different aspects of our lives including environmental, physical and psychological areas. Your body does not know how to deal with this inflammatory overload and your defense system becomes overpowered and so confused that your immune system doesn't know what is foreign and what is you and literally turns on itself, destroying healthy cells, tissue and everything else in its path.
It's no secret that a healthy diet and lifestyle plays a major part in a healthy life. It cannot be stressed enough that dietary components can either trigger or prevent inflammation from taking root in your body. So to prevent inflammation follow these 5 simple rules.
1. Eat more whole, nutrient-dense foods. Cut out the foods which cause inflammatory, such as refined sugar and flour, processed junk, etc. If you add a variety of whole foods to your diet you will flood your body with the vitamins, minerals, cancer-fighting phytochemicals, antioxidants and fiber it needs to recover from chronic inflammation.
2. Focus on gut health. Your gut holds approximately 60-70% of your immune system, so if your gut is in bad shape then your immune system is more than likely going to be the same way. A great way to start is by taking a daily high quality pro-biotic.
3. Identify food allergies and chronic (or hidden) infections. You may have food allergies, the most common are gluten, wheat, soy, dairy, and yeast. You can get these checked with blood and urine tests.
4. Relax and rest more. When you are sleeping your body is hard at work repairing and restoring your cells. This is why most doctors recommend seven to eight hours of sleep per night. If you are getting less sleep over time you will prevent your immune system from fully repairing itself and making it harder for your body to fight off infections.
Stress goes hand in hand with a lack of sleep, when you are stressed out all the time, you're also producing more of the hormone cortisol — inflammation's BFF. You can easily reduce chronic inflammation by focusing on stress reduction, this can be done by increasing the hours you sleep, relaxation, long walks, less technology or a much needed vacation.
5. Reduce toxins in your food, home and personal care products. Eat plain simple and safe foods whenever possible. It will make a huge difference to your gut's health and choose non toxic personal care and cleaning products to reduce your exposure to toxic chemicals.
_______________________________
DEMENTIA PREVENTION:
COCONUT OIL
by Paul Fassa
There have been three attempts since 2012 to create an effective and not too terribly toxic pharmaceutical solution to Alzheimer's. They all failed and even caused worsening conditions with an occasional death during testing.
A few years ago Dr. Mary Newport's discovery of using coconut oil to reverse her husbands advanced Alzheimer's disease made a big splash in the alternative health media.
Some of this splash managed to wet a few pages of the mainstream media (MSM), and Dr. Newport wrote a book about her discovery for hubby's turn-around called Alzheimer's Disease: What If There Was a Cure?: The Story of Ketones.
Actually, the use of high saturated fat diets to create ketones was created by Johns Hopkins Medical Center in the 1920s. Ketones are processed easily from medium chain tryglicerides to provide fuel for brain cells when carbohydrate metabolism fails within the brain.
Facts about fats
However, the false dogma of cholesterol and saturated fats caught on later in the 1950s, and the processed food industry had a field day promoting low or no fat foods, margarine, and unsaturated processed oils (hydrogenated) for cooking and salads. Coconut oil was vilified, and margarine replaced butter.
The medical monopoly declared that saturated fats are bad and cholesterol, especially LDL, the "bad cholesterol", just had be lowered to prevent obesity and heart disease. Since then, over a half-century ago, obesity, heart disease, and Alzheimer's have soared to epidemic rates.
The processed food industry managed to make a longstanding financial killing while doctors repeated the dogma to their patients and patients turned that dogma into their mantras. The whole saturated fat/cholesterol has been a literally sickening affair for over a half-century. And Big Pharma's attempts at eliminating all three disorders have been failures.
But those who followed up on Dr. Mary Newport's success with coconut oil for her husband's Alzheimer's reversal have been duplicating that success with coconut oil's easily digested medium chain triglycerides, which convert to ketones for brain cell fuel when oxygen/carbohydrate metabolism fails.
The brain is comprised of mostly fats, the saturated kind. Cholesterol is needed to fuel the neuron communication. It's been discovered that high cholesterol blood level geriatric folks live longer without dementia than those whose cholesterol counts are lower. By the way, did you know that all cholesterol is the same?
It's the tiny protein chylomicron shell carriers that differ to accommodate various cellular, structural, and arterial repair purposes for your benefit, including helping manufacture vitamin D from the sun. This helps explain why statin drugs are so harmful and promote heart disease and dementia.
Do you still really think saturated fats cause obesity and heart disease instead of point at the true culprits of fake fats and processed sugars and carbs?
If you do, you're part of the majority, unfortunately. Even most alternative health practitioners and writers still keep touting foods and supplements that lower cholesterol. It'll be a decade before that myth is completed outed.
Those of you who consider yourselves "science based" types that like to refute natural health articles without investigating other possibilities further are invited to read MIT researcher Stephanie Seneff's brilliant article on these matters here (http://people.csail.mit.edu/seneff/alzheimers_statins.html).
Sources for this article include:
http://www.news-medical.net/health/History-of-the-Ketogenic-Diet.aspx
http://people.csail.mit.edu/seneff/alzheimers_statins.html
see also http://www.healthambition.com/what-is-oil-pulling/
______________________________________
Hospitals and commonly prescribed drugs are killing and harming the elderly
by Tony Isaacs
Prescription drugs and the combination of those drugs and other medications are taking a heavy toll on elderly Americans, leading to risky hospitalizations, mental decline and death. And some of those drugs are worse than others.
A study published last November in the New England Journal of Medicine found that blood thinners and diabetes drugs caused most of the emergency hospital visits for drug reactions among people over 65 years of age in the United States. According to the study, just four medications – used alone or in combination – were responsible for two-thirds of the emergency hospitalizations among older adults.
At the top of the list was the blood thinner wayfarin, also known as Coumadin, which accounted for 33 percent of emergency hospital visits. Insulin injections came in second on the list, accounting for 14 percent of the visits. Aspirin, clopidogrel and other antiplatelet drugs prescribed to prevent blood clotting were third with 13 percent and just behind them were oral hypoglycemic drugs for diabetes which were responsible for 11 percent of the visits.
Last July, another study reported in The Journal of the American Geriatrics Society found that over half the elderly were regularly prescribed dozens of painkillers, antihistamines and psychiatric medications called anticholinergics which lead to mental decline and death. Researchers found that those taking more than one anticholinergic drug scored lower on tests of cognitive function than those who were not using any such drugs, and that the death rate for the heavy users during the course of the study was 68 percent higher.
Hospital visits often turn into death traps, especially for the elderly
Thanks to rampant infections in our hospitals, patients who enter for one condition end up acquiring deadly bugs which often become fatal – and this is particularly true for the elderly.
The most common infection acquired in hospitals is pneumonia. The sixth leading cause of death in the US, pneumonia is the fourth leading cause of death among the elderly and hospitals appear to be helpless in preventing its spread. Hospitals likewise have been unable to prevent the often deadly medication-resistant staph superbug MRSA from spreading wildly in recent years.
As was reported last year in Natural News, an old bacterial nemesis named clostridium difficile (C difficle) is becoming more deadly and its incidence is increasing at alarming rates in hospitals across North America and Europe. Its primary cause is antibiotic drugs wiping out bacteria that compete with C difficile.
Another new infectious agent which has appeared in the United States is called CRKP (Carbapenem-resistant Klebsiella pneumoniae). By early 2011 CRKP had already been identified in hospitals in 36 states. CRKP is resistant to antibiotics, and patients who acquire it are at a high risk of death, usually within 30 days. Death rates for CRKP have been reported to be between 30 and 44 percent.
Other hospital complications common among the elderly include delirium, which occurs in one-third of hospitalized patients over the age of 65 and in more than 70 percent of older patients in Intensive Care Units, bedsores and malnutrition.
By the time a person reaches 65 years of age in the US, they are taking an average of nine prescription drugs each day. Add in over the counter medications and the number of drugs taken daily increases to a dozen or more. Since over 95 percent of all approved medications have side effects, each new medication increases the likelihood of further health problems.
___________________________________________________
Coconut Information
Coconut Therapy for Pets: A Review
by Dr. Sanford Pinna
The Helico Pylori Bacteria is one of the most common bacteria that infect the Human race. It is found in families, who pass the bacteria to each other. H. Pylori inhabits the stomach and the esophagus. It stimulates cells in the stomach to produce excessive amounts of gastric or hydrochloric acid.
This acid reflects back and up into the stomach causing "Heart burn" or, technically, Gastro-Esophogeal Reflux /Disease, commonly referred to as GERD.
This reflux is painful and can cause ulcers, gastritis and occasional gastric cancer, which can be deadly.
TREATMENT
There are dozens of diagnostic methods for determining the presence of H. Pylori, and dozens of treatments devised by major pharmaceutical companies who make billions of dollars with disease.
The normal treatment consist of an accurate diagnosis using an analysis of breath from the patient which contains gas byproducts of the bacterium, followed by an average ten day treatment of six antibiotics daily, plus two proton pump inhibitors daily. (Prevacid, etc.) At the end, the patient is retested for the presence of H. Pylori.
There is an approximate 90 percent success rate, sometimes 70 to 80 percent.
DRAWBACKS OF MEDICAL TREATMENT
1. COST: $300 – $500, if no insurance.
2. SIDE EFFECTS: diarrhea, stomach complaints, overgrowth of bad bacteria.
3. TIME COSTS: visits to doctors and laboratories.
SUMMARY
Treating H. Pylori infections medically, is costly, time consuming, produces side effects and is not one hundred percent successful.
ALTERNATIVE TREATMENTS
Many of my patients who have studied alternative medicine on the Internet, have asked my opinion about Virgin Coconut Oil for the treatment of Pylori Infections causing hyperacidity.
COCONUT OIL AND HOW IT KILLS BACTERIA
Coconut oil is an excellent "anti-biotic". It kills bacteria and fungi on contact! Coconut oil is made of saturated fatty acids of the medium length variety. Its major Saturated Acid is called LAURIC ACID. The Lauric Acid invades the cell wall and destroys it.
Here is an excerpt from a scientific study:
"Studies on lipids in the 1960s by Kabara and colleagues showed medium-chain (C-8 to C-14) FAs and their monoglycerides to have antimicrobial effects against several laboratory organisms.
In the 1990s, more laboratory studies confirmed the antimicrobial activity of these lipids against gram-positive and some gram-negative organisms, including Neisseria gonorrhoeae, Helicobacter pylori, and Chlamydia trachomatis, as well as Candida albicans yeast and enveloped viruses.
Since 1998, some clinical studies have confirmed these laboratory data, specifically data on monolaurin, the monoglyceride of lauric acid from VCO. A 2% gel preparation of Lauricidin (Skin Sciences Laboratory, Inc, Pasig City, Philippines), which contains 90% pure monolaurin, significantly degermed SA cultured from health workers' hands after hospital duty.
Another study cultured the skin lesions of 100 pediatric patients. The top isolates were SA, coagulase-negative SA, Streptococcus spp, Enterobacter spp, and Escherichia vulneris. The sensitivity of these organisms to penicillin, oxacillin, erythromycin, fusidic acid, mupirocin, and vancomycin varied significantly, demonstrating low to high susceptibility, across the different isolates (Fisher exact test = 0.000; p < .05).
In marked contrast, sensitivity to monolaurin (LAURIC ACID in coconut oil) did not significantly differ across the different bacterial isolates (Fisher exact test = 0.110; p > .05), reflecting high antibacterial activity.
There also was a statistically significant and marked difference in resistance rates. SA, coagulase-negative SA, and Streptococcus spp did not exhibit any resistance to monolaurin as opposed to the varying resistance observed with the other antibiotics in this study."
We can easily see that "MONOLAURIN" or LAURIC ACID, the most common fatty acid in coconut oil is "highly antibacterial" and kills "H. Pylori."
MY PATIENTS PERFORM THEIR OWN EXPERIMENT
My patients, independent of my medical advise, decided to try their own experiments.
I, as a licensed physician, cannot advise them to experiment, with unknown and untested modalities of treatment. I offered them the information I had obtained from my research, conducted tests to determine if they were infected with H. Pylori, and offered them the standard medical treatment.
They refused my standard treatment and told me that they wanted to try virgin coconut oil, one teaspoon three times daily.
This method has proven to be above reproach and has yielded excellent results.
MY PATIENTS' EXPERIMENT
Millions of people in Asia ingest much larger quantities of coconut oil with no ill effects.
Question: Would coconut oil, which is bactericidal, kill the Helico Pyloric Bacteria in their gut?
In approximately one month, we had the answer. It was a resounding YES!
Upon repeat testing, none of my patients had evidence of H. Pylori. Also, their symptoms of acid regurgitation, stomach pain and burping disappeared.
CONCLUSION
I, am now, of the firm conviction, that in some people, the ingestion of Virgin Coconut Oil, three times daily, can eradicate H. Pylori infections.
_____________________________
Wheat Can Act As An Endocrine Disruptor: Study
–
A provocative new study published in the journal Hormone Research in Paediatrics confirms for the first time in a human trial that one of the adverse effects of wheat consumption includes a disruption of the levels of a hormone produced by the pituitary gland known as prolactin.
That wheat can act like an 'endocrine disruptor,' is not well known, but is not surprising considering that there are over 200 health conditions that have already been linked to the adverse effects of wheat to human physiology, as documented in the peer-reviewed published literature itself.[i]
In the new study titled, "Prolactin May Be Increased in Newly Diagnosed Celiac Children and Adolescents and Decreases after 6 Months of Gluten-Free Diet," the researchers aimed to assess the prolactin (PRL) levels in newly diagnosed pediatric celiac disease patients, and if found to be elevated beyond normal ranges (a condition known as hyperprolactinemia), observe what would happen if they were put on a 6-month long gluten free diet.  The results of the trial, which included 67 patients and 39 healthy controls, were reported as follows:
Results: PRL was statistically higher in the CD patients (13.5 ± 9.2 ng/ml) than in the controls (8.5 ± 5.0 ng/ml). In the CD group, PRL was inversely correlated with the age at diagnosis (r = -0.326; p = 0.007). In patients with hyperprolactinemia at diagnosis, PRL decreased after 6 months of GFD. Conclusion: This paper confirms that PRL may be increased at diagnosis of CD and shows, for the first time, that it decreases after a short course of GFD. Changes in the levels of inflammatory cytokines in CD may account for changes in PRL levels. Younger patients seem more prone to develop hyperprolactinemia than older ones.
Prolactin is produced by the anterior pituitary gland. It is most well known for its role in the breast gland by stimulating physiological processes necessary for lactation, and it is involved in sexual gratification after sexual acts by counteracting dopamine, the neurochemical involved in sexual arousal. Elevated prolactin levels may also decrease testosterone in men and estrogen in women.[ii]
In reality, prolactin's role is so vast that its complexity is incalculable, having been found to have approximately 300 separate actions in vertebrates.[iii] Any disruption therefore of its normal function or concentrations would have a wide range of downstream effects.
The researchers focused on elevated prolactin levels as a marker of autoimmune disease. They describe a number of conditions linked to hyperprolactinemia:
Hyperprolactinemia is described in a lot of autoimmune diseases, both systemic (rheumatoid arthritis, systemic lupus erythematosus, systemic sclerosis and Sjögren's syndrome) [23–25] and organ-specific (Addison's disease, CD, type 1 diabetes mellitus, Hashimoto's thyroiditis, Graves' disease, lymphocytic hypophysitis and multiple sclerosis) [26–31]
While this hypothesis may turn out to be accurate, previous animal research indicates that opiate-like components within wheat known as gluten exorphins may also be involved.  A 2004 study in the journal Nutritional Neuroscience found an elevation of serum prolactin levels after administration of the alimentary opioid peptide gluten exorphin B4 in male rats.[iv] An earlier 2003 study published in the journal Pharmacological Research found that gluten exporphin B4's prolactin enhancing properties were mediated through classical opioid receptors,[v] revealing another mechanism beyond provoking inflammation through which wheat may disrupt prolactin levels.
The researchers concluded with the following remarks:
"In conclusion, we show that PRL may be increased in CD children and adolescents at diagnosis. In newly diagnosed CD patients, the mean PRL level is higher (especially in younger patients) than in healthy subjects, but in only 6 months of GFD it is possible to reduce this level. We hypothesize that PRL levels in CD are affected by inflammatory cytokines, whose production is associated with gliadin ingestion and increases when the autoinflammatory mechanisms are active."
This latest study just adds to the increasing skepticism people have as far as wheat's role in human health are concerned.  No matter what the exact mechanism of action, it is clear that wheat (especially modern, highly hybridized and gluten rich wheat) can no longer be considered the wholesome, glorified health food that it once was for decades, and even centuries – at least not for everyone.
To learn more about the dark side of wheat, read my essay on the topic: http://www.greenmedinfo.com/page/dark-side-wheat-new-perspectives-celiac-disease-wheat-intolerance-sayer-ji 
_______________________________________
The Many Benefits Of Coconut Oil
We've known for some time that coconut oil is the best for frying since it withstands higher temperatures without scorching. We've also known that coconut oil is healthy for your heart, and nutritious. We knew that it is the all-around best oil for everyday use, along with butter.
What is now being brought to our attention is that coconut oil is also beneficial in nourishing the brain and nerves while at the same time battling against obesity. It actually is gaining reputation in preventing and reversing dementia and alzhiemers.
There are different brands of coconut oil, all of which appear to be getting less expensive as it becomes more commonly used in greater amounts. Some brands retain a bit of coconut flavor, while others have no flavor at all. We prefer the non-flavor variety for cooking, but enjoy the coconut flavor in the ones we take as supplement. Also available is a related inexpensive supplement called MCT OIL, made from coconut oil, that appears to address the issues, especially obesity, more aggressively.
Leading Geneticist: Human Intelligence is Slowly Declining
Would you be surprised to hear that the human race is slowly becoming dumber, and dumber? Despite our advancements over the last tens or even hundreds of years, some 'experts' believe that humans are losing cognitive capabilities and becoming more emotionally unstable. One Stanford University researcher and geneticist, Dr. Gerald Crabtree, believes that our intellectual decline as a race has much to do with adverse genetic mutations. But there is more to it than that.
According to Crabtree, our cognitive and emotional capabilities are fueled and determined by the combined effort of thousands of genes. If a mutation occurred in any of of these genes, which is quite likely, then intelligence or emotional stability can be negatively impacted.
"I would wager that if an average citizen from Athens of 1000 BC were to appear suddenly among us, he or she would be among the brightest and most intellectually alive of our colleagues and companions, with a good memory, a broad range of ideas, and a clear-sighted view of important issues. Furthermore, I would guess that he or she would be among the most emotionally stable of our friends and colleagues."
Further, the geneticist explains that people with specific adverse genetic mutations are more likely than ever to survive and live amongst the 'strong.' Darwin's theory of 'survival of the fittest' is less applicable in today's society, therefore those with better genes will not necessarily dominate in society as they would have in the past.
_______________________________________
Survey: Vaccinated children five times more prone to disease than unvaccinated children
Friday, January 11, 2013 by: Ethan A. Huff, staff writer
(NaturalNews) An ongoing study out of Germany comparing disease rates among vaccinated and unvaccinated children points to a pretty clear disparity between the two groups as far as illness rates are concerned. As reported by the group Health Freedom Alliance, children who have been vaccinated according to official government schedules are up to five times more likely to contract a preventable disease than children who developed their own immune systems naturally without vaccines.
Released as its own preliminary study back in September 2011, the survey includes data on 8,000 unvaccinated children whose overall disease rates were compared to disease rates among the general population, the vast majority of which has been vaccinated. And in every single disease category, unvaccinated children fared far better than vaccinated children in terms of both disease prevalence and severity. In other words, the evidence suggests that vaccines are neither effective nor safe.
"No study of health outcomes of vaccinated people versus unvaccinated has ever been conducted in the U.S. by CDC or any other agency in the 50 years or more of an accelerating schedule of vaccinations (now over 50 doses of 14 vaccines given before kindergarten, 26 doses in the first year)," wrote Louis Rain back in 2011 for Health Freedom Alliance about the survey.
As disclosed at VaccineInjury.info, vaccinated children are nearly twice as likely as unvaccinated children to develop neurodermatitis, for instance, a skin disorder marked by chronic itching and scratching. Similarly, vaccinated children are about two-and-a-half times as likely, based on current data, to develop a pattern of migraine headaches compared to unvaccinated children.
The numbers are even more divergent for asthma and chronic bronchitis, where vaccinated children are about eight times more likely than unvaccinated children to develop such respiratory problems. Vaccinated children are also far more likely to develop hyperactivity, hayfever, and thyroid disease, with their likelihood three times, four times, and a shocking 17 times higher, respectively, compared to unvaccinated children.
You can view the complete data, as it currently exists, here:
http://journal.livingfood.us

Autism extremely rare among unvaccinated children
Where the gloves really come off on the issue, however, is with autism, the long-held point of contention in the vaccine safety debate. According to the data, only four of the 8,000 unvaccinated children that were included in the 2011 release of the study responded as having severe autism, which is a mere half of one percent of the overall population. Meanwhile the autism rate among the general population, as tabulated in the German KiGGS study used for comparison, is about 1.1 percent.
This means that vaccinated children are about 2.5 times more likely to develop severe autism compared to unvaccinated children, a shocking find when considering the medical establishment vehemently denies any link whatsoever between vaccines and autism. And as it turns out, the four unvaccinated children who reported severe autism all tested high for heavy metals, including mercury, which further indicts vaccines and their disease-causing adjuvants.
Though this correlation does not necessarily conclude causation, the overall disparity of disease rates between vaccinated and unvaccinated children at the very least points to a very strong connection that cannot be denied or dismissed. Even after accounting for bias, as the survey's authors have tried to do over the years, the data continues to show much higher disease rates among vaccinated children compared to unvaccinated children.
In a similar but unrelated study conducted back in the 1990s, researchers found that the death rate among vaccinated children for infection with diphtheria, tetanus, and whooping cough (pertussis) is also twice as high, on average, compared to unvaccinated children.
HEALTHY OILS -VS- BAD OILS
Polyunsaturated vegetable oils and Margarine are bad, and butter and eggs good!

---
For fifty years, big business, government agencies and medical organizations have campaigned deceptively against animal fats, meat, eggs, butter and other nutritious, traditional foods, leading to huge profits from the sale of toxic margarine, shortenings and liquid vegetable oils, and the foods that contain them. Scientific data contradicting current anti-animal fat public health policy was suppressed and censored for many years. Dr. Enig and Sally Fallon now tell you the truth about how that happened.
The Oiling of America will open your eyes to fraud and deception behind the lipid hypothesis of heart disease.  Topics include:
Why heart disease has increased in proportion to the use of vegetable oils.
How scientists cheat in scientific studies
Why cholesterol is not the cause of heart disease
The dangers of cholesterol-lowering diets and drugs
Why trans fatty acids and liquid vegetable oils are so dangerous to human health

_____________________________________________________________
CREATING A NATION OF ZOMBIES
Honest American academics all realize and admit that Americans in general are getting dumber. There are several reasons this is happening … the main reason is that Americans are losing their connection to Christ. Life without Christ brings men to the common denominator of stupidity and corruption.
This video explains one of the several facets of the problem. Brain function is being lost in Americans due to chemical poisoning. And, sadly, the dumber Americans get, the less able they are to address the problem. The often result is that even when they become aware of the problem they end up chasing after a false remedy and following nutty health gurus who are only interested in selling a product for profit.
American kids can't learn now. In recent years American education status has gone from number one in the world to somewhere between 10 to 37 depending upon which source you read … and we are still falling. Many "Third-World nations" are ahead of America in education.
If you have the impression that people around you just don't get it … you are probably right!
______________________________________________________
The Lyme Disease Health Crisis
Heather Callaghan
What have you heard about tick-borne Lyme for the last 30 years? That it's rare, scary, acute, treatable? The government warns about its spread and implores people to go to a doctor upon seeing the telltale bulls-eye rash.
So, what happens when they actually do?
Many have researched the controversial beginnings of Lyme disease, but this article focuses on what happens to victims when they contract it, and the ongoing cover-up in the mainstream medical community and the CDC itself.
Under Our Skin is a documentary that lends a voice to the many who in fact suffer from chronic Lyme and are victims of a greater abomination.
Why do conventional doctors tell them it's in their head? Why won't they quickly test for it? Treat it? Acknowledge it? Why do medical boards shut down doctors who can treat and cure Lyme?
Lyme's Disease is Not Rare – It is Bigger Than AIDS
In the late '70s, a Lyme, Connecticut mom reported a mysterious new disease sweeping the town, leaving its people with debilitating, chronic symptoms. In 1981, Dr. Willy Burgdorfer discovered the Lyme bacteria, called Borrelia burgdorferi.
The bacteria spirochetes closely resemble syphilis in their make up. While a carrier tick is feeding, its backwash enters the host and transmits Lyme. The corkscrew spirochetes wreak havoc, drilling into any healthy cells and tissue. They create painful, crippling neurological and immunological damage.
In the beginning, doctors only knew that it resembled syphilis, but remained unaware of its wide spread, how to proceed, and the political-medical clash that awaited them.
In recent years, the CDC has reported over 35,000 new Lyme cases annually, but admits that since symptoms are so overlooked the actual number may be 12 times higher, up to 420,000 cases each year.
Think of how much more likely it is to contract Lyme than the media-touted fear of West Nile virus, which is only reported at around 1,300 cases annually. If the actual number of Lyme cases is even just a modest amount above the CDC's 35,000, then Lyme is far more prevalent than AIDS, reported at 39,000 cases annually.
Since 1982, the number of cases continues to climb and spike prompting media reports and health officials to label it an epidemic as early as 1989. Reported cases have tripled since 1992. Every summer we hear the same cautionary reports. Yet, doctors constantly tell their patients: "You don't have Lyme,"or "Lyme only happens in such-and-such state, not here."
Lyme is a national health crisis in every state and has traveled the globe!
Since this infectious disease is viewed with eyes that won't see and hands that won't treat, the minuscule 35,000 reported cases are unquestionably a mere fraction of people sick with Lyme.
Patients often look normal and are told they have M.S., Lou Gehrig's, psychological disorders, Parkinson's, ADHD but not Lyme. Therefore, many walk around with Lyme and have no clue why they are so ill, why treatments don't work and are left to wonder. Many are left to die.
Without Early Eradication Lyme is Chronic, Expensive, Does Not Leave Easily
Lyme patients often state that they've seen an average of 30 doctors, spent over $100,000 in medical care and waited up to 15 years for a Lyme diagnosis. Why??
Lyme disease antibodies can be detected early with a blood test. If caught early it can be treated with an inexpensive bottle of antibiotics. But that is rarely the case. Patients are told it's not Lyme, it won't be tested for, it's something else and so the struggle begins.
When the patient remains ill, why, it couldn't possibly be chronic Lyme because doctors view it as acute and are not allowed to believe chronic Lyme exists. If "acute" Lyme isn't cured with two weeks of antibiotics, which it won't be if the bacteria has taken hold due to waiting, then the patient is told it must be something else and years of sickness, pain, and ineffective treatments ensue.
Talk to someone who's been through this battle. They will most likely tell you they were dismissed and referred to psychiatrists and multiple specialists.
Lyme can attack any area of the body and manifest endless symptoms. Lyme patients have seen specialists for chronic pain, arthritis, Chrohn's, iritis, organ failure, brain and neurological problems, dyslexia, insomnia . . . you name it. All for one disease that could have been treated early. But doctors will not believe them, and after seeing so many specialists they are often labeled crazy, hypochondriacs, attention loving, and depressed.
The spirochetes can cleverly avoid the antibiotics and hide from the immune system. It's frightening to think that specialists often prescribe immune suppressive drugs – the most counterproductive plan for Lyme patients.
The CDC now hints at chronic Lyme with sarcastic quotation marks and insists that it be called Post-Treatment Lyme Disease Syndrome (PTLDS). They openly admit that the first round of conventional treatment might not bring a cure, and that the patient is in for a long ride of pain and sometimes years of antibiotics — the only recognized conventional treatment.
They lie and state that there is no credible scientific evidence that PTLDS is caused by persistent infection, that it must be residual damage, that the Lyme is gone. They also make a big point in telling people to avoid their own research on the Internet; not to believe the inaccurate information out there, just keep seeing the doctor who left them untreated for so long.
The CDC says before PTLDS treatment takes place, confirm the diagnosis – fat chance that will happen.
So how did that fiasco begin?
The Establishment Cover-up of Chronic Lyme Disease
Commercial viability is driving the research agenda in too many cases.
In 1980, the government started allowing patents on living organisms such as pathogens. Perfect timing for scientists to make a mad dash for parts of newly-discovered Lyme and keep the information locked away to protect future profits.
These so-called experts continue to research Lyme disease with federal funds, then start private firms and obtain patents. They write guidelines for insurance companies and HMOs so that the disease doesn't exist (yet) or require coverage. Not only do Lyme victims spend hundreds of thousands for medical treatment, but they can't be covered by insurance for Lyme!
The Biggest Blow In The Lyme Cover-up
The Infectious Diseases Society of America (IDSA), made up of a board of doctors, created within themselves an authority to write the rule book on all things Lyme. It is the absolute bane of both the Lyme community and conscientious doctors everywhere.
They are the ones who decided that there is no such affliction as chronic Lyme, that it's easy to treat and cure, and will be cured within two weeks of oral antibiotics or else the patient has another infirmity. Doctors must follow their diagnosis and treatment guidelines or face punishment from state medical boards. Patients' proof of cure never sways the boards – doctors broke the rules.
Out of the 400 references listed in the back of the guidelines, over half of them are directed at articles that they and their teams wrote. They have closed the door on any outside alternative medical research.
In turn, these are the very guidelines insurance companies consult to deny medical treatment coverage. The majority of complaints that lead to doctors' suspensions come from insurance companies, not from patients or other physicians. The insurance companies wish to rid doctors who cost them the most.
The unholy trinity of insurance companies, Lyme guidelines written by establishment insiders, and Big Pharma corporate control, restricts consumer choice in medical care and extorts these patients.
While the IDSA acknowledges post-Lyme syndrome, they audaciously attribute it to the "aches and pains of daily living,"and that poor treatment results are due to prior traumatic stress. Are they really that dumb?
No, but they are cold blooded and know exactly the nature of the disease and the destructive human toll that it often takes.
Busted On The Money Trail!
Connecticut Attorney General, Richard Blumenthal, investigated the ISDA panel members for possible violation of antitrust laws and conflicts of interest.
Of the 14 panel authors of the first edition guidelines, 6 of them or their universities held patents on Lyme or its co-infections, 4 received funding from Lyme or co-infection test kit manufacturers, 4 were paid by insurance companies to write Lyme policy guidelines or consult in Lyme legal cases, and 9 received money from Lyme disease vaccine manufacturers. Some of the authors were involved in more than one conflict of interest.
So why are guideline authorities taking money from companies who have a direct interest in specific outcomes? When will doctors speak up?
So How Does This Cover-up Saga Continue?
Corporate media keeps trumpeting the lies. CBS News recently published a story called "Lyme Disease Lies – And Truths."Each segment features a FACT OR FICTION tidbit, which is really a confusing mash up rife with deception. They pull their information from the IDSA and Dr. John Halperin who wrote a book better used for toilet paper called Lyme Disease: An Evidence-based Approach.
The article calls the following people liars: those who claim to have "chronic" Lyme disease; those who believe they still have Lyme, because they test positive for antibodies after treatment; those who believe their brain fog results from Lyme; the Lyme "advocacy groups"that claim anyone actually died from it; anyone who claims this syphilis-like disease is spread sexually; and those who believe lengthier care is needed.
Dr. Halperin states that Lyme is benign, easy to treat, no one has died from it, patients are rarely hospitalized, and brain infection from Lyme is rare.
Doctors like Leo Galland are stepping out with more truth. His article on Huffington Post discloses more about chronic Lyme infection. At the bottom of his article, you will see that the majority of the 500 comments are Lyme victims sharing their nightmare stories.
Organizations that pretended to protect public health with no commercial interests (CDC, NIH, Universities) have partnered with Big Pharma and are not in the business of seeing anyone healed.
Maybe generations from now when there is enough of an outcry — when many have lived ill and died — some drug company will try to be the hero of the day and come up with a poisonous drug to treat Lyme.
Even that scenario is highly unlikely, as chronic Lyme is not allowed even to exist. But when it does, there will probably be a vaccine waiting for you.
So, in the meantime, Lyme victims serve as a tragic host for the parasitical medical establishment, lining corporate coffers until the patient finally bleeds out.
The real ticks (the poli-ticks) are the crux of the message.
Please watch Under Our Skin (on Netflix, or from Amazon.com), for more mind-blowing information. The full movie is available on NetFlix. Find out about the doctor who discovered an actual link between the Lyme spirochetes and disorders like dementia, Alzeimer's, M.S. and more. One alternative health practitioner has not seen a single M.S., ALS or Parkinson's patient in the last five years who did not test positive for Borrelia burgdorferi.
You will also see proof that Lyme-inflicted mothers experience multiple miscarriages and their babies are riddled with the disease. Babies who survive often develop late-stage neurological damage during childhood and adolescence. All are events that the IDSA swear have never happened. They insist that Lyme cannot be spread to the unborn child.
You will witness the families grieving over their dead loved ones. Lyme Disease is listed on their death certificates.
You will hear from doctors who were bullied, investigated, and ousted for attempting to actually treat Lyme, usually with intravenous and lengthier antibiotics. After all, isn't that how other infectious diseases are conventionally treated – Tuberculosis, HIV, Hepatitis??
Conscientious doctors have to treat Lyme secretly if they want to help their patients without losing their license. They have to tell their patients, "Don't mention Lyme."How's that for a cover-up?
Chances are, you know someone who is manifesting the aforementioned symptoms and is battling the never ending circle of finding proper diagnosis and treatment. They may or may not remember a tick bite. Since the truth about Lyme is so stifled it is more than likely spread through blood transfusions (as with Babesiosis) and shared between couples (as shown in Under Our Skin).
They most likely have been diagnosed with one of the mysterious "incurables"like MS, ALS, or even early Parkinson's and Alzheimer's. The latter two are increasingly diagnosed in younger patients.
Or perhaps they were dismissed as crazy and bear the misery of not knowing that they actually suffer from Lyme. Regardless, they suffer and believe they must wait until research catches up to them before they die.
It is the writer's hope that this last installment of our Lyme series connects people to real help in getting their lives back from this menacing, covered-up disease. The first part delves into complications of detection and the last part into things to be careful for and some real options for relief.
The corrupted Infectious Diseases Society of America wrote guidelines on tick-borne diseases that included Lyme, Human Granulocytic Anaplasmosis, and Babesiosis. But the rise of Babesiosis, Ehrlichia (moving through Wisconsin and Minnesota), and other newly discovered vector-borne disease are more threatening in the lack of early symptoms and undetected presence in blood supplies. So those suffering from the many tick-borne infections are going to have the same runaround as Lyme victims. Those with the malaria-like Babesiosis parasite and other vector-bornes can also have Lyme and vice versa — plus a variety of debilitating co-infections.
Actually, there are around 137 different strains of Lyme and its sister tick-borne diseases, but only two are the most investigated and treated. Since it's so shrouded in silence and ignorance, most blood banks don't even screen for it and untold many don't know they are infected.
One Northern US naturopath said in a phone interview that he helps with 2-3 cases per month and the clients don't realize it's there. Many don't recall a tick bite, never saw the bullseye-rash, and sought his help after being diagnosed and unsuccessfully treated for Lupus, Fibromyalgia, Chronic Fatigue Syndrome, and the "incurable" neurological diseases that are alarmingly on the rise in young people. He had to help his wife with undetected Lyme, and Lyme is no longer a part of her life.
Prevention is ideal, but obviously not foolproof. It can be spread through not only ticks, but mosquitoes, blood transfusions, sexual contact, and even flies. A tick bite or rash need not be present to have Lyme. This is all crucial information denied and silenced by the IDSA mob. Then they tell the patient, after a couple weeks, that they are cured and any issues must be in their head. That is the situation we are currently facing.
The political-medical battle over Lyme and newly discovered vector-borne disease was left to the dogs from the beginning. Many have struggled and found their own way, with alternative doctors and unconventional methods. The CDC would like you to believe that such unfortunates stumble on "goat's blood"and false promises of stem cell help, but we know better than that.
Unfortunately, Under Our Skin only covered Lyme-literate doctors who were using aggressive antibiotic treatment for progressive Lyme. Even some of those doctors had their licenses revoked or were compelled to close their practice. Constant use of antibiotics are harsh and leave people with more health problems, possible resistance, and Candida yeast overgrowth. Many patients are stuck in a cycle of taking antibiotics for years because if they stop, the spirochetes come back and they feel ill again.
Very important: most people with Lyme are already familiar with using caution during any type of detox. Killing off the immense amount of spirochetes requires the body to quickly dump them. Not being able to rid the die-off causes intoxification, also known as a Herxheimer Reaction (healing crisis). The Herx effect is the "feeling worse, before feeling better."
Following through with a program can be tedious but do-able. The bacteria go in cycles from cyst to spirochete and need to be killed in adult form – so a long program ensures that all the bacteria eventually die. Killing off the bacteria is only one part, rebuilding the immune system and organ health are equally crucial.
Colloidal silver is a must-have for every home and difficult disease. The high-voltage AC-made silver is the best indicated for Lyme patients due to its smaller micro-particles and efficiency for eradicating the spirochetes. Ideally, the silver should be 500 parts per million.
Please consider only doing a protocol with supervision from your chosen health care practitioner. Again, because of the Herx effect you want a gentle and thorough program.
It may give them the relief of finding out what is actually wrong, validate them (they are not crazy, it is not in their heads), and point them on the path to getting their life back. You may be the turning point for someone's healing – or your own!
The deliberate deceit, cover-up, and profiting from the physical and emotional suffering of Lyme victims is downright revolting. It is so shameful that it has taken so long for helpful resources to surface, but there is truly hope.
Please share this with Lyme patients and any who are suffering untreated for Fibromyalgia, Lupus, M.S., ALS, Alzheimer's, Parkinson's, dementia and Chronic Fatigue Syndrome. And for those who are told nothing is wrong, or that they should see a psych doctor.
It may give them the relief of finding out what is actually wrong, validate them (they are not crazy, it is not in their heads), and point them on the path to getting their life back. You may be the turning point for someone's healing – or your own!
——————————————–
(ed. A reliable and reasonable cure for Lyme Disease remains to be found … or possibly it is being suppressed
In any case, Lyme Disease is a serious problem and if you think you have it please be diligent and careful to get effective treatment. Don't opt for unproven or cheap theories that don't work. Do your own research.
As information comes out I'll keep you posted)
___________________________________________________________________________
ASPARTAME
Aspartame, a chemical produced by Monsanto, is probably the worst of the several artificial sweeteners. It is known to cause neurological disease including brain disorders, muscle pain, nervousness, and a host of toxic reactions like parkinsons and autoimmune diseases.
Stay away from artificial sweeteners including Splenda (sucrolose). Sugar is a better sweetener than the chemical/artificial sweeteners. You just need to use common sense about how much sugar is acceptable in your diet. Natural sweeteners like stevia are the best. Maple syrup and honey are good. Low calorie sweeteners that are acceptable are erythritol, and xylitol made from sugar alcohols.
http://www.aim4health.com/nutrasweet.htm 
(Watch this excellent video!)

______________________________________________________________________________
VACCINATIONS ARE BAD!
GIVING THEM TO BABIES IS WORSE THAN BAD.
Study: Combination tetanus, whooping cough vaccine linked to seizures in babies
Sunday, February 26, 2012 by: Jonathan Benson, staff writer
, naturalnews.com
If you choose to have your baby vaccinated with the combination diphtheria, tetanus, whooping cough (pertussis), polio and Haemophilus influenzae type 2 vaccine, a mega-jab collectively known as the DTap-IPV-Hib, your child may be at an increased risk of having a vaccine-induced seizure. A new study published in the Journal of the American Medical Association has identified a clear link between the vaccine and the onset of fever-related seizures, which the authors claim will not cause long-term damage.
Yuelian Sun from Aarhus University in Denmark and her colleagues evaluated data on roughly 380,000 babies born in Denmark between 2003 and 2008. Children in that country are recommended to get the vaccine at three different times — once when they are three months old, again when they are five months old, and a third time on their first birthday. Upon analysis, the researchers determined that about 7,800 of these children, or just over two percent, had been diagnosed with a fever-related seizure by the time they reach one-and-a-half years old.
The risk of having a fever-related seizure appears to increase after each subsequent jab with the vaccine, and particularly on the same day that it is administered. And yet the study authors and others insist the DTap-IPV-Hib vaccine is safe because such seizures allegedly do not cause brain damage or other permanent harm. Dr. Eugene Shapiro, a pediatrics and infectious diseases researcher at Yale University, actually purports that these findings are "reassuring," and that parents should not be concerned.
Even more absurd was study author Sun's response to the findings, in which she suggested that perhaps injected babies who had a seizure in response to the vaccine were just genetically prone to seizures, and that the vaccine had nothing to do with it. This and other nonsensical responses to studies that identify health risks associated with vaccines are typical. It is always anything but the vaccine that is responsible for causing harm — "Have you ever drunk raw milk at any time in your life? That must have been the cause of the seizure!"
DTap-IPV-Hib vaccine loaded with bacterial components, antibiotics, and toxic chemicals and additives
According to the Vaccine Awareness Network, the DTap-IPV-Hib vaccine contains diphtheria and tetanus toxoids, five components of the bordetella pertussis bacteria, filamentous haemagglutinin (the component of the bacteria which causes infection), pertactin (a highly immunogenic virulence factor), three types of inactivated polio virus, types 1, 2 and 3, a component of Haemophilus influenzae type B that has been attached to tetanus toxoid to make babies produce more antibodies, and three different types of antibiotics — neomycin, streptomycin, and polymyxin B.
Besides this barrage of pathogens and pathogenic components, the vaccine also contains deadly preservatives and additives like formaldehyde (rat poison), 2-phenoxyethanol (a detergent that is the main ingredient in anti-freeze), aluminum, and polysorbate 80 (an emulsifier implicated in causing male infertility).
There are also more than 3,500 reports in the Department of Health and Human Services' (HHS) Vaccine Adverse Event Reporting System(VAERS) about serious adverse events associated with the DTap-IPV-Hib vaccine. These include, but are not limited to, Moraxella catarrhalis, streptococcus pneumonia, asthma, anaphylactic reactions, pancreatitis, gastrointestinal dysfunction, peripheral neuropathy, Guillain-Barre syndrome, and meningitis.
____________________________________________
Raw milk: Good enough for Queen Elizabeth, but prohibited for ordinary Canadians
Monday, January 23, 2012 by: Ethan A. Huff, staff writer
(NaturalNews) Correction: The original version of this article incorrectly named Princes Harry and William as the sons of Queen Elizabeth rather than her grandsons. It has been updated to reflect this change.
Finding access to raw milk is difficult in many parts of the US, but the situation is even worse in Canada where national law prohibits the sale of raw milk anywhere in the country. Few people realize, however, that Queen Elizabeth and her two grandsons drink this supposedly "dangerous" food item, as do nearly all Canadian farmers surveyed in a 2010 study published in Preventive Veterinary Medicine.
A writeup on raw milk published in The Globe and Mail back in 2010 explains that Queen Elizabeth personally drinks raw milk, and that when her grandsons Harry and William were students at Eton College, she went out of her way to smuggle it in for them as well. The Queen apparently recognizes some value in raw milk beyond what health authorities are willing to admit.
On the same token, nearly 90 percent of more than 2,100 Canadian farmers who sell their milk to the country's government-run dairy cartel revealed that they siphon off raw milk from their own cows to feed to their families before it gets shipped off for homogenization and pasteurization. Like the queen, these farmers are apparently unswayed by the pseudoscientific nonsense about the so-called dangers of raw milk.
And yet ordinary Canadians continue to be deprived of their freedom of choice in choosing what type of milk to drink. Those with lactose intolerance, for instance, are forced to simply stop drinking milk, as only raw milk contains the lactase enzyme that properly breaks down and digests lactose in the system. The process of pasteurization destroys lactase and all other enzymes, which makes it difficult for many to digest.
Like the US, Canada has had its share of government raids and tyranny against those that even just try to set up herd shares, which allow individuals to purchase shares in a cow or goat, and access the milk. Back in 2010, for instance, the Supreme Court of British Columbia issued an injunction against dairy farmer Alice Jongerden for boarding other people's cows, and forced her to basically stop milking the cows altogether, which is a form of animal abuse (http://www.homeontherangefarms.com/).
But the fact that both Queen Elizabeth and thousands of Canadian dairy farmers drink raw milk proves that milk can be produced and consumed safely in raw form. It also represents a blatant double standard, where only the "elite" are privileged enough to make their own food choices, while everyone else is subjected to erroneous and arbitrary restrictions on a wholesome food item that has been consumed safely for centuries, long before tyrannical governments came along and prohibited it.
Sources for this article include:
http://www.theglobeandmail.com/news/opinions/raw-milk-fans-are-getting-a-raw-deal/article1722070/comments/
___________________________________
Artificial hamburger meat successfully grown in vat of bovine fetal cells; You want some fries with that?
Monday, February 20, 2012
by Mike Adams, the Health Ranger
(NaturalNews) I'm not sure which is the more offensive way to create meat. There's the current "factory farm" method where masses of hormone-jacked, antibiotics-injected cows are kept confined in what can only be called bovine concentration camps while they're fed genetically modified corn, then slaughtered without compassion and subjected to diabolical meat-harvesting machinery that turns a cow carcass into corporate profits. On the other hand, there's the new method being touted across the media: Test tube hamburgers made from thin strips of meat grown in a nutrient vat laced with bovine fetus stem cells. Yumm!
The test tube meat strips actually pulsate and twitch during their laboratory growth phase, by the way, and they're ultimately ground up with strips of test tube fat grown in a similar way to produce a fatty hamburger-like substance. This has been accomplished by Professor Mark Post of Maastricht University in the Netherlands, who announced his team's results at the American Academy for the Advancement of Science (AAAS) yesterday.
Test tube meat is here to save the world!
"In October we are going to provide a proof of concept showing out of stem cells we can make a product that looks, feels and hopefully tastes like meat," says Mark Post at the announcement (http://www.telegraph.co.uk/science/science-news/9091628/Test-tube-ham…). Of course, what does processed meat actually taste like anyway? MSG, sodium nitrite and processed salt, for the most part. So making lab-grown meat taste like today's factory-processed meat only requires the injection of a few additives into the growth culture. Imagine growing meat patties with MSG inside every cell!
Creating one hamburger will require 3,000 strips of meat, each just half a millimeter thick and grown in laboratory vats. Unlike a cow, which requires roughly two years to grow to the point of slaughter, a test tube burger can be produced in just six weeks.
The "benefits" of test tube hamburger production are being touted as substantial, including:
• More efficient conversion of plants to meat.
• Less environmental damage.
• More humane than killing animals.
• Is the only feasible way to feed more meat to the world.
Of course, they also said that GMOs would "feed the world." Bill Gates calls genetically modified foods "high-tech agriculture" now, with the strong implication that technology is always superior to Mother Nature (http://tv.naturalnews.com/v.asp?v=1EE22C52BA26FA296CFC8A0361571555). But I'm not so sure about that. In fact, this whole thing sounds more than a little creepy to me.
Test tube meat to feed the masses? Gee, what could possibly go wrong?
I'm skeptical any time technology claims to out-perform nature. Look what they've done with GMOs, chemical pesticides, vaccines, or nuclear power. In almost every case where "scientific progress" is touted as the solution for humankind, it ends up creating a nightmare that's far worse than the problem it was trying to solve.
For the record, I choose not to eat cow meat. I'm not a vegetarian, but I've been around lots of cows on farms, and I see cows as conscious, aware mammals who have memories, emotions, families and social structure. They are every bit as intelligent as horses, and most people would cringe at the idea of eating a horse burger.
However, in a survival situation, I would have no hesitation eating grass-fed beef if it were from a healthy farm source. In fact, my personal supply of preparedness foods consists of several bags of USDA organic grass-fed beef jerky made without MSG or sodium nitrite.
But when it comes to growing hamburgers out of stem cells in a petri dish, the whole thing just smacks a little too much of soylent green. How are we to know what they really put in the nutrient solution? Maybe it contains growth hormones to speed production. Maybe it's loaded with synthetic chemical vitamins instead of natural vitamins. Maybe it's contaminated with Prozac or fluoride to make us all feel happy and oblivious while we eat synthetic meat. How are we to know what they do with it?
Artificial meat monstrosity
And then, of course, it's only a matter of time before they start to genetically modify the test tube meat, perhaps using selected genes from the human genetic code to make the end product is more compatible with human biology while avoiding any risk of allergies. So then what do we have? Hybrid bovine / human meat.
…and a world full of cannibals who are eating something that's partially human flesh.
See, modern science has already proven itself to be a pathetic collection of truly insane megalomaniacs who will gladly splice the genes of animals and insects into crops so that they can create vaccine crops, or vaccine-carrying mosquitoes, or goats that produce spider silk, or some other kind of monstrosity that serves the power-tripping globalists.
And the marvel of modern-day fast food has already proven that people will eat anything marketed to them as food. Case in point? Chicken McNuggets. That's a hodge podge of industrial chemicals and so-called mechanically-separated chicken, which itself is a meat processing freak show. (http://www.naturalnews.com/032820_Chicken_McNuggets_ingredients.html)
So I guess if you set up a test tube meat lab, splice together a bunch of genes from various species (humans, cows, dogs, insects, ogres, possums and Janet Napolitano) and then grow a vat of some sort of convulsing fibrous tissue that can be made into a 99-cent hamburger, then the great masses will eat it! Who cares what the tissues are floating in, right? As long as it's offered with a combo meal that includes French fries and an aspartame-laced Diet Coke, people will chug it straight down while watching NBA games and declaring, "We're winning!"
No doubt test tube hamburger makers will tout their meat as being "Cruelty Free" by saying "No animals were killed in the harvesting of this meat." Maybe not, but how many humans will be killed in the consumption of it?
A mysterious financial supporter backs the entire thing
By the way, this whole freak show of artificial meat production is being financed by an "…anonymous and extremely wealthy benefactor who Prof Post claims is a household name with a reputation for 'turning everything into gold'."
I wouldn't be surprised at all to learn that Bill Gates was behind it — or someone similarly motivated by a global depopulation agenda.
Bottom line: Artificial meat may be an extraordinary idea, but given the total lack of ethics found in the scientific community today, I wouldn't trust these people any farther than I could hurl a cow chip.
Learn more: http://www.naturalnews.com/035020_artificial_meat_test_tube_hamburger.html#ixzz1nPryUijJ