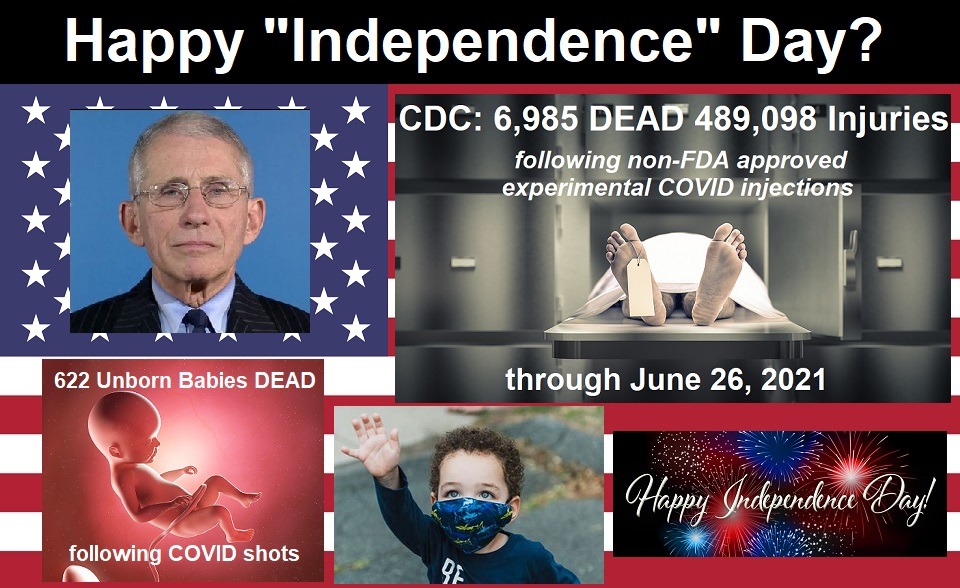 by Brian Shilhavy
Editor, Health Impact News
As Americans gather this weekend to celebrate the July 4th Independence Day, I can't help but ask: What are you celebrating??
Are you celebrating the fact that the CDC admits that almost 7000 people have now died following the non-FDA approved experimental COVID-19 injections with the data they released yesterday, July 2, 2021? Maybe the almost half million injuries that people have reported following these COVID-19 injections is cause for celebration?
And don't forget, most of the deaths and injuries are never reported. The CDC and BIG PHARMA are ordering doctors and nurses to not acknowledge the deaths and injuries from the bioweapon shot.
After all, Americans still have the "freedom" to not get these injections and choose to sacrifice their careers if their employer is mandating them. That is still "freedom," right?
Or are you celebrating that there are now a recorded 622 unplanned abortions following these COVID-19 injections? Where is the "freedom of choice" for these unborn babies?
Or perhaps all of you who are heading out to barbecue and watch fireworks this weekend are celebrating your freedom to choose to send your children to government schools, muzzled with face masks, to learn Critical Race Theory and how to get medical procedures done to change their gender.
And of course children now have "freedoms" also to exercise their "independence." Perhaps you are celebrating the fact that in many places your child can now choose to get a COVID-19 bioweapon shot without your knowledge or permission, and young boys now have the freedom to identify as girls and use the school's girls' bathrooms to sexually prey on young girls?
Maybe that's a cause for celebrating our "independence"? Yeah, right.
I can hear some saying "well, things may not be perfect,, but at least we still live in a democratic nation where we still have the right to vote to elect our political leaders." 
Yes, that is the mantra for celebrating being an American. Close your eyes and ignore all that implies anything different.
_________________________________________________________________